Trump India Visit Menu: Meat-Loving President May Be Served All-Vegetarian Food by Prime Minister Narendra Modi
President Donald Trump is visiting India this week, where Prime Minister Narendra Modi will reportedly serve the meat-eating president an all-vegetarian banquet.
During the two-day visit Monday through Tuesday, Trump will visit Ahmedabad in the Gujarat state, Agra and Delhi, with first lady Melania Trump, his daughter Ivanka Trump, and son-in-law Jared Kushner.
While Trump is reportedly a fan of steak with ketchup, meatloaf and McDonald's, Prime Minister Modi will instead serve local vegetarian cuisine. On Monday, Trump will be served a vegetarian high-tea, and on Tuesday evening, Trump is expected to be served a meat-free banquet at the official presidential palace in Delhi.
The Gujarat state has a majority Hindu population and most people follow a vegetarian diet. In some neighborhoods, eating meat is frowned upon and therefore rarely eaten in public. So what will Trump be eating during his trip to India?
The vegetarian high tea menu
First, Trump will visit Sabarmati Ashram in Ahmedabad, where he will be served high tea prepared by chef Suresh Khanna.
The high tea will include local vegetarian dishes including broccoli and corn button samosa, and khaman, which is a dish made with soaked and freshly ground channa dal.
Dessert will consist of kaju katli, which is also known as kaju barfi, and literally translates to cashew slice. However, Trump will also have the chance to indulge in an American favorite, as apple pie will also be served, along with exotic fruit.
Chef Suresh Khanna of the Fortune Landmark Hotel told Business Times: "We received the information a day before to prepare high tea for honorable president and we are very excited.
"There will be fortune cookies, Gujarati delicacy nylon khaman, then my specialist broccoli and corn samosa and then the cinnamon apple pie and kaju larki for dessert."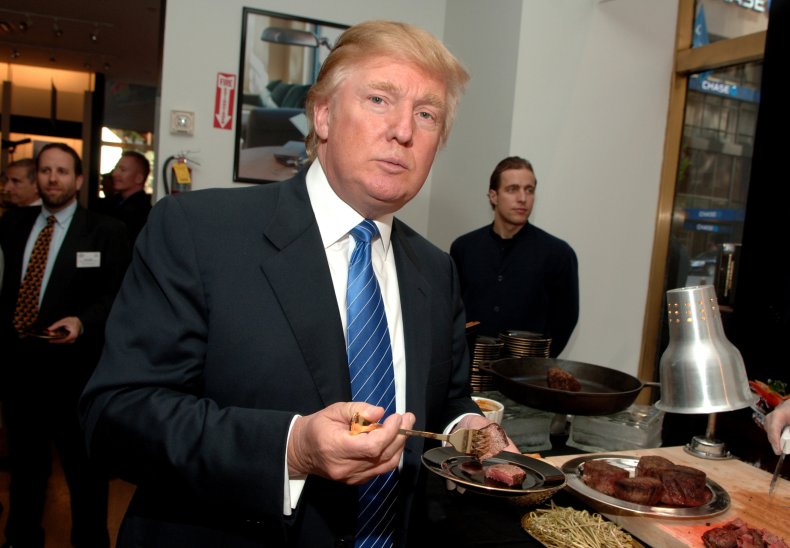 Vegetarian banquet at Rashtrapati Bhavan
Prime Minister Modi will also host a formal banquet at the Rashtrapati Bhavan, the presidential palace, which is expected to be all-vegetarian, according to CNN, though the menu will only be finalized at the last minute.
On previous official visits, Trump's aides have ensured that his tastes are catered for, such as when he visited Saudi Arabia in 2017 and was served steak alongside the local cuisine.
However, when former President George Bush visited India in 2006, then-Prime Minister Manmohan Singh served local cuisine including curries, biryani and seafood.
Former President Barack Obama visited India in 2010 where he enjoyed Indian dishes like chicken shami kebab, achari fish tikka and pista murgh. Obama visited again in 2015, when he dined on mustard fish curry, gushtaba and achari paneer.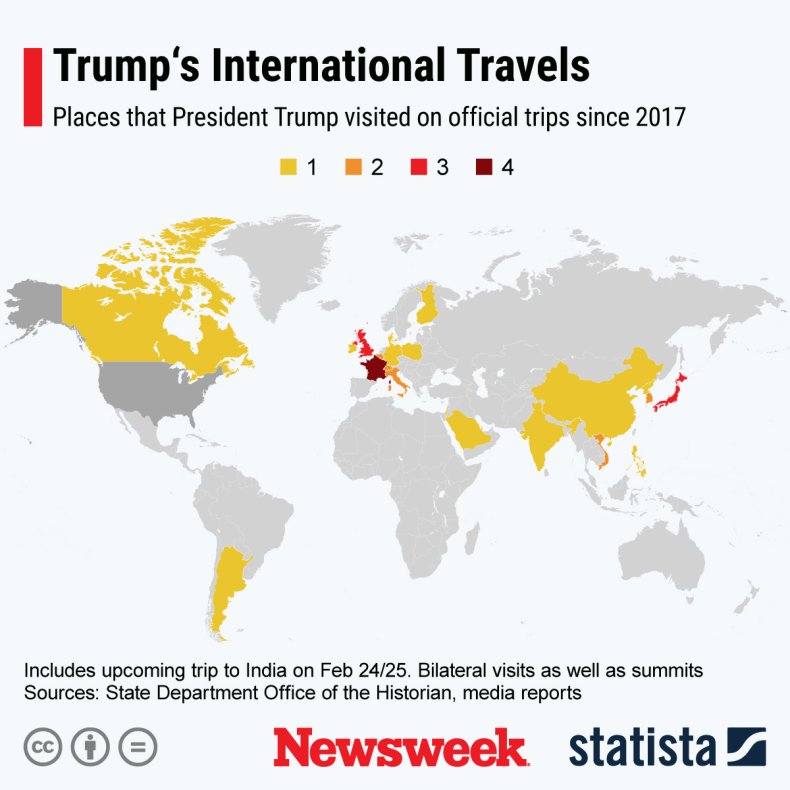 White House dinner menus
When Trump has hosted state dinners at the White House, meat and fish have featured on the menu.
In April 2018, Trump hosted President of France, Emmanuel Macron in a state dinner, and served more sophisticated dishes including rack of spring lamb, burnt cipollini soubise and Carolina gold rice jambalaya.
Then, in September 2019 Trump hosted his second official state dinner, when he hosted the Australian prime minister and his wife. This time, the White House served up ravioli and vegetables, Dover sole with parsley crisps, Lady apple tart and Calvados ice cream.
However, Trump is such a fan of McDonald's and other American fast-food chains that in January 2019, during a government shutdown which meant White House chefs were not at work, Trump served the Clemson Tigers 1,000 burgers from Burger King, McDonald's and Wendy's.
While there are McDonald's restaurants in India, they don't serve beef, so Trump won't be able to find a Big Mac or Quarter Pounder. Instead, McDonald's restaurants in India sell chicken burgers and vegetarian meals based on local dishes, including a spicy paneer wrap, a McAloo and a Dosa Masala.