As President Donald Trump meets with North Korea's Kim Jong Un in Hanoi, Vietnam, he has praised the North Korean leader, saying he thinks he will "be a great leader."
Trump made the remarks at the start of talks, his second with the North Korean leader, aimed at the eventual denuclearization of the Korean Peninsula. "I think your country has tremendous economic potential, unbelievable, unlimited. I think that you will have a tremendous future for your country and be a great leader," the president said of Kim, according to CBS News.
The U.S. leader has insisted on the strength of his personal relationship with Kim following their first meeting in Singapore last year. As talks between the two leaders began the pair were convivial with each other as they shook hands and made remarks before a brief sit-down.
They then proceeded to another photo opportunity at what U.S. officials have referred to as a "social dinner." The Associated Press reported Secretary of State Mike Pompeo and acting White House chief of staff Mick Mulvaney as well as North Korea's minister of foreign affairs Ri Yong Ho and Kim's chief U.S. negotiator Kim Yong Chol would be present at Hanoi's Metropole Hotel.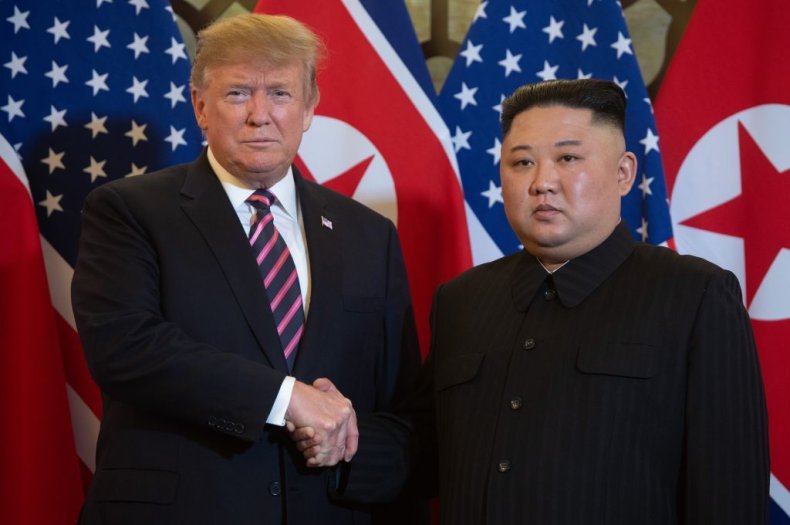 Prior to the meal at Hanoi's Metropole Hotel the pair mostly engaged in pleasantries. "Well I want to just say it's an honor to be with Chairman Kim," Trump said. The president added that Vietnam had "rolled out the red carpet."
While in the run-up to the talks U.S. officials sought to downplay expectations, Trump refused to rule out walking away with an agreement on denuclearization or a peace deal between North Korea and the United States.
"We'll see," Trump said when asked if he would formally end the war in Korea. Seven decades after fighting in Korea ended the combatants have never signed a formal peace treaty.
Less than two hours before he was due to meet the North Korean leader, Trump complained about media coverage of the second summit. "All false reporting (guessing) on my intentions with respect to North Korea," the president wrote.
"Kim Jong Un and I will try very hard to work something out on denuclearization & then making North Korea an Economic Powerhouse. I believe that China, Russia, Japan & South Korea will be very helpful!" he added.
On the North Korean side of the negotiations very little has been given away. However, experts have said, according to the Associated Press, that the presence of O Su Yong, the director of economic affairs in North Korea's ruling party may indicate that Kim expects to return with economic gains, possibly including partial sanctions relief.