Who Is Paula White, Donald Trump's Favorite Pastor?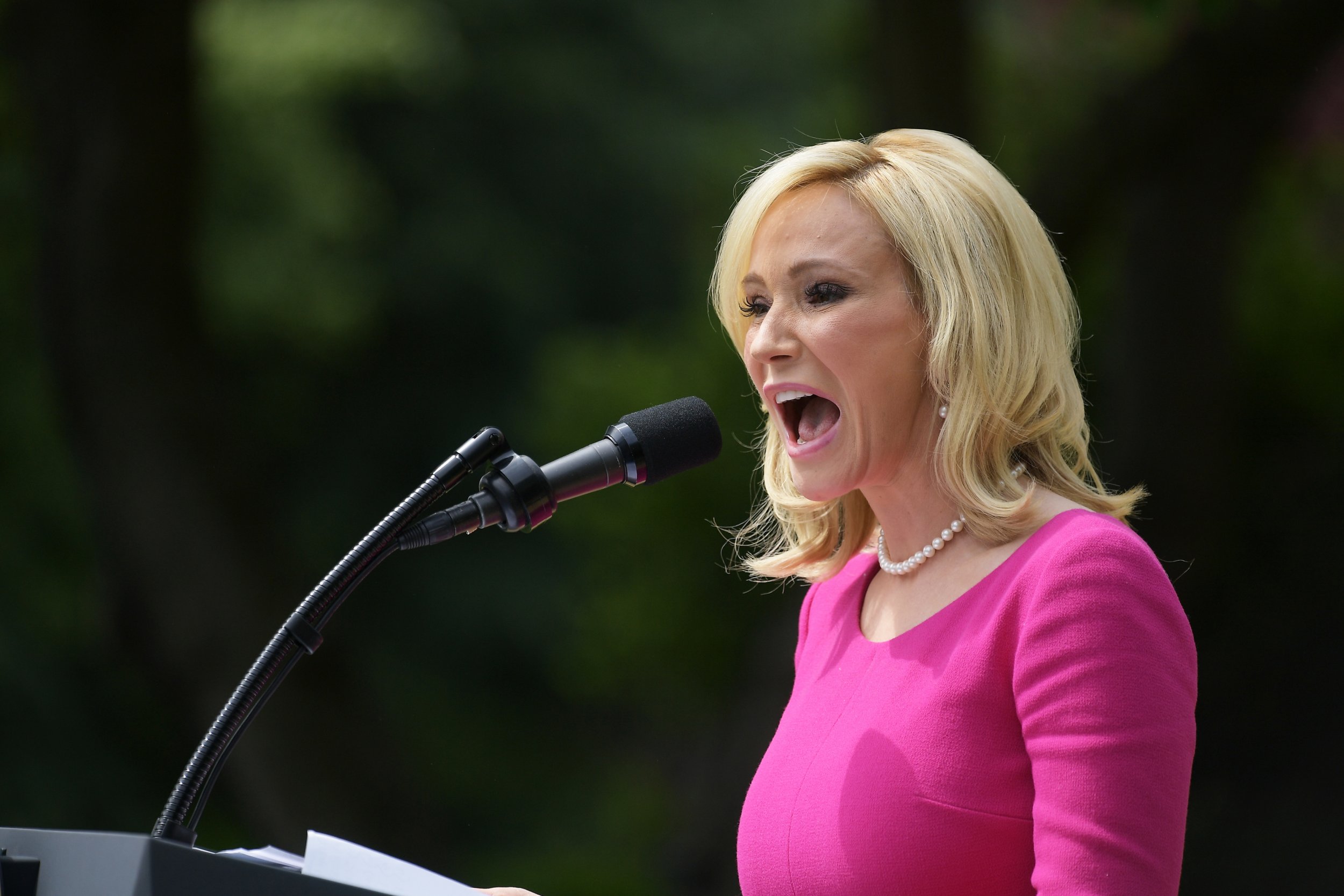 The first time Paula White prayed with Donald Trump, it was when he was host of reality TV show The Apprentice. A little over a decade later, White was leading the nation in prayer when the billionaire was inaugurated as 45th president of the United States.
White is not only Trump's closest spiritual confidante but also one of his most vocal defenders during his first seven months in office. On Monday, during an interview on right-wing talk show The Jim Bakker Show, White, 51, suggested that those who criticize or oppose Trump are opposing God's work.
"He's been raised up by God because God says that he raises up and places all people in places of authority. It is God that raises up a king, it is God that sets one down, and so when you fight against the plan of God, you're fighting against the hand of God," said White.
White's friendship with Trump has dovetailed with her rise to prominence as a popular televangelist and pastor. Born in Mississippi, White had a turbulent childhood: Her father committed suicide, and she claims to have been sexually and physically abused as a teenager. She converted to Christianity at the age of 18, after claiming to have seen a vision in which God told her that he wanted her to preach the Gospel.
Since 2012, White has been the senior pastor at New Destiny Christian Center, a megachurch in Florida that draws thousands of worshippers to its weekly services. She also heads up Paula White Ministries and is a regular Christian commentator on television and radio. Like Trump, she has been married three times; her present husband, Jonathan Cain, is a musician who wrote Journey's hit song "Don't Stop Believin'."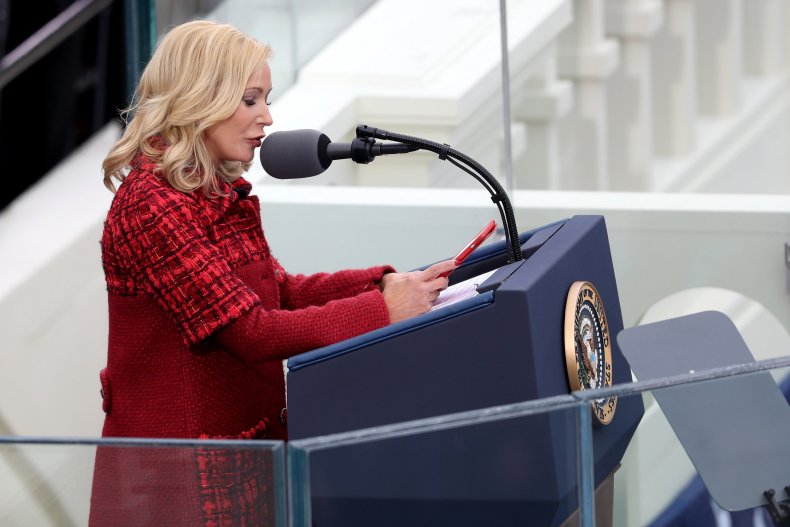 Related: "We've got the White House on speed dial." How evangelicals are influencing Trump
White is well-known for her controversial strand of Christianity known as the prosperity gospel, advocates of which teach that living as a faithful Christian will result in not only eternal life but also abundance of material wealth on earth. White said in a 2007 televised event, "Anyone who tells you to deny yourself is from Satan."
But such views are controversial among many Christians, particularly given the instruction by Jesus in Matthew's gospel: "Whoever wants to be my disciple must deny themselves and take up their cross and follow me."
Several prominent televangelists, including White, were probed after Republican Senator Charles Grassley launched an investigation in 2007 into the finances of ministries that solicit millions of dollars in donations. The report was published in 2011 without reaching any firm conclusions, but White has still had to fend off accusations on many topics, from her personal wealth to her theological beliefs.
"I have been called a heretic, an apostate, an adulterer, a charlatan and an addict. It has been falsely reported that I once filed for bankruptcy and—my personal favorite—that I deny the Trinity," she said in a January interview with CNN.
Her friendship with Trump began with a telephone call from the business mogul in 2002. White says Trump called her while watching her sermons on television. "He was watching Christian television, and he said, 'Are you ever up in New York?'" After that initial prayer meeting, the two have built such a close relationship that some consider White to be Trump's closest spiritual adviser.
"[She's] like another daughter to the president and another sister to Ivanka," Johnnie Moore, a Christian activist and member of Trump's evangelical advisory board, told Newsweek in a July interview following a meeting with Trump in the White House, which White also attended.
White was named as a chair of the advisory board, which Trump convened during the 2016 presidential campaign in a bid to reach Christian voters. Trump faced scrutiny about his personal faith during the campaign—he struggled to name his favorite Bible verse and referred to Holy Communion as "my little wine and my little cracker"—but received the overwhelming backing of white evangelicals in the election, 81 percent of whom voted for the Republican.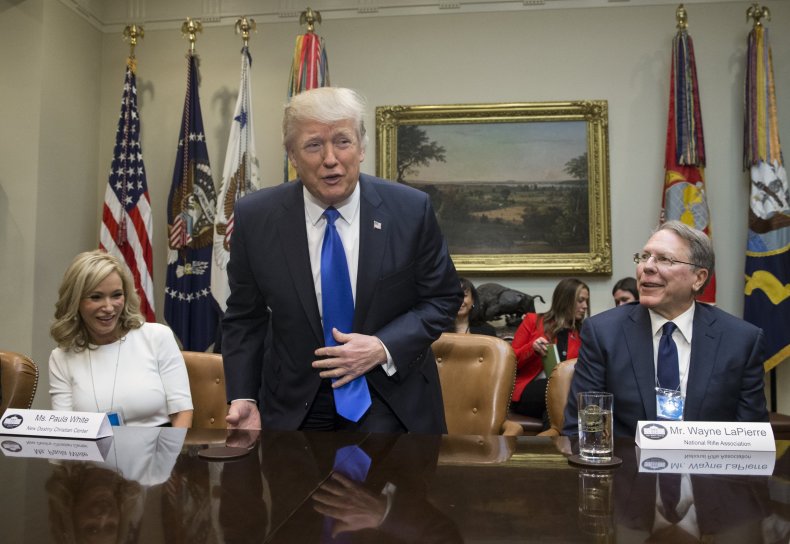 White and other prominent Christians have been particularly pleased with Trump's nomination of Neil Gorsuch as a Supreme Court judge. Gorsuch is an originalist—meaning he interprets the U.S. Constitution as stable and unchanging—and White described his nomination as a "miracle by God" on The Jim Bakker Show.
"We are scaring the literal hell out of demonic spirits.... If we get two more [Supreme Court justices], we will be able to overturn demonic laws and decrees that have held this nation in captivity," said White.
While White has been a prominent advocate for Trump, the president has also endorsed his favorite pastor. "Read this, and you'll be ready for great success," reads an endorsement written by Trump on the cover of White's 2009 book, Dare to Dream, and Trump has called White "a beautiful person, both inside and out."
With the Trump administration continuing to court Christian evangelical leaders, who hold great sway over their large flocks, White seems likely to continue to play a key role in guiding the president's path.