Donald Trump 'Poisons Our Political Dialogue,' Says Congressman In Response to President Naming Adam Schiff 'Pencil-Neck'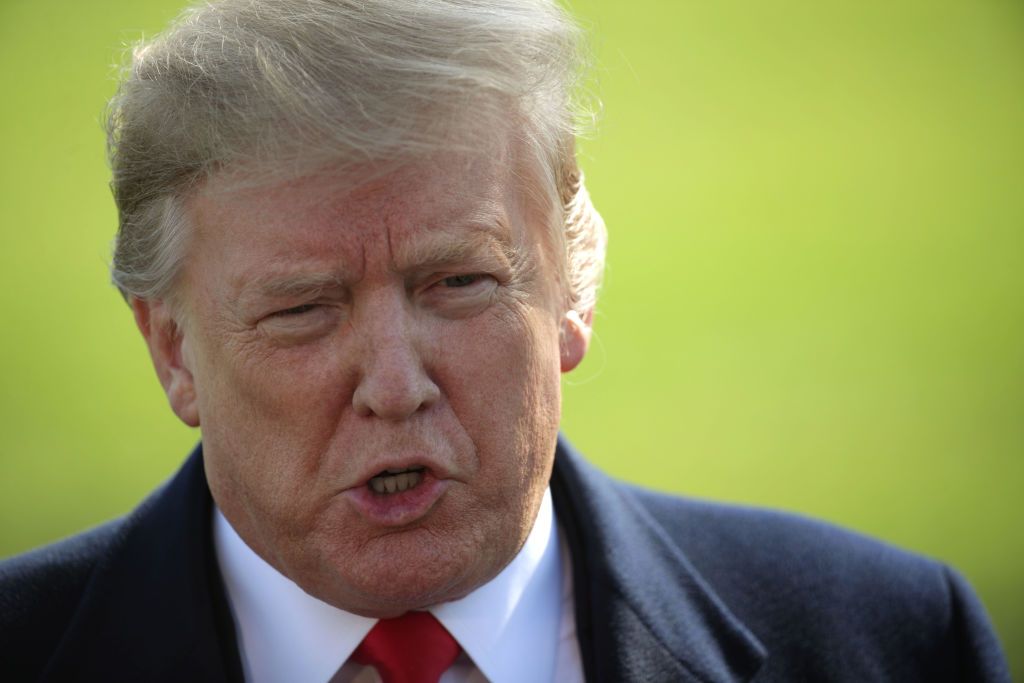 President Donald Trump routinely slaps unflattering nicknames on his political foes, but his latest attempt to bestow the "Little Pencil-Neck Schiff" moniker on Congressman Adam Schiff has renewed Democrats' calls for civility on Capitol Hill.
During an appearance on Fox News Sunday, Rep. Jim Himes of Connecticut defended Schiff and told host Chris Wallace that it's up to the public to evaluate the rhetoric coming from the White House.
"The American people need to decide what they think about a President who poisons our political dialogue by going after people's physical characteristics, calling him pencil-neck, etcetera, " Himes said. "[Schiff ] said we accept Mueller's findings, something the Republicans could never find it in their hearts and minds to do with respect to [investigations into] Benghazi, Clinton's emails and Uranium 1."
He continued: "I don't see Adam Schiff has having done anything wrong, and he's comporting himself far more responsibly than the Republicans ever did."
Schiff, who is also the chairman of the House Intelligence Committee, was among the leading lawmakers alleging the Trump campaign had colluded with Russian nationals during the 2016 presidential election.
All told, Special Counsel Robert Mueller's investigation into the matter lasted 22 months and netted 34 indictments of both Russian nationals and Americans, including some from within President Trump's inner circle. But Mueller and Attorney General William Barr concluded there was no evidence of criminal coordination between the Trump campaign and Russia — a finding that buoyed Trump allies who had long claimed the president was innocent of the charge.
Trump tried out the "pencil neck" nickname on Schiff for the first time at a Grand Rapids, Michigan, rally last week, celebrating the conclusion of the investigation. Along with other Republican lawmakers, the president has called for Schiff to resign from his post.
"Little pencil-neck Adam Schiff. He's got the smallest, thinnest neck I've ever seen," the president said to an approving audience. "He is not a long-ball hitter, but I saw him today, 'Well we don't really know, there still could have been some Russia collusion'."
The president's official campaign website soon began selling T-shirts emblazoned with a cartoon picture of Schiff with a pencil in place of a neck. An advertisement for the shirt reads: "Little Pencil-Neck Adam Schiff. He spent two years knowingly and unlawfully lying and leaking. He should be forced to resign from Congress! Everyone should buy a Pencil-Neck Adam Schiff shirt today!"
Schiff has said he's not resigning and, rather than walk back his claims of corruption, doubled down on the allegations.
"I say this to the President, and his defenders in Congress: You may think it's okay how Trump and his associates interacted with Russians during the campaign. I don't," Schiff said in a statement. "I think it's immoral. I think it's unethical. I think it's unpatriotic. And yes, I think it's corrupt."
House speaker Nancy Pelosi also came to Schiff's defense when asked about calls for his resignation. She described it as "shameful, sad and irresponsible."
"They're just plain afraid. They're afraid of the truth, they're afraid of competence," Pelosi said.