Trump Is Still Writing 140-Character Tweets And Twitter Doesn't Know Why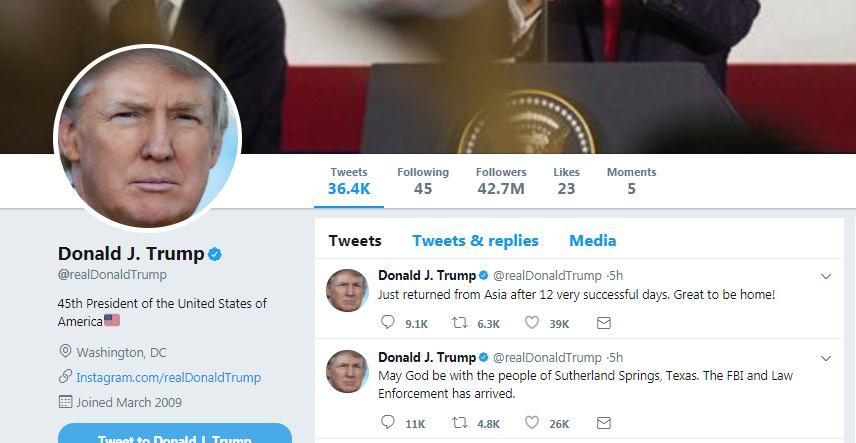 Tweeter-in-chief Donald Trump is still limiting himself to 140-character tweets, making the Twitterverse — not to mention Twitter itself — more confused than usual about his feed.
The president on Wednesday went back to his old ways of writing his Twitter rants in multiple short and fragmented tweets, even though he's now able to go to 280-characters under the platform's new layout.
On Wednesday morning, he wrote in one tweet: "The failing @nytimes hates the fact that I have developed a great relationship with World leaders like Xi Jinping, President of China....."
It wasn't until minutes later that he ended his thought in another tweet: "...They should realize that these relationships are a good thing, not a bad thing. The U.S. is being respected again. Watch Trade!"
Those two tweets together add up to 268 characters, which would fit into one of the new, longer tweets with 12 characters to spare.
A Twitter representative did not have answers for Newsweek about the president's potential motive. But the rep said no changes had been made to Trump's account, and noted that just because there's a new character count "doesn't mean [users] always use the full 280 in every tweet."
So is Trump just sending out shorter tweets because it's part of his brand? Or is the commander-in-chief taking a presidential stand against 280-character tweets, which fueled outrage from users after becoming a new standard last week?
Whatever the reason, Trump earned some rare praise on Twitter for defying the new character count.
Trump started posting 280-character tweets last week immediately upon getting the upgrade, adding to the mystery of why he's now trying to make tweets brief again.
The president has already been fighting against Twitter's popular thread feature. Unlike most users, who utilize the feature to write a series of tweets that appeared as a unified thread, the president tends to type out 140 characters with ellipses at the end, and then connect it to the next tweet or tweets minutes later...with even more ellipses.