Philippine leader Rodrigo Duterte apologized to Barack Obama over the weekend for calling him a "son of a whore" in 2016, and praised President Donald Trump for being a "good friend."
During his speech in Israel on Sunday, Duterte, 73, said the U.S.-Philippine relationship had blossomed under his "good friend" Trump's presidency, before apologizing to Obama for insulting him a few years ago, reported Agence France-Presse.
"[Trump] speaks my language," Duterte said. "It would be appropriate also to say at this time to Mr. Obama that you are now a civilian and I am sorry for uttering those words. If it is [in] your heart to forgive, you forgive. I have forgiven you, just like my girlfriends when I was still a bachelo…I have forgiven them also."
Duterte issued his severe insult to former President Obama after the U.S. criticized Duterte's violent drug crackdown. "Son of a whore, I will curse you in that forum," Duterte said. The remark resulted in Obama canceling their meeting during a Laos summit two years ago.
At the time, Duterte issued a statement explaining that the comment was not meant to be a personal attack. "While the immediate cause was my strong comments to certain press questions that elicited concern and distress, we also regret that it came across as a personal attack on the US president," he said.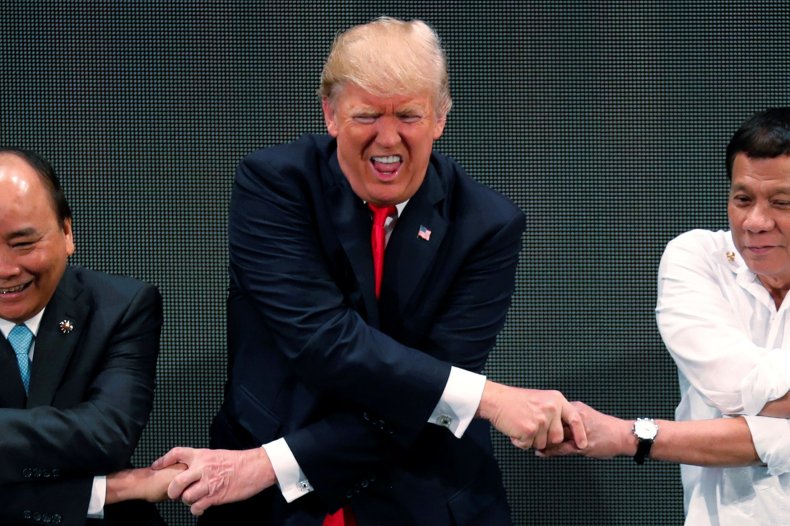 In 2016, Duterte became infamous for using extremely vulgar language to describe his Western critics. In addition to his comments made about Obama, the Philippines president also called Pope Francis and the U.S. ambassador to Manila "sons of whores" and pulled his middle finger at the European parliament during a speech in the Philippines.
Duterte came under fire after he blamed beautiful women for the high rates of rape in the Philippines during a speech in the central city of Cebu on Thursday night.
"They say there are many rape cases in Davao," Duterte told his audience, according to The New York Times. "Well, for as long as there are many beautiful women, there will be many rape cases, too."
According to Israeli newspaper Haaretz, Deterte defended his rape comments on Sunday, citing "democracy and freedom of expression."
Duterte landed in Israel on Sunday for an official four-day visit where he is scheduled to lunch with Prime Minister Benjamin Netanyahu on Monday. The visit marks the first time a Philippine leader has conducted an official trip to Israel since the two countries established diplomatic relations in 1957.