President-elect Joe Biden Asks Public to Fund Transition as Trump Refuses to Concede
As President Donald Trump continued to block President-elect Joe Biden's incoming administration, Biden turned to social media on Friday to ask Americans to donate to his transition efforts.
Trump's refusal to concede has prevented Biden's camp from obtaining access to Congressional funding, workspace in federal buildings and some classified information. Biden has moved forward with preparations for his presidency, including announcing some members of his cabinet. According to a Friday tweet, Biden's transition teams are in need of funds.
"Here's the deal," Biden tweeted. "Because President Trump refuses to concede and is delaying the transition, we have to fund it ourselves and need your help." Embedded in Biden's tweet was a link to a donation site.
Federal funding earmarked to aid the transition process has been delayed by the General Services Administration (GSA) which has thus far refused to recognize Biden's victory in the election. Roughly $10 billion has been withheld from Biden's team until the GSA ascertains an official winner. The GSA also has prevented Biden's transition teams and members of his incoming cabinet from obtaining official government email addresses and meeting with officials who could assist with the transition.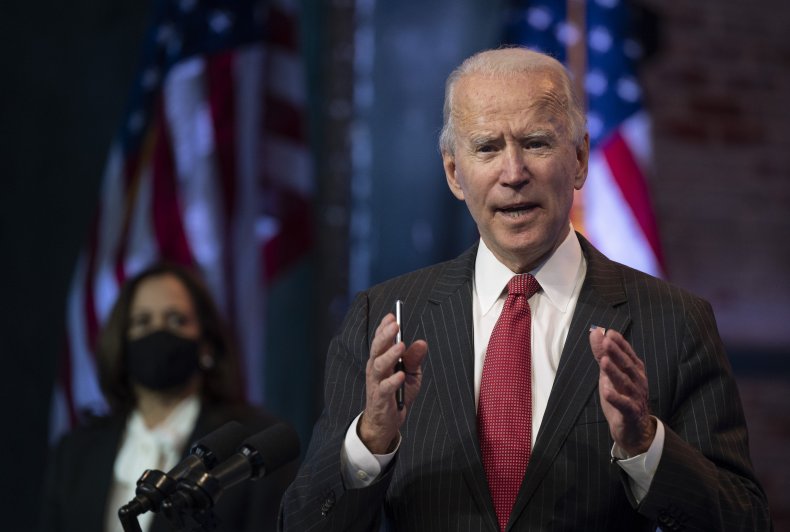 Despite the Trump administration's blocking of the transition, some social media users criticized Biden's request for donations.
"Borrow the money," tweeted actor Kirk Acevedo. "The average American can't afford it."
"Such a cynical scam," journalist Benjamin Norton tweeted. "Joe Biden's transition team is full of bankers and corporate shills and his campaign is supported by some of the richest billionaires and biggest corporations on Earth."
"But he wants average people to think he "needs help" and is begging for their money," Norton continued. "Sick."
"This is unbelievable," tweeted television writer and producer Akilah Green. "Please delete and apologize."
Newsweek reached out to the Biden transition team for comment.
In a Thursday press conference, Biden said that Trump's refusal to concede would cement his legacy as "one of the most irresponsible presidents in American history."
"It sends a horrible message about who we are as a country," Biden added.
Since the election, Trump has stated several times that he was the true winner of the election. During remarks on the lowering of drug prices at the White House on Friday, Trump claimed that large pharmaceutical companies "ran millions of dollars of negative advertisements against me during the campaign—which I won, by the way. But, you know, we'll find that out. Almost 74 million votes."
Although final results have yet to be tallied, Trump received more than 73 million votes in the election, which is more votes than any other sitting president in U.S. history has received. So far, Biden has received over 79 million popular votes.