Presidents Will Be Impeached For Starting Wars Without Congressional Approval If This Republican Gets His Way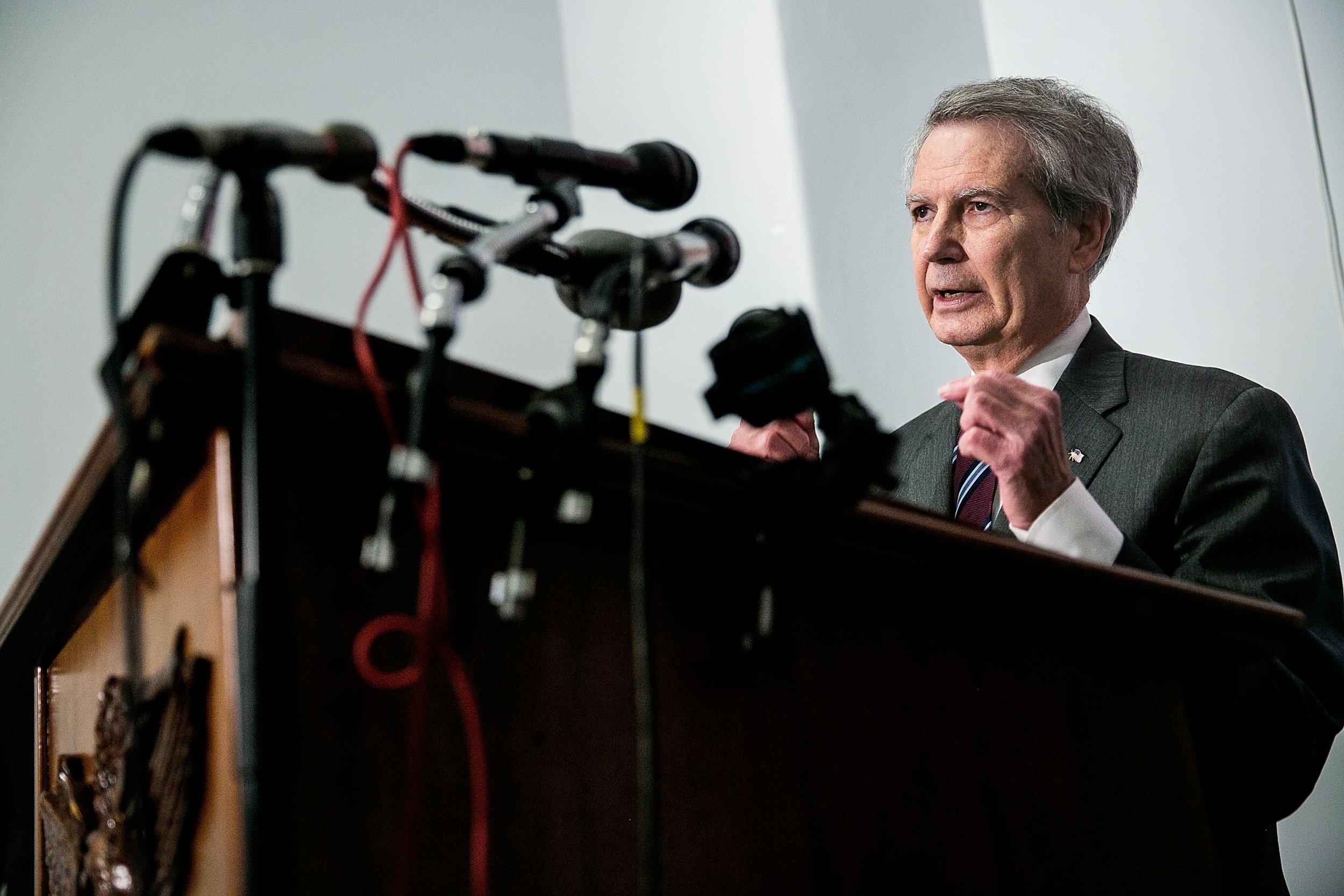 The footsteps from Republican Congressman Walter Jones reverberated off the white marble floors of the Rayburn House Office Building in Washington, D.C.
He was frustrated to the point of anger as he walked past the more than 290 portraits of dead service members he had hung outside his doorway—office number 2333. The faces within the frames staring back at onlookers were only a mere fraction of what has been lost in the war on terror.
Jones, 75, has represented the third congressional district of North Carolina for 23 years. Yet, despite his considerable understanding of the complexities of the beltway, he could not help his own vexation over the topic that has dogged him for the majority of his tenure in Congress—Afghanistan.
As presidential administrations changed, President Donald Trump had his generals draw up a new war strategy in the country known as the 'Graveyard of Empires,' amid blunt assertions out of the Pentagon: "We are not winning in Afghanistan," Defense Secretary James Mattis told the Senate Armed Services Committee; a fact combatant commanders and war veterans had known for years.
Jones's office is littered with war memorabilia and appreciation awards. In the summer of 2017, he was confronted with more bad news out of Afghanistan. "It says eight [Afghan] generals, 11 commanders of detachments and 296 other officers are among those suspected of crimes, including bribery, theft and murder," Jones read.
"I mean, shit. Excuse me for saying that, but how much more are we going to fund it? That's why I don't vote for the [Department of Defense] Bill," Jones said as he threw down a copy of The Washington Post.
Jones either didn't vote or voted no for passing the National Defense Authroization Act— the series of federal laws authorizing the Pentagon's budget and expenditure—for years 2017 and 2018. Congress is currently working on the NDAA for fiscal year 2019, which will start in October—Jones has already voted no.
"We just keep funding it. We are apart of the problem just as much as these damn [corrupt] officials in Afghanistan," he told Newsweek in 2017.
Jump to this past Wednesday, Jones found himself still fighting to bring a debate on Afghanistan to the House floor as two more American service members—U.S. Army Corporal Joseph Maciel and U.S. Army Ranger Sergeant First Class Christopher A. Celiz—were killed in the 17-year war. Outside of Afghanistan, combat operations involving U.S. forces continue in places like Iraq; Syria; Somalia and Niger, under umbrella names like "Inherent Resolve" or "Resolute Support" where advise, train and assist missions sometimes sound and feel like combat operations during a war—except the term "war" is never used.
Jones, along with Democratic Representative and serving U.S. Army National Guard Major Tulsi Gabbard of Hawaii, held a press conference to introduce a House resolution requiring congressional approval of all wars, including operations that don't use the "war" term, but are in reality a war.
"This resolution, that Tulsi Gabbard and I have put in, jails any president—doesn't matter if it's Trump or somebody else, this is isn't a partisan issue," Jones told Newsweek by phone. "Congress needs to be consulted with, debate and vote, if we want to send our troops to fight a war."
The bipartisan resolution would mandate that if the president of the United States sends troops to fight or support any type of operation that could be interpreted as a war, then the president has engaged in "co-belligerency" triggering violations of "high crimes and misdemeanors" under the U.S. Constitution, leading to impeachment by Congress.
The resolution would extend to the president, vice president and all civil officers of the United States in keeping with the U.S. Constitution; however, it does not prevent the president from exercising executive authority to use military force when responding to "actual or imminent aggression or a declaration of war against the United States," according to the proposed resolution.
"The last time Congress officially declared war was December 8, 1941, the day the United States entered World War II," Gabbard told reporters on Wednesday. "Ever since, Congress has failed to uphold its constitutional responsibility and has seated this power to the president—presidents of both parties, so our country continues to remain in a constant state of perpetual war at a great cost to the American people and to the innocent civilians around the world, who are affected by these wars, with no declaration of war by congress and no say by the American people."
Gabbard added: "The direct and indirect cost of these presidential wars are astounding. They take a toll on our troops, on our veterans and every single American."
Besides the human cost of war that leaves familes devastated, the finanical waste of American taxpayer dollars is astounding, Jones lamented.
Jones told Newsweek that the proposed resolution does not directly address the two Authorization for Use of Military Force (AUMF) bills currently authorizing the Pentagon to continue combat operations in Afghanistan and Iraq—instead, the resolution prevents the current and future administrations from sending U.S. forces into countries that have not attacked the United States or where there is not credible intelligence to suggest the country or organization is showing imminent aggression.
The AUMFs currently in place were signed in the aftermath of the September 11, 2001, terrorist attacks to fight al-Qaeda and other militant groups and to allow for the defense of the United States against the "continuing threat posed by Iraq," allowing for the 2003 invasion.
Bruce Fein, a Harvard educated constitutional lawyer was present at the lawmakers press conference.
He said Wednesday that the resolution is not an "anti-Trump resolution" and that the problem has been a chronic one. He explained that it does not retroactively prevent current operations but instead targets future operations, adding, that the resolution sets precedent for the executive branch to consult the legislative branch before sending troops to combat.
Former U.S. Marine Corps Captain Matthew Hoh, an Iraq War veteran who later worked as a political officer on U.S. policy in Iraq and Afghanistan for the State Department, was also present at the press conference.
He told Newsweek prior to the resolution announcement that it all comes down to accountability.
"How do we hold someone accountable? Right now, there's no way to hold anyone accountable...and both parties are guilty of this, the Democrats are just as bad as Republicans," Hoh said.
In 2009, Hoh resigned in protest his post with the State Department while in Afghanistan after President Barack Obama escalated the war in Afghanistan.
"We're asking young men and women to not just go there and die, but to come home maimed and in [physical or psychological] trouble for the rest of their lives that destroy entire families because of that," Hoh said. "How many families have been destroyed not because of combat casualties, but also because of the psychological casualties in these forever wars?"