President Joe Biden's Walk Mocked After State of the Union Address
President Joe Biden's walk after the State of the Union is being scrutinized on social media.
Jesse Kelly, a conservative radio host and Fox News contributor, was among those to share C-SPAN footage of Biden leaving the U.S. Capitol after the address on Tuesday, suggesting that his gait indicates failing health.
The 22-second video shows the president walking out of the Capitol building with the first lady and then getting into the back of his car.
"I love how the entire country is supposed to pretend that how Biden walks isn't at all a big deal," Kelly wrote on Twitter. "People who know, know that gait…"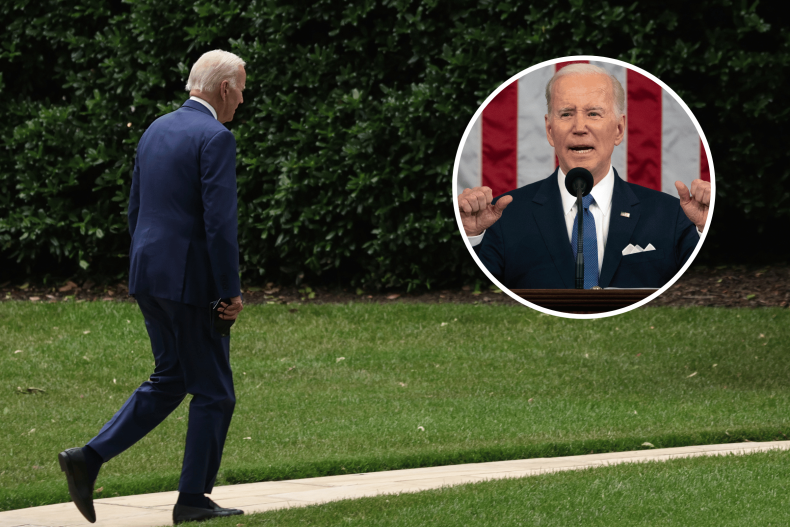 While Kelly left his post vague, other social media users made references to Parkinson's, Alzheimer's and other brain disorders.
"Notice Biden's walk?," wrote American conspiracy theorist and right-wing activist Ali Alexander. "Biden's particular gait indicates a condition. Short, stiff steps. Unable to bend his knees to get into the car."
Alexander added that he had warned people about the president's failing health in 2020 when he produced a documentary pointing out his "Parkinsonian walk."
Another Twitter user, @daytona_spyder, wrote: "Sure let's all pretend we haven't seen the countless video clips showing clear cognitive decline and his gait," adding a link to a 2012 New York Times report with the headline "Footprints to Cognitive Decline and Alzheimer's Are Seen in Gait."
Speculation about the heath of the president, particularly from political opponents,has been a feature of his term in office. He turned 80 last November and has a history of verbal gaffes.
Comedian Joe Rogan joined the fray last October, saying on his podcast: "If you talk to any person who treats people with dementia and you show them what he used to be like versus what he's like now, there is clear evidence of cognitive decline."
Some on social media stuck up for Biden after Tuesday's address, however. Twitter user @ChiefChris22 posted: "He just stood in front of Congress and spoke for over an hour, and then shook everyone's hands who wanted to, and he's 80 yrs old. What did you do today?"
Others pointed out that his predecessor's walk was often over-analyzed too, recalling the meme of former President Donald Trump tentatively shuffling down a ramp at West Point in June 2020, a few days before his 74th birthday.
Trump defended himself on social media, writing: "The ramp that I descended [...] was very long & steep, had no handrail and, most importantly, was very slippery."
He added: "The last thing I was going to do is 'fall' for the Fake News to have fun with. Final ten feet I ran down to level ground. Momentum!"
Newsweek has contacted the White House for comment on the president's health.