President Mike Pence Tracker: VP Is Defending Trump More Vigorously Than Ever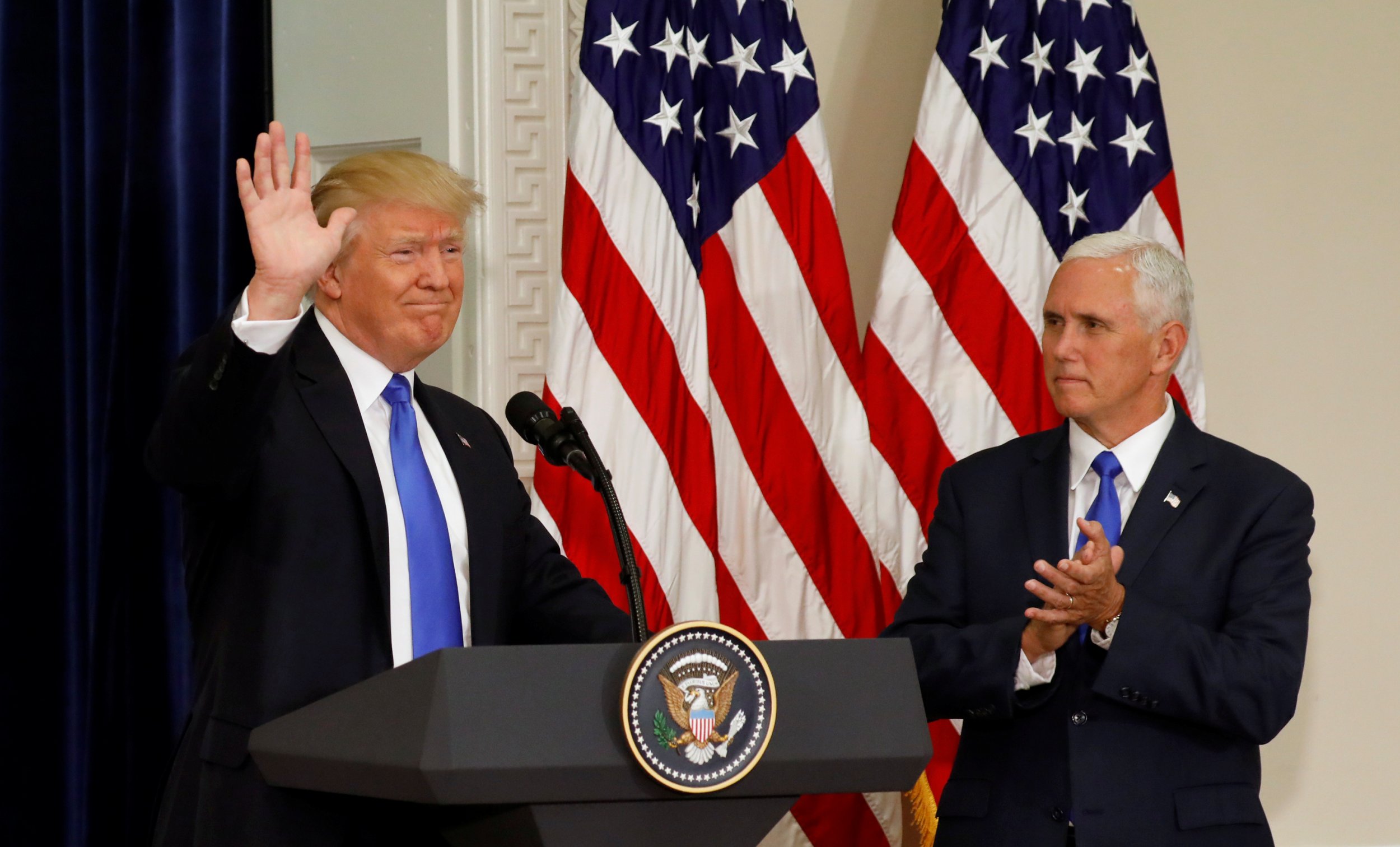 Calls for President Donald Trump's impeachment began nearly the moment he took office—and the hopes of many that he will eventually leave office before serving his entire term have since grown. Oddsmakers in Las Vegas have even at times set betting lines that indicated they felt it was more likely that Trump wouldn't finish four years in office than that he would.
This, of course, gave rise to speculation about what things would look like should Vice President Mike Pence take the top spot in the Oval Office. Just Tuesday, in fact, left-leaning online outlet Salon republished a post from online magazine The Globalist titled "President Mike Pence" that detailed how the vice president might differ from Trump if he did take over.
If there's any divide, though, between Trump and Pence—such as the former governor imagining life as head honcho—it certainly hasn't shown recently. Of course, it's not up to Pence whether Trump leaves office before his first term is done, but recently the vice president has been been right by the president's side, defending him vigorously even as the White House has devolved, yet again, into a whirlwind of controversy. The president appears to be actively trying to push out his attorney general (one of his earliest political allies); the president's son-in-law, a top White House adviser, is defending himself against accusations of collusion; and the president's son has opened a new can of worms after emails showed he previously met with folks connected with the Russian government in an attempt to land dirt on the 2016 Democratic presidential nominee, Hillary Clinton. Yet Pence hasn't budged as Trump's right-hand man.
Pence's focus this week has been on trying to push along the GOP's effort to gut Obamacare, something Trump has sought. Pence tweeted Tuesday, "As @POTUS said, 'The American people have waited long enough. There's been enough talk and no action. Now is the time for action.'" He also met with Senate Majority Leader Mitch McConnell to discuss the GOP's health care efforts and stood with Trump in meeting with "families suffering under Obamacare," tweeting, "thanks to this President, help is on the way."
"President Trump knows that every day Obamacare survives is another day that American families and American businesses struggle," Pence said this week during that meeting "with families suffering under Obamacare."
Pence even went as far as to write an editorial for Fox News this week titled "Trump's triumphs are many after only six months and he's just getting started." As one might gather from the headline, the piece lavished praise on Trump, who was the least popular president in the history of modern polling at the six-month mark.
"It is the greatest privilege of my life to serve as vice president to a president who is fighting every single day to restore an America of freedom, prosperity and opportunity for all," Pence wrote for Fox News.
Pence did raise some eyebrows in May when he launched a PAC, with many folks questioning if this was a sign of presidential ambitions amid Trump's many controversies. He's also vastly more popular in his own party, with Axios's Mike Allen writing in June that "it's widely known if they could pick between President Pence and President Trump, the Vice President would win 90 [percent] of the vote among the GOP." That idea is leaving some Trump critics hopeful. A piece in the National Memo Tuesday even predicted that amid Trump's many controversies, "members of Congress in both parties will eventually exhaust their patience, take a long look at Pence and say, 'What are we waiting for?'"