Obama Says He Will Issue Executive Order for Jon Stewart to Continue Hosting Daily Show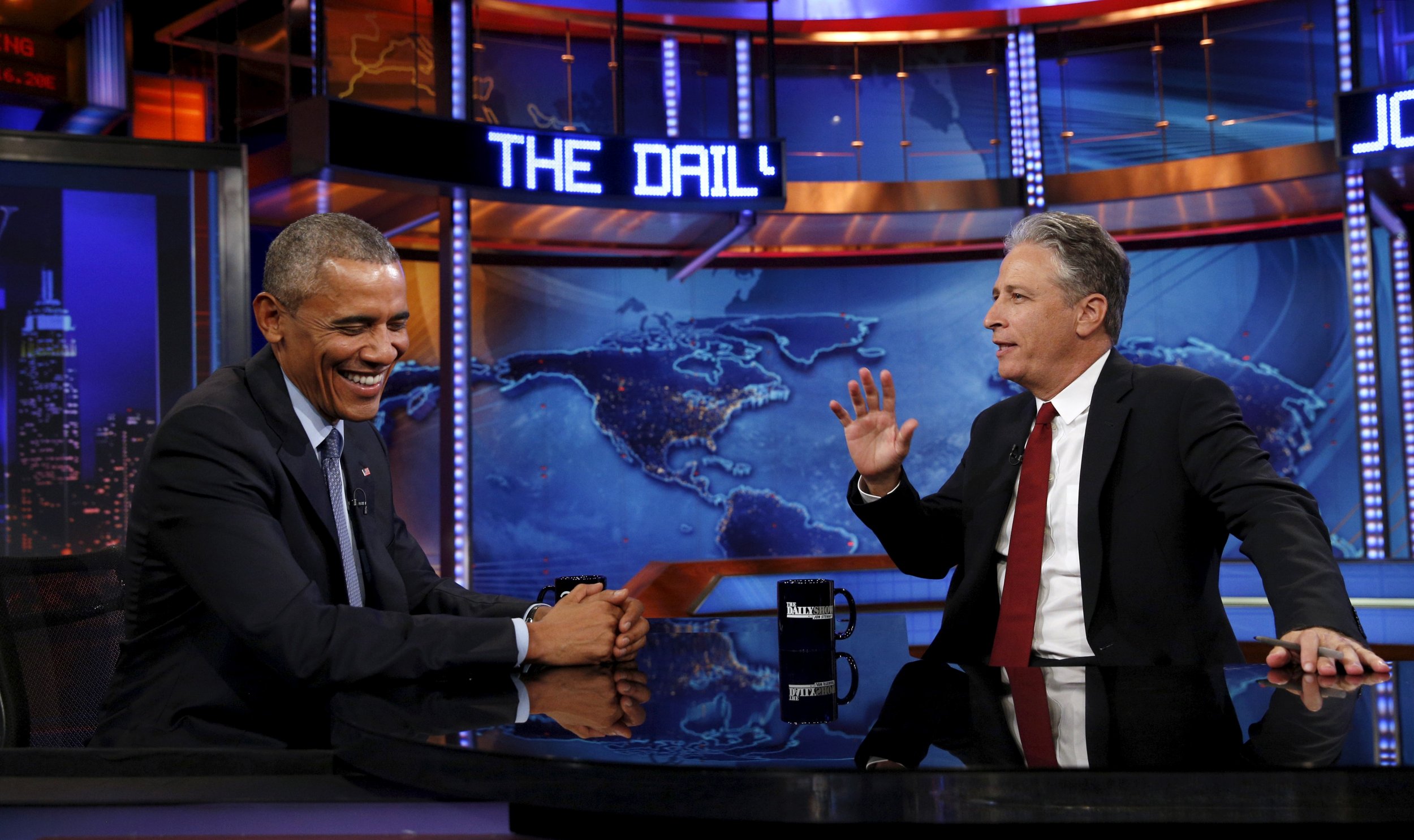 President Barack Obama and comedian Jon Stewart bonded over their "senioritis" on Tuesday night as they discussed Obama's remaining 18 months in the White House and Stewart's last two weeks as host of The Daily Show.
"I can't believe that you're leaving before me," Obama said during his final appearance as commander-in-chief with Stewart on The Daily Show. "In fact, I'm issuing a new executive order that Jon Stewart cannot leave the show. It's being challenged in the courts."
Stewart has led his late-night talk and news satire program since 1999. His last day hosting will be August 6. He will be replaced by 31-year-old South African comedian and Daily Show contributor Trevor Noah, whose first show as host will be on September 28.
During the 30-minute interview, which was taped on Tuesday afternoon in New York City and aired that night, Stewart pressed Obama on the Iran nuclear deal, mismanagement at the U.S. Department of Veterans Affairs, media and climate change.
"I finally know what I'm doing," Obama said. "[There are] a bunch of other things that we want to get done, some of them we got started early."
"Whose team are we on in the Middle East?" Stewart asked.
"Right now we're going after ISIL, and we've got a 16-country coalition, and that's a top priority," Obama responded, using an acronym for the militant group, the Islamic State, better known as ISIS.
With the Iran deal reached last week, leaders won't be able to obtain a nuclear weapon because the decision cuts off four major pathways for getting one, and the administration has international unanimity around an unprecedented inspection regime, Obama said. Congress has less than 60 days to vote on the deal. Obama has promised to veto a "no" vote from the leaders.
And as for presidential candidate Donald Trump entering the field for the Republican nomination?
"I'm sure the Republicans are enjoying Mr. Trump's current dominance of their primary," Obama joked. The real estate mogul, who spent months being skeptical of Obama's original birth certificate, has been making headlines with some of his outlandish statements, most recently on Tuesday, when he revealed the personal cell phone number of South Carolina Senator Lindsey Graham during a televised campaign speech.
Despite acknowledging there is work to finish, Obama noted his achievements with the economy.
"Stuff gets better if we work at it and we stay focused on where we're going. It doesn't immediately get all solved," Obama said during an extended 20-minute interview posted to the show's website. "It's not just 'fix it,' it's 'how do we work together to get things done?'"
Obama's appearance marked his seventh time on the Comedy Central show, including three appearances as president. In the past, Obama has met with other comedians, including with Jimmy Fallon on his late-night shows and with Zach Galifianakis on Between Two Ferns. He also recently sat down in a Los Angeles garage to speak candidly with comedian Marc Maron.