President Obama: Keystone XL Has No 'Nominal Benefit' for Americans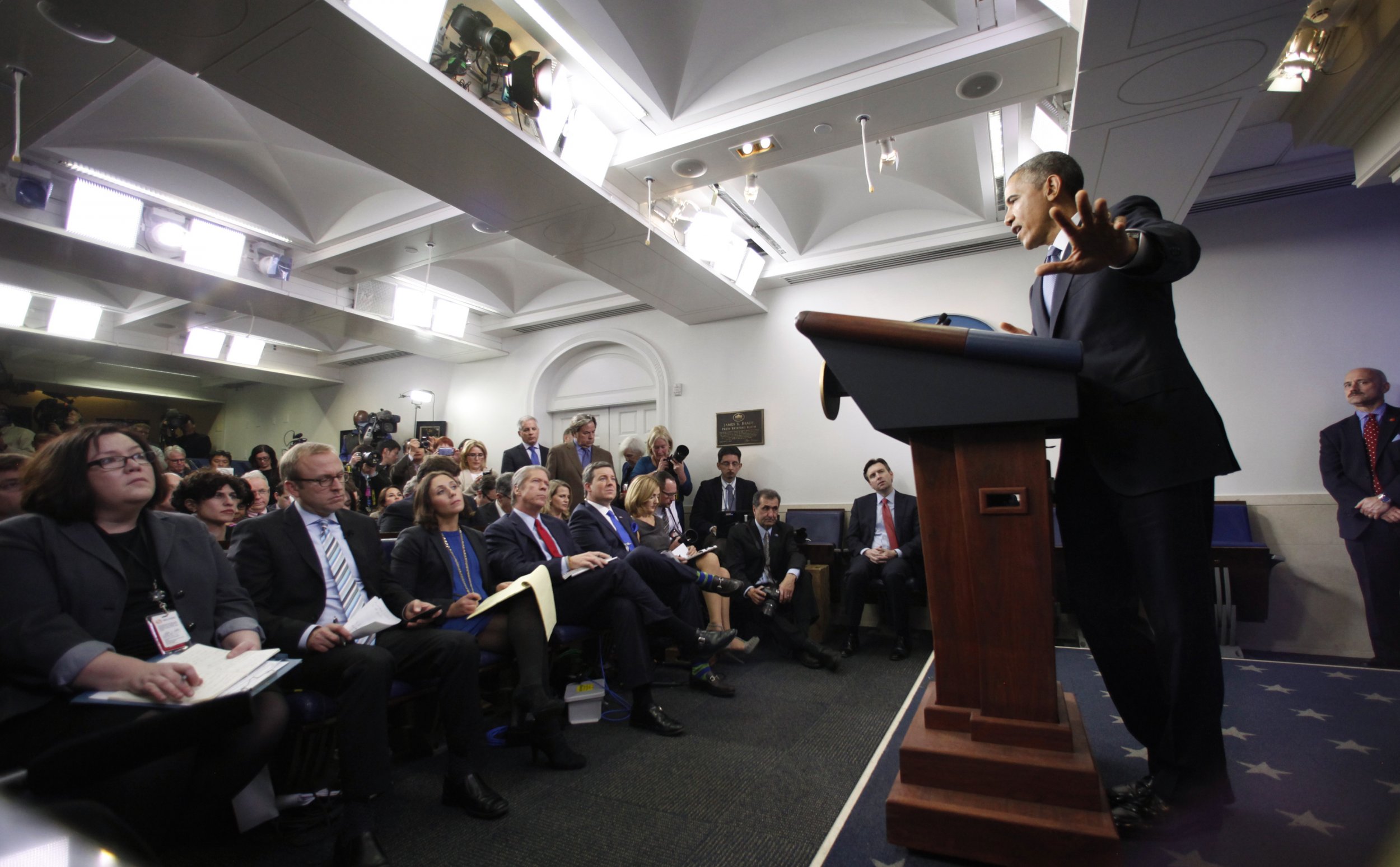 After months of expressing cautious skepticism about Keystone XL, President Obama delivered his most explicit criticism yet of the pipeline project at a year-end press conference on Friday, saying that the pipeline would "not even have a nominal benefit" to American consumers.
In response to a question from The Washington Post's Juliet Eilperin about Obama's tendency to "minimize the benefits" of the pipeline in past statements, the president replied: "I don't think I've minimized the benefits. I think I've described the benefits."
"At issue in Keystone is not American oil. It's Canadian oil that's drawn out of tar sands in Canada. That oil currently is being shipped out through rail or trucks and it would save Canadian oil companies and the Canadian oil industry an enormous amount of money if they could simply pipe it all the way down to the Gulf," Obama said. "Once that oil gets to the gulf, it is then entering into the world market and it would be sold all around the world."
Obama briefly tempered his unusually blunt statements by momentarily checking himself, though the result was nonetheless a frank criticism of congressional Republicans and industry advocates who have argued that the pipeline would benefit American oil consumers:
"So there's no—I won't say no—there is very little impact, nominal impact, on U.S. gas prices, what the average American consumer cares about, by having this pipeline come through," he said. "Sometimes the way this gets sold is, you know, 'Let's get this oil, and it's going to come here,' and the implication is that that's going to lower gas prices here in the United States. It's not."
"It's very good for Canadian oil companies, and it's good for the Canadian oil industry, but it's not going to be a huge benefit to U.S. consumers, it's not even going to be a nominal benefit to U.S. consumers," he continued.
Obama also noted that the pipeline will create a few thousand jobs, but emphasized that they will mostly be temporary construction positions that will disappear after construction is complete. A report from the State Department earlier this year concluded that Keystone XL would create only 35 permanent jobs.
"I think there has been this tendency to really hype this thing as some magic formula to what ails the U.S. economy and it is hard to see on paper where they are getting that information from," Obama said Friday.
A Senate vote on approving the pipeline in November fell short by one vote, narrowly keeping the legislation off Obama's desk, where it would likely have been vetoed anyway. The White House indicated that the President would not sign such legislation while the State Department was still undergoing review of the project.
But incoming Senate Majority Leader Mitch McConnell, a Republican, says he will prioritize passage of the Keystone XL as the first move he makes in the new year, when the newly Republican Senate will surely have the 61 votes it needs to pass a filibuster-proof bill. It is still unclear whether they will have the 67 votes needed to override a presidential veto, if it comes to that. Some speculate that Obama's comments Friday indicate it will. Former White House Press Secretary Jay Carney, now a commentator at CNN, also hinted toward that end.
"I really think he's been of two minds on this and it's hard to predict where he will go. It's true that some of the senators—Democratic senators—who would have been most vulnerable if he vetoed it will no longer be in the Senate. So that might give him a little more political leverage," Carney said on the air Friday.
Regarding McConnell's plans, Obama said Friday he would "see what they do. We will take that up in the new year."