President Putin Tried to Kill Me With Rat Poison, and Other Strange Tales From Model Behind UK's Latest Chemical Weapons Scare
Russian lingerie model Anna Shapiro and her husband Alex King were rushed to the hospital on Sunday after falling ill at an Italian restaurant in Salisbury, England, where two Russian military spies were recently accused of attempting to poison a Russian double agent and his daughter with a deadly nerve agent.
Medics were instantly alarmed and tested the couple for exposure to Novichok, the Soviet-era nerve agent used against the former Russian spy. To their relief, they found no trace of the deadly substance. But that was far from the end of the story.
Instead of going home to sleep off their sickness, the couple told the British tabloid The Sun that Moscow had targeted them using strychnine, a rat poison. On Wednesday, The Sun ran the story on its front page in which Shapiro retold her version of events, casting herself as a victim.
Shapiro, who also goes by the name Anna Webb, claimed that her father was a general in the Russian military and that officials in Moscow were angered because they thought she was a spy who had betrayed her country. Her husband King was fighting for his life in the hospital, she said. Police cordoned off the streets surrounding the Italian restaurant, and nearby establishments were evacuated.
Newsweek subscription offers >
Now, however, police say they suspect the whole story was a hoax. A hospital in Salisbury confirmed that King and Shapiro had been discharged after doctors determined that the couple didn't actually need medical attention. The Sun quickly took down the article and issued a statement. "Unavailable for Legal Reasons," reads the Sun's error message when a reader clicks on the original online article.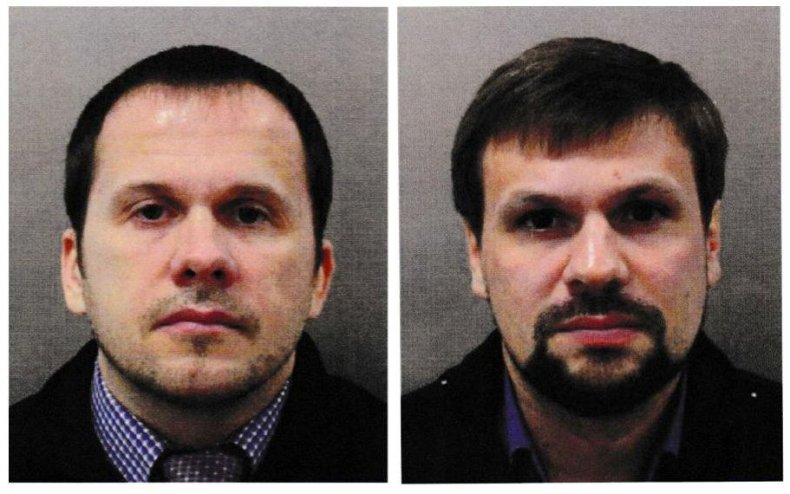 There are reasons to question King's reliability. The BBC reported that King, 42, was convicted in 2004 of distributing indecent photographs of children. In 2006, he also reportedly won a bet with a convicted fraudster named Edward Davenport, nicknamed "Fast Eddy," for roughly $130,000 after he successfully played a prank on Britain's Prince Charles during a film premiere. Police are planning to question King on Thursday.
Russian media, meanwhile, described the case as yet another false accusation the West is lobbing at Russia. Moscow has denied all interference abroad, from its attempts to interfere in the U.S. 2016 presidential election to the poisoning of the former Russian spy Sergei Skripal and his daughter in Salisbury in March. U.S. and U.K. intelligence agencies have unanimously concluded that Moscow was responsible for these incidents.
Newsweek subscription offers >
"A UK newspaper has revealed that the self-proclaimed target of poisoning in Salisbury, Anna Shapiro, worked as a call girl and claimed to seduce men for the Mossad, while her husband Alex King awaits trial for selling cocaine and ecstasy," the Kremlin-linked outlet Sputnik reported. The piece was referring to a story in the British publication The Daily Mail that claimed that Shapiro worked as a high-end prostitute and that her husband King staged sex parties. It is unclear whether any of those allegations are accurate.
Shapiro did not immediately respond to requests for comment from Newsweek.
The poisoning of Sergei Skripal and his daughter Yulia, however, was very real. Moreover, a British woman died in July after coming into contact with Novichok. She had found a bottle of the substance and thought it was perfume.
The U.K. government has blamed two alleged members of the Russian military intelligence (GRU) for the poisoning, and released CCTV footage of the pair in Salisbury at the time the crime was carried out. Putin personally defended the pair as mere civilians, and Russian media has attempted to portray the two men as a gay couple on holiday in Britain.
Suspects Alexander Petrov and Ruslan Boshirov gave an exclusive interview to the Russian state television channel RT, in which they claimed to have visited the town to see its famous cathedral spire.
"It's a tourist town—there's a famous cathedral there. Salisbury Cathedral," Boshirov said. "It's famous for its 123-meter spire, it's famous for its clock—the first clock to be invented in the world, and it's still going."
Many observers have claimed that it is implausible that two Russians would fly all the way to the U.K. only to spend several nights in a low-end hotel in East London, visit Salisbury and return home without seeing any other tourist sites.
President Putin Tried to Kill Me With Rat Poison, and Other Strange Tales From Model Behind UK's Latest Chemical Weapons Scare | World