President Trump Calls on Biden to Stop Spreading Vaccine Misinformation
At a Wednesday press conference, President Donald Trump called on Democratic presidential candidate Joe Biden and Biden's running mate, California Senator Kamala Harris, to stop disseminating what he called "anti-vaccination theories."
Trump's re-election campaign has alleged that Biden and Harris are attempting the undercut public confidence in the vaccine. President Trump said once the vaccine is approved by the FDA, it would be immediately distributed. That distribution plan, Trump said, could be put into effect as soon as October. After announcing the coronavirus vaccine distribution program, Trump alleged that Biden's campaign was guilty of spreading misinformation.
"I'm calling on Biden to stop promoting his anti-vaccine theories because all they're doing is hurting the importance of what we're doing," Trump said during a press conference on Wednesday.
"I know that if they were in this position, they'd be saying how wonderful it is," Trump continued. "They're recklessly endangering lives. You can't do that. And again, this is a case where they're only talking—just started talking a little bit negatively—and that's only because they know we have it or we will soon have it and the answer to that is 'very soon.'"
Newsweek reached out to the Biden campaign for comment.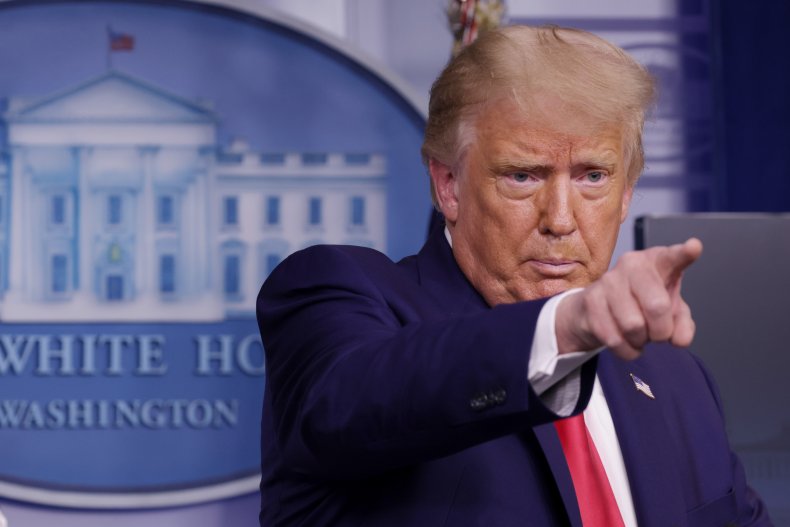 President Trump alleged that the Democratic ticket began criticizing the virus as a political move.
"They started knocking the vaccine as soon as they heard that this actually may come out prior to election," Trump said. "Now it may or may not, but it will be within a matter of weeks. It will be within a matter of weeks from November. We'll be ready to go and it's ready for massive distribution."
Trump's allegations concerning anti-vaccination theories being touted by the Democratic ticket may have stemmed from comments made by Biden and Harris in September.
"When we finally do, God willing, get a vaccine, who's going to take the shot?" Biden said during a September briefing in Delaware on opening schools during the COVID-19 pandemic. "Are you going to be the first one to say put me—sign me up, they now say it's OK?"
Kamala Harris said in September during a CNN interview that she would not take Trump's word about how effective vaccines are. "I will say that I would not trust Donald Trump, and it would have to be a credible source of information and reliability of whatever he's talking about," Harris said.
Biden echoed Harris's stated distrust of the president during a campaign event in Delaware.
"I trust vaccines," Biden said Wednesday. "I trust scientists, but I don't trust Donald Trump, and at this moment, the American people can't, either."
Wednesday data indicated that 6,824,072 positive cases of COVID-19 in the U.S. with 201,230 deaths attributable to the virus.