President Trump Could Become the Most Consequential President in History | Opinion
No president since Richard Nixon has successfully appointed more than two Supreme Court justices in his first term. Trump's nomination of Judge Amy Coney Barrett—an influential federal appellate judge on an Indiana-based seat on the U.S. Court of Appeals for the Seventh Circuit—gives him his third appointment to the high court in less than four years. And Judge Barrett is as impressive as they come.
Barrett—the mother of seven children, including one with Down syndrome and two adopted from Haiti—grew up in Louisiana and has spent most of her life in America's heartland. Barrett earned her bachelor's degree from Rhodes College in Tennessee, and then went on to earn her law degree from Notre Dame Law School in Indiana. Throughout her tenure on the federal bench, Barrett has shown a rock-solid commitment to the rule of law.
Not only did she graduate first in her law school class, she also clerked for the late, great Justice Antonin Scalia—the father of textualism and originalism as interpretive methodologies. Liberal Harvard Law School professor Noah Feldman, who clerked on the Supreme Court the same year as Barrett, said she was "one of the two best lawyers" of all 40 clerks. Feldman even said that Barrett was "legally prepared enough to go on the Court 20 years ago."
After clerking on the Supreme Court, Barrett briefly practiced law at a Washington, D.C. firm before returning to Notre Dame Law School as a professor. She spent 15 years teaching courses in federal courts, constitutional law and statutory interpretation. Her depth of knowledge in these crucial subjects uniquely qualified her to accept President Trump's judicial appointment to the Seventh Circuit in 2017. Even the liberal American Bar Association could not help but rate Barrett as "well qualified" to serve—something that Senate Democrats claim to be their "gold standard."
Judge Barrett is known by her colleagues, past and present, as a brilliant attorney. In her years as a circuit judge, she wrote in defense of Second Amendment rights and the rights of accused students to due process in university investigations of sexual assault charges. During her time on the bench, she was lauded as a "champion of originalism," demonstrating her commitment to interpreting laws based on their original, fixed meaning, rather than her policy preferences.
Now more than ever, we need Supreme Court justices like Judge Barrett who understand that their modest, but critical, role in our constitutional order is to protect us from government overreach and mob rule.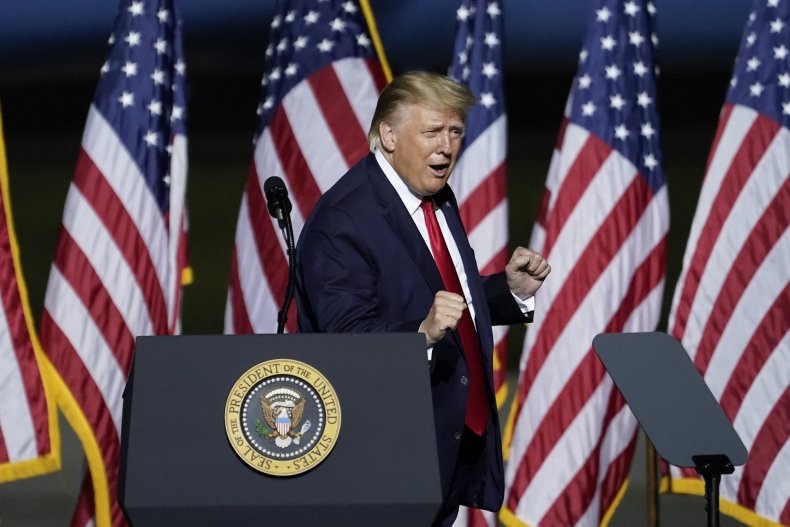 The Senate must confirm Judge Barrett, or we risk letting a President Joe Biden and Vice President Kamala Harris install a radical leftist who will vote to take away our individual rights to speak, worship and protect our families.
Democrats, like Senate Minority Leader Chuck Schumer, vow radical change to the Senate—and America as we know it—if they win back power in November. They plan to lower the Senate voting threshold, making it much easier for Democrats to jam through radical, liberal legislation that could redefine America as we know it for the worse. Democrats openly advocate—in their 2020 party platform, no less—their court-packing scheme, an assault on judicial independence so radical that even the late Justice Ruth Bader Ginsburg recently took the unusual step of publicly coming forward to reject it.
For conservatives, the time for battle is now. America's judiciary, as designed by the Founders, is the country's last line of defense against the Left's radical agenda. If President Trump is denied the opportunity to fill this seat, the right "to say what the law is" will go to the Washington Democrats who refuse to respect it.
Those who followed the Brett Kavanaugh confirmation battle know Barrett's fight will not be easy. In her 2017 Seventh Circuit confirmation hearing, we saw a preview of the vicious attacks we can expect. Democratic senators repeatedly attacked Barrett's Catholic faith. Senator Dianne Feinstein—the top Democrat on the Senate Judiciary Committee—even questioned whether Barrett could be an impartial judge in certain cases because Catholic "dogma lives loudly within [her]." The American people must not tolerate the Senate Democrats' violations of Article VI of the U.S. Constitution—which forbids religious tests for office—with their anti-Catholic dog whistles and bigotry.
Conservatives are one vote away from guaranteeing that the rule of law prevails on the Supreme Court for generations to come. Judge Barrett's confirmation to the Supreme Court guarantees a true conservative majority—something for which we've waited more than a lifetime.
Mike Davis is the founder and president of the Article III Project (A3P), an advocacy organization that fights for President Trump's judicial nominees. Last Congress (2017-19), Davis served as the chief counsel for nominations to then-Chairman Chuck Grassley on the Senate Judiciary Committee, where he served as staff leader for the confirmation of Justice Kavanaugh and a record number of federal circuit judges. Davis previously clerked for Justice Neil M. Gorsuch, both on the U.S. Supreme Court and the U.S. Court of Appeals for the 10th Circuit.
The views expressed in this article are the writer's own.