President Trump 'Countdown Clock' Showing Days Until His Term Ends Goes Viral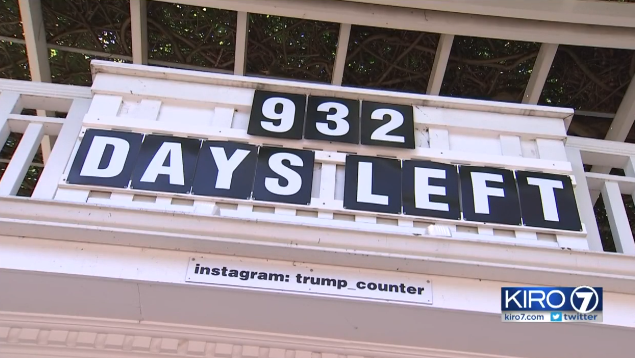 A Trump "countdown clock" in Seattle, which displays the number of days left until the end of the president's his first term, has gone viral.
According to local news, an anonymous household in the town's Leschi neighborhood put up the clock shortly after Trump's inauguration last January. After the house was sold, the new owners agreed to maintain the countdown and both parties signed a contract to ensure the promise was upheld.
Lily Onnen, the house's new homeowner, told KIRO 7 that the countdown clock served two functions, to alert the public of when the reign of Trump is over and to act as a beacon of hope. "It's a message of hope," she said. "For me the more the number shrinks, the more hopeful I get."
If Trump is reelected in 2020, Onnen said she will simply restart the clock and do it all over again. "We would reset the clock. We would start all over," she said.
The clock even has its own Instagram account which has generated thousands of likes and comments from users. Each day, the account's owner posts an image of the clock displaying the number of days left. As expected, it is always one less than in the photo posted the previous day.
"On Thanksgiving Day, as the President is aggrieved that more Americans aren't expressing gratitude for him, we are thankful for all those who are committed to resisting his immoral, ignorant and incompetent Presidency. And resist we shall. Happy Thanksgiving," the Trump Counter account wrote last November.
Several popular media sites, including The Hill, have also covered the Seattle countdown clock, with thousands sharing their news reports.
Zawdie Terry, Onnen's neighbor, said the sign amused him and was not offensive. "Even if you support the current president, it's just a countdown," he said.
The former owner of the Seattle house, who wishes to remain anonymous, set up another countdown clock in the Magnolia district, where he now lives.
Since Trump was elected to power, various critics have set up similar countdown clocks to anticipate the end of his controversial presidency. The Tickcounter's online clock, which allows internet users to share the countdown, has amassed more than 150 comments.