President Trump Is Leading an Assault on Democracy in the U.S. And Around the World, Report Claims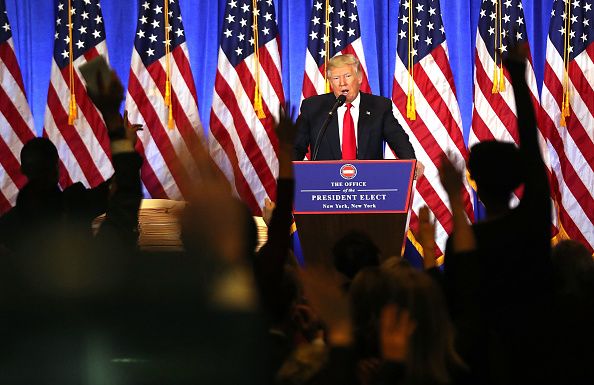 President Donald Trump has rapidly accelerated an assault on democracy in the United States and around the world, a report from a non-partisan global watchdog group has found.
Related: Republican Senator Says Donald Trump Is Behaving Like Stalin With Fake News Awards
Assaults on the press, retreating from a commitment to advocating for democracy around the world, violations of basic ethical standards and a lack of transparency are just some of the examples that created this new landscape, revealed Freedom House in its annual Freedom in the World Report.
"The core institutions of American democracy are being battered by an administration that has treated the country's traditional checks and balances with disdain," Michael J. Abramowitz, president of Freedom House said. "The Trump administration has made a sharp break from the political consensus of the last 70 years by casting aside democracy as the animating force behind American foreign policy."
He added: "The hastening withdrawal of the United States from its historical commitment to supporting democracy overseas makes the challenge posed by authoritarian regimes all the more powerful and threatening."
The group branded the United States among the "countries to watch," joining the likes of Afghanistan, Iraq and South Africa. The authors called for "special scrutiny" towards these countries.
"The past year brought further, faster erosion of America's own democratic standards than at any other time in memory, damaging its international credibility as a champion of good governance and human rights," said the report's authors.
Trump's "America First" slogan, along with his administration's "hostility and skepticism" toward binding international agreements on the environment—namely the Paris Climate Accord—and on arms control were said to have displayed a new blueprint taking shape.
"Democracy is under assault and in retreat around the globe, a crisis that has intensified as America's democratic standards erode at an accelerating pace," claimed the report.
The authors also cited an "inability—or unwillingness"—by the United States to "lead democracies" in confronting the threat from Russia and China, and other states that displayed similiar authoritarian approaches.
However, although the United States received a score of 86 out of 100—cementing itself this year below France, Germany and United Kingdom—"it is still firmly in the Free category," the report stressed.
Attacks on the press, and its potential impact on the public's access to a free and independent news media, were highlighted as an example that the Freedom House will continue assessing.
Trump has famously derided the press as "fake news" and on Wednesday he is scheduled to hand out his "Fake News Awards." The prize could violate ethics rules, reported Politico.
The authors of the global freedom report did not spare Barack Obama's administration from criticism, either. It said that while the U.S. continued to protect democratic principles under Obama, "its actions often fell short."