Just a few months before President Donald Trump left office, he was nominated for the Nobel Peace Prize—for the second time. He should receive it.
In September 2020, a member of the Norwegian Parliament formally nominated the 45th U.S. president for the award, citing major achievements toward peace in the Middle East.
Before leaving office, President Trump brokered the historic Abraham Accords, signifying the start of peaceful relations between the United Arab Emirates, Bahrain and the State of Israel. In the following weeks, it was announced that Sudan and Morocco had also normalized ties with Israel.
For context, prior to the Abraham Accords, the last Arab nation to normalize relations with Israel was Jordan—a quarter of a century ago.
President Trump made peace in the Middle East a signature campaign issue, and it was one of many reasons why Americans chose to send him to the White House in 2016. Detractors said it was an impossible task—a dream that could never be fulfilled. However, the president and his team, led by White House Senior Advisor Jared Kushner and Special Representative for International Negotiations Avi Berkowitz, turned it into a reality. For their vital work, Kushner and Berkowitz have also been nominated for the Nobel Peace Prize.
President Trump fought back against both Democrats' failed policies and the Republican foreign policy establishment in order to bring peace to the Middle East. For decades, Republicans and Democrats alike have claimed to support the move of the U.S. embassy in Israel from Tel Aviv to Jerusalem, but presidents of both parties had failed to do so.
That is, until President Trump took decisive action and formally recognized Jerusalem as the capital of Israel, recognized Israeli sovereignty over the Golan Heights and began the move of the embassy to Jerusalem—signaling to the world that the United States stands strong with the nation of Israel.
President Trump's decisive action in the Middle East did not stop with Israel. The 45th president also took strong action against both ISIS and Iran. Before President Trump took office, the ISIS caliphate had taken control of an area the size of Pennsylvania. By the time Trump left office, ISIS was nearly defeated in both Syria and Iraq. Trump took out ISIS leader Abu Bakr al-Baghdadi when military forces conducted a secret mission near Barisha, Syria. Iran's infamous Islamic Revolutionary Guard Corps-Quds Force General Qassem Solemani saw the same fate as Baghdadi when he was taken out by a targeted drone strike in Baghdad, Iraq. President Trump made it clear that if our enemies wished harm on the United States, they were not safe anywhere.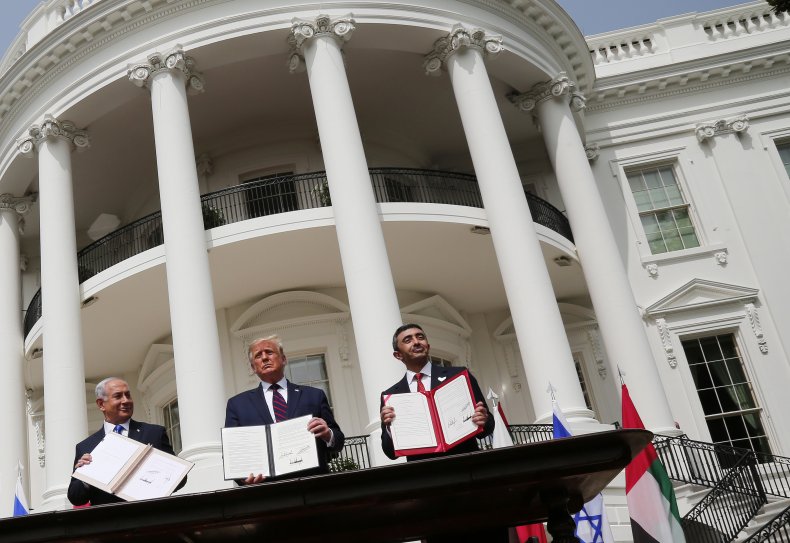 We supported our allies, and our enemies feared us. But after the 2020 election, things shifted—for the worse.
The newly inaugurated Biden administration has done little to continue the Middle East successes of its predecessor. Joe Biden has snubbed our allies Israel and Saudi Arabia, not calling Israeli Prime Minister Benjamin Netanyahu during his first month in office and telling Saudi Arabia he will only deal directly with King Salman—rather than Crown Prince Mohammed bin Salman.
Our enemies in the region are receiving better treatment from the current administration than are our allies. Joe Biden is attempting to resurrect the awful Iran nuclear deal, first established in 2015 while Biden was vice president. Re-entering the deal will lift sanctions that are currently hindering Iran from conducting acts of terror against the U.S. and our allies. And some establishment Republicans also seem along for the ride.
Instead of making concessions and sending pallets of cash to Iran like the Obama administration did, President Trump used sanctions as leverage to exert maximum pressure on Iran to stifle the mullahs' nuclear weapons program.
Under Joe Biden, our allies are being left out to dry and our enemies are feeling emboldened. The national security establishment, both Right and Left, has long opposed deliberate, innovative approaches to bring Middle East peace. President Trump made our allies stronger and our enemies weaker. His swift and decisive actions resulted in peace across the region—and for that, President Trump should receive the Nobel Peace Prize.
Trump was the most pro-Israel president since Harry Truman, who recognized the State of Israel upon its modern rebirth in 1948. No American president has accomplished more for peace in the Middle East. President Trump and his team deserve to be honored by the Norwegian Nobel Committee.
Eric Greitens is the former governor of Missouri.
The views expressed in this article are the writer's own.