President Trump on Immigrants who Scale Dangerous, Sharp-Edged Border Wall: You 'Deserve Whatever You Can Get'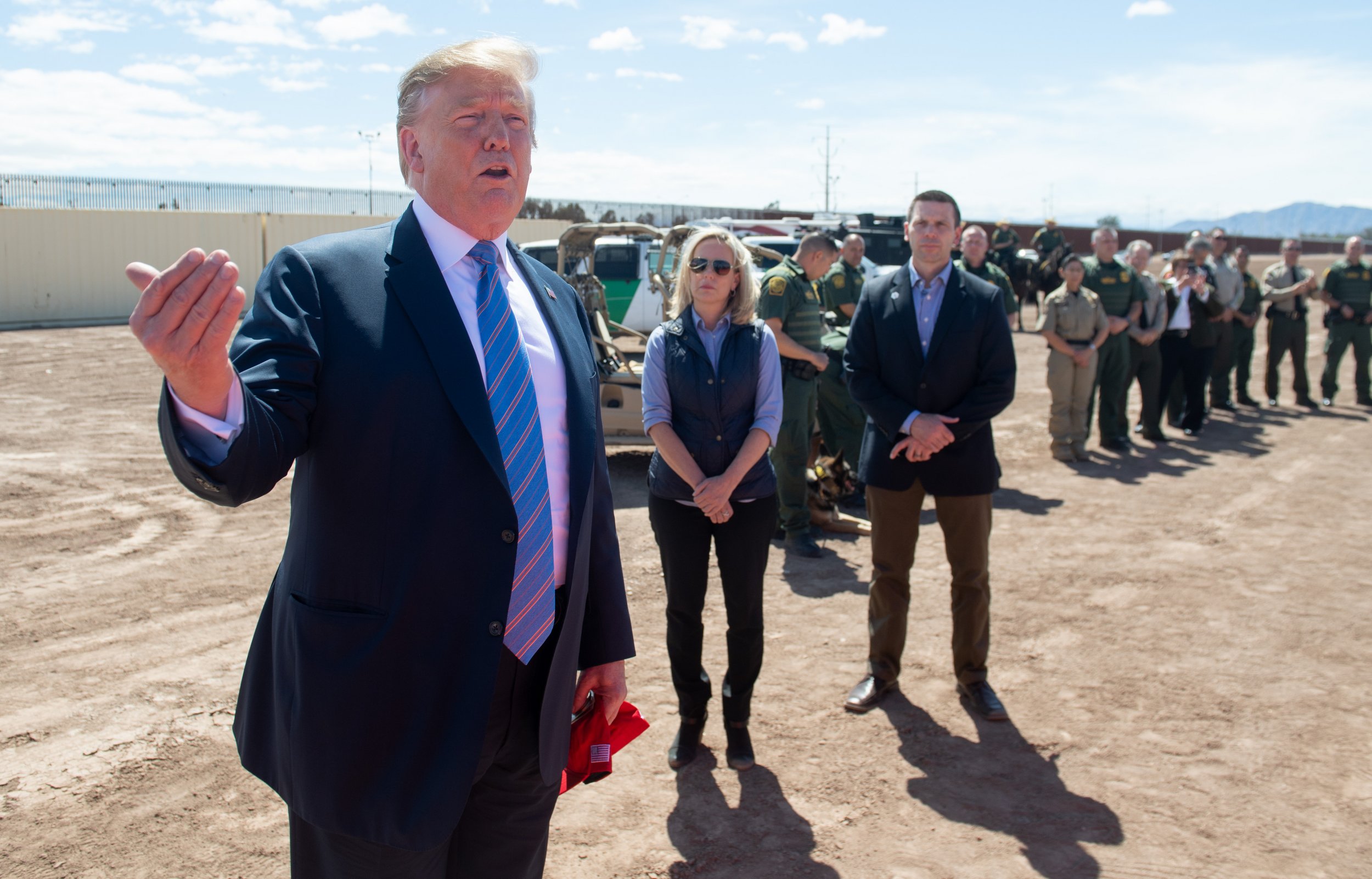 President Donald Trump, only a day after walking back his pledge to shut all ports of entry along the country's border to Mexico, visited U.S. Customs and Border Protection (CBP) officials in California, where he seemed to challenge immigrants to scale the fencing and walls along the border.
Trump spent Friday afternoon in Calexico, California, located on the border with Mexico, across from the much larger city of Mexicali. According to the Washington Post, the president was on hand to visit a new two-mile section of border fencing. However, the new structure is not part of Trump's often-promised wall. Rather, notes the Post, it is a long-planned replacement for older fencing in that area.
While looking at the fencing, Trump made comments that appeared to both tout the structure's integrity and challenge immigrants who attempt to scale it.
"If you want to climb that, it's pretty sharp up on top, too," said the president, according to CNN. "If you want to climb that then you deserve whatever you can get, but it's very, very hard. It's meant anti-climb. It's called anti-climb, so it's a great wall and… I think it looks fantastic — very see-through, so you're able to see the other side, which is a very important element."
While the president may think a sharp-edged wall would deter illegal border crossings, immigrants have long risked their health and lives to enter the U.S. at various points along its shared border with Mexico.
Harvard professor Ieva Jusionyte wrote in the book Threshold about her experiences working as an emergency medical technician (EMT) on both sides of the U.S. border with Mexico.
In an excerpt published in The Atlantic, Jusionyte recalls tending to a woman injured while attempting to scale a border fence.
"She had climbed a ladder on the other side of the steel border wall, but was unable to hold on to the structure and fell down from a height of about 24 feet," she writes of the woman who had broken both legs in the fall. "We were told that she had been lying there for two hours when a Border Patrol agent found her."
Even without border fencing, the combinations of dessert conditions and dangerous water crossings results in hundreds of migrant fatalities per year. According to 2017 data from International Organization for Migration, the Pima County, Arizona, office of the Medical Examiner, reported an average of more than 160 dead "undocumented border crossers" each year between 2010 and 2016.
Both Jusionyte and IOM pointed to a policy known as "prevention through deterrence" as a culprit in the growing number of injured and dead migrants in recent decades. This strategy, put in place in 1994 by President Bill Clinton, focused immigration enforcement on population centers, effectively shunting migrants off to more harsh, remote crossings. In more urban areas, the fences got taller and more difficult to scale.
"The shifting design of the border fence produces particular forms of injuries: The sharp edges on top of the previous fence, made of corrugated sheet metal left over from the Vietnam War, amputated limbs; the tall, slatted steel wall we have today fractures legs and ankles," writes Jusionyte, who said that EMTs in Arizona border towns were repeatedly called out to deal with migrants injured from falls and began referring to the area as "ankle alley."