Donald Trump Jokingly Suggests Serving 5 Terms in White House During Pennsylvania Rally: 'We'll Drive Them Crazy'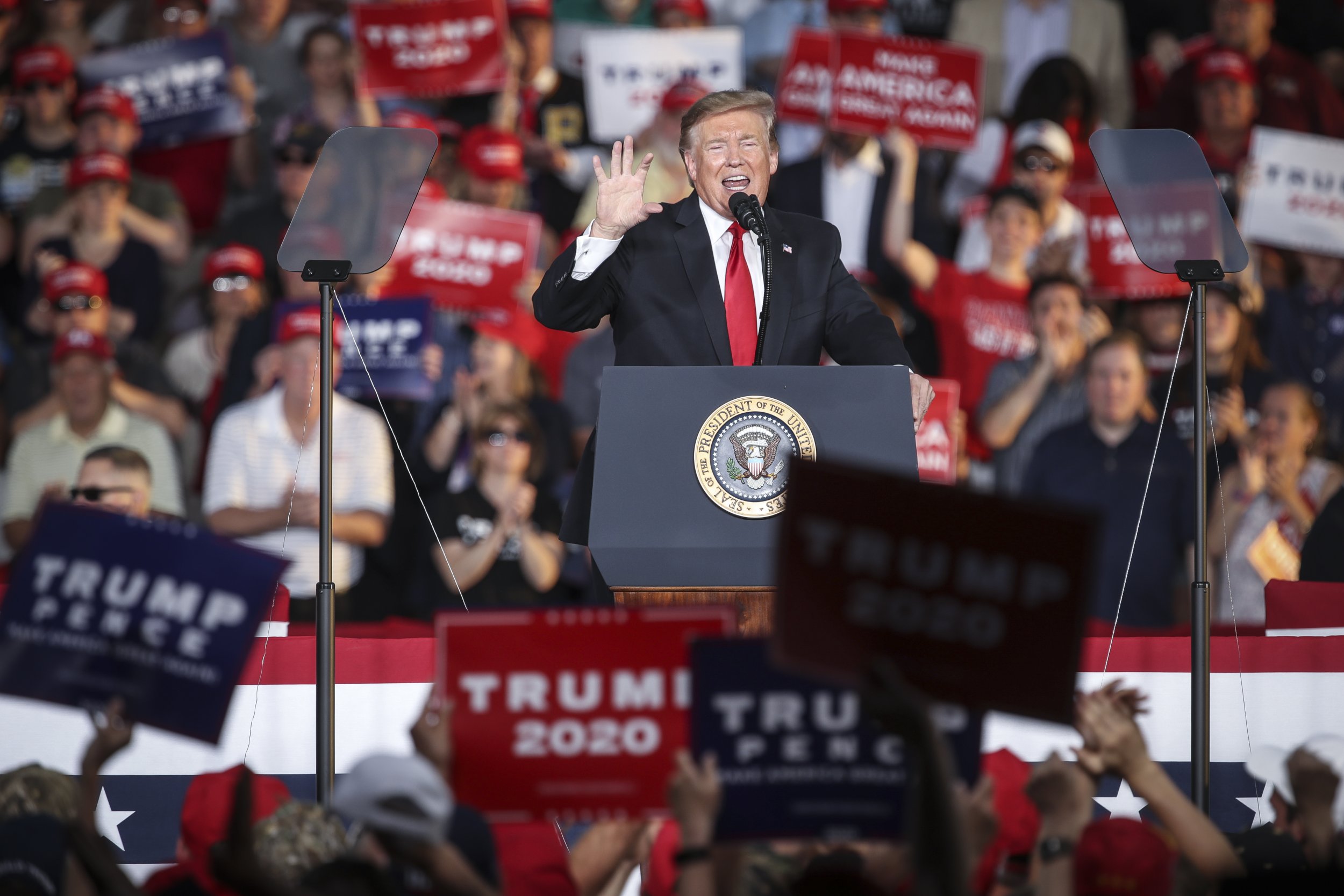 President Donald Trump jokingly suggested he will serve five terms in the White House during his Make America Great Again rally in Montoursville, Pennsylvania on Monday evening.
"We ran one time and we're 1-and-0 — but it was for the big one. Now we're going to have a second time. And we're going to have another one. And then we'll drive them crazy," the president said to a cheering crowd.
"And maybe if we really like it a lot — and if things keep going like they're going — we'll go and we'll do what we have to do. We'll do a three and a four and a five," Trump added.
"We're going to have another one, and it's going to be great," he concluded.
The comments on Monday evening are not the first time the president has joked about serving more time as the U.S. head of state than the law and constitution allows. The 22nd Amendment, ratified in 1951, prohibits presidents from serving more than two terms.
Earlier this month, Trump retweeted Liberty University President Jerry Falwell's post, calling for the first term of his presidency to be extended by two years "as pay back for time stolen by this corrupt failed coup."
"After the best week ever for @realDonaldTrump - no obstruction, no collusion, NYT admits @BarackObama did spy on his campaign, & the economy is soaring. I now support reparations-Trump should have 2 yrs added to his 1st term as pay back for time stolen by this corrupt failed coup," Falwell — a longtime Trump supporter — tweeted May 4, apparently in reference to the controversies surrounding special counsel Robert Mueller's report. Trump retweeted the post a day later.
The graphic below, provided by Statista, illustrates term limits of heads of government around the world.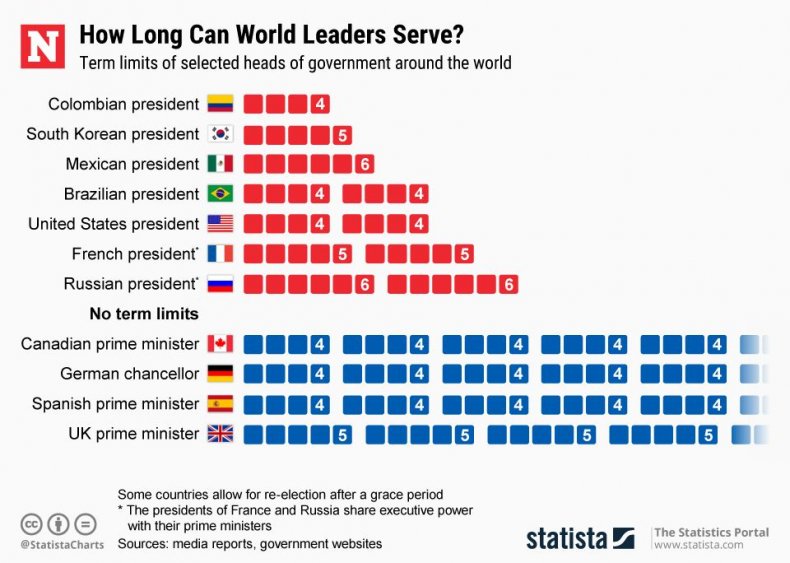 In another move highlighting Trump's fascination with exceeding term limits, the president praised his Chinese counterpart Xi Jinping in March 2018 after the ruling Communist party announced it was abolishing the two-term limit for the presidency, rendering Xi able to serve indefinitely.
"He's now president for life, president for life. And he's great," Trump said, according to audio recorded at a closed-door fundraiser in Florida aired by CNN. "And look, he was able to do that. I think it's great. Maybe we'll have to give that a shot someday." It is unclear whether Trump made those comments as a joke.
In response, Rep. Ro Khanna (D-Cali.) tweeted: "Whether this was a joke or not, talking about being President for life like Xi Jinping is the most unAmerican sentiment expressed by an American President. George Washington would roll over in his grave."
This article was updated to include an infographic.