President Donald Trump is no stranger to appearing on the big screen—and his impeachment trial playing out in the Senate is no exception.
Peppered throughout the House impeachment managers' case to remove him from office not only included witnesses who testified during the inquiry, but Trump's own words, as well as a top official with firsthand knowledge of the president's actions involving Ukraine: acting White House Chief of Staff Mick Mulvaney.
"The evidence of wrongdoing by President Trump is hiding in plain sight," said Rep. Hakeem Jeffries (D-N.Y.), an impeachment manager.
The tactic by Democrats, which they say only bolsters their allegations laid out in the articles of impeachment that Trump is a national security threat and sought to undermine American democracy with foreign election interference, is one they hope will sway the public to back their ongoing push for new witnesses and documents.
"The American people heard. From what I'm told, it was on every TV. Even the network's dropped the soap operas, Jeopardy! or whatever else they play, and paid attention," Senate Minority Leader Chuck Schumer (D-N.Y.) told reporters. "Many more Americans, just like many more senators, will hear complete, powerful arguments for the first time."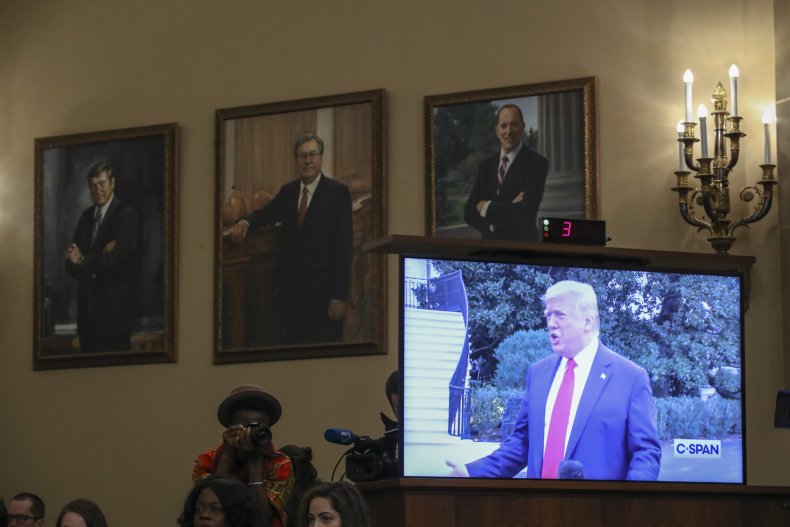 The utilized clips of Trump included his public push for Ukraine and China to investigate the Bidens and his willingness to accept foreign dirt on a domestic political rival. Mulvaney, one of four current or former officials who Democrats want to subpoena, also made an appearance for the time he admitted to a quid pro quo occurring and for people to "get over it."
"There is no question that President Trump [pressed] the Ukraine leader to look into his political rival," said Rep. Adam Schiff (D-Calif.), the leading manager and chairman of the Intelligence Committee. "Even after the impeachment inquiry began, he confirmed his desire on the South Lawn of the White House declaring that, not only Ukraine should investigate Biden, but that China should do the same."
In October, Trump said it was his hope that after his July 25 phone call with his Ukrainian counterpart, Ukraine would launch a "major investigation in to the Bidens." He added that "China should start an investigation," too.
Jeffries, in addition to Schiff, played the clip.
In June, prior to his phone call with Ukraine, Trump told ABC News he would "want to hear" damaging information on a political opponent from a foreign country. "There isn't anything wrong with listening," he said.
"The president publicly expressed that he thought it would be okay to accept foreign interference to assist his campaign, if it was in the form of opposition research on his campaign," Rep. Sylvia Garcia (D-Texas) said in her arguments. "Shocking video."
Mulvaney made the Democrats' list of featured clips over his extraordinary press conference on October 17, where he conceded there was a quid pro quo in withholding military aid from Ukraine in exchange for assurances to investigate the Bidens. He told the media to "get over it."
"Should the Congress just get over it? Should the American people just come to expect that our president's will corruptly abused their office to seek the help of a foreign power to cheat in our election?" Schiff said. "Is that what we've come to? I hope and pray that the answer is no."
Mulvaney's remarks came amid the House's impeachment inquiry.
"We do that all the time with foreign policy," Mulvaney said, speaking to withholding the aid in exchange for wanting the political investigations. "Get over it. There's going to be political influence in foreign policy. That is going to happen."
The case laid out by the impeachment managers was not surprisingly criticized by Republican senators and Trump's defense team for lacking new information and rehashing old arguments.
Jak Sekulow, a personal attorney to Trump who during the trial has already made passionate defenses for the president, said his client's past remarks, particularly those to ABC News about accepting dirt on an opponent from another country, was not damaging.
"They're making it for an emotive purpose. It's a video that's been seen before. It was an you know there was a lot more to that video that was saying," he told reporters at the Capitol. "None of that violates any laws, rules or regulations."
Lawmakers held a similar sentiment.
"I stayed awake, but I didn't hear anything new," Sen. John Barrasso (R-Wyo.) told reporters. "Two and a half hours and nothing new that we didn't hear yesterday during the 13 hours."
"We haven't heard anything new," agreed Sen. John Cornyn (R-Texas). "I hope this isn't just going to be a series of repetitious arguments just to try to fill the time allotted."