President Trump Says 'Give Me Therapeutics' Over COVID-19 Vaccine
In an interview with Dr. Marc Siegel on the Fox News program Tucker Carlson Tonight, President Donald Trump said he preferred the concept of therapeutic therapies for COVID-19 patients over vaccines.
Wednesday, Trump announced that his administration would acquire millions of doses of a potential vaccine for coronavirus. Although Trump has been criticized for saying the coronavirus would go away with the onset of warm weather, Trump said he wanted to "knock it out" before the virus went away naturally.
"I think we can knock it out before it disappears," Trump said. "That's what I want. And if I had my choice between vaccines or therapeutics, give me therapeutics every time because I'd love to walk into a hospital and give everybody something and they start walking out in two days. That's what I'd like."
Trump said vaccines were good for the "longer term," but that he was pleased with the work being done on therapeutic treatments for the virus.
"You tell me, but I almost would prefer the therapeutics even first," Trump said Wednesday. "You go into the hospital and you make people better. But we're doing very well with remdesivir and other things. Steroids are turning out to be great, plasma is turning out to be good."
Newsweek reached out to the office of U.S. Surgeon General Jerome Adams for comment.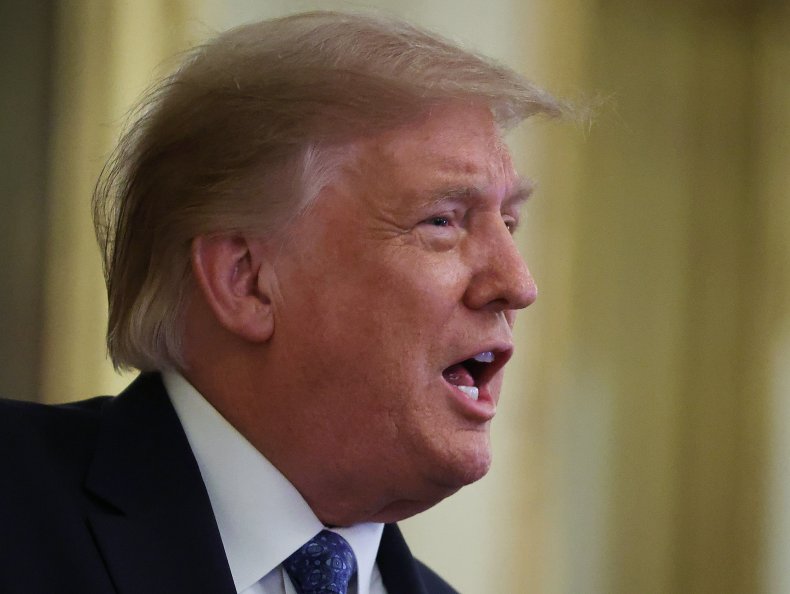 During his Wednesday coronavirus briefing, President Trump said his administration had reached a "historic agreement" with pharmaceutical company Pfizer to manufacture and deliver 100 million doses of their vaccine after it is approved for use.
"Hopefully the approval process will go very quickly," Trump said. "We think we have a winner there."
Once Pfizer's vaccine is approved, the company will deliver an additional 500 million doses. Trump said his administration had attempted to "develop, manufacture and distribute a vaccine in record-breaking time. Really, a very small fraction of the time based on previous schedules."
According to a statement released by Pfizer and its partner BioNTech on Wednesday, the deal between the companies and the government is worth $1.95 billion dollars.
Known as BNT162, the vaccines contain a form of DNA that may tell the human immune system to create an antigen that would create an immunity to COVID-19. BNT162 may be presented to the FDA for Emergency Use Authorization as soon as October. Currently, the vaccine candidate is not approved for general use.
Trump also lauded the benefits of the drug remdesivir for usage in virus cases diagnosed early. "The remdesivir has proven to be terrific," Trump said.
In May, remdesivir was approved for emergency use by the FDA. Remdesivir reportedly prevents the virus from replicating itself within the human body. Clinical studies showed that remdesivir helped patients with severe COVID-19 recover more quickly.