President Trump Says Joe Biden Would Abolish Police If Elected
President Donald Trump said Wednesday that presumptive Democratic Presidential nominee Joe Biden will abolish police departments nationwide if elected.
Trump made the comments during an interview with Fox News host Sean Hannity during a discussion of a police reform executive order signed by Trump on Tuesday. Included within Trump's Safe Policing for Safe Communities order is a ban on chokeholds except during extenuating circumstances where an officer's life is physically threatened.
The order also calls for a database to be created to "track, as permissible, terminations or de-certifications of law enforcement officers, criminal convictions of law enforcement officers for on-duty conduct, and civil judgments against law enforcement officers for improper use of force."
Trump said Wednesday that many of the things his executive order mandated where things that Democrats had also called for in their proposed police reform legislation, but that Democrats "complain."
"They want to defund and they want to abolish," Trump said. "They want to abolish police departments and that's what it's gonna be, you know, with Biden. If you look, if he ever got in, you'd be abolishing police. You can just watch because he's not going to be running anything. People around him will."
"They will be abolishing police, they will be getting rid of your Second Amendment very quickly," Trump continued. "You will not have a Second Amendment and many other things you won't have that you'd like to have."
Newsweek reached out to the Biden campaign for comment. This story will be updated with any response.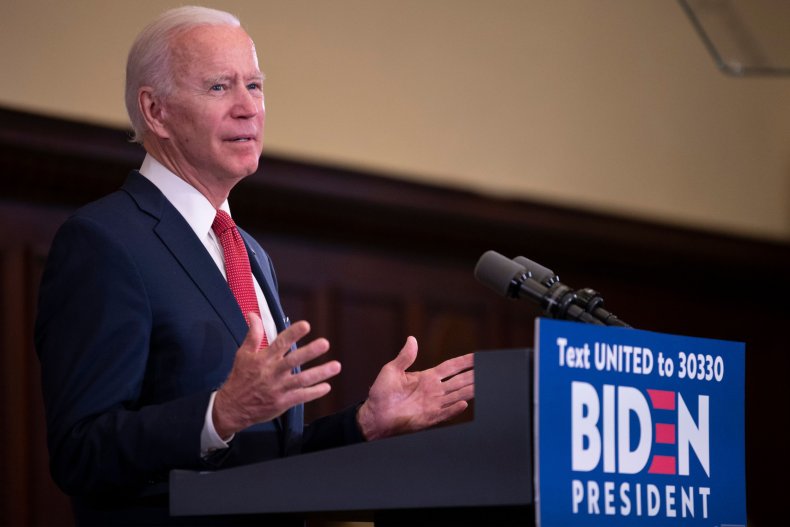 As a movement to defund police departments swept parts of the nation as an offshoot of protests against racism and police brutality, Biden said during a June interview with CBS News that he is against the idea.
"I support conditioning federal aid to police based on whether or not they meet certain basic standards of decency and honorableness," Biden said. "And, in fact, are able to demonstrate they can protect the community and everybody in the community."
Biden wrote in a June op-ed for USA Today that he wants to give $300 million to police departments in order to "reinvigorate community policing in our country."
"While I do not believe federal dollars should go to police departments that are violating people's rights or turning to violence as the first resort," Biden wrote, "I do not support defunding police."
Trump stated emphatically in June during a roundtable meeting with law enforcement officials that U.S. police departments would not lack funds or be abolished.
"There won't be defunding, there won't be dismantling of our police and there is not going to be any disbanding of our police," Trump said.
City council members in Minneapolis, Minnesota, said in June they would disband the Minneapolis Police Department in favor of safety initiatives led by the community. Minneapolis was the site of the death of George Floyd, a black man who died while in the custody of Minneapolis officers. Floyd's death set off a wave of protests against racism and police brutality across the U.S., causing some observers to call for police reform.