President Trump Says Obama Did A 'Poor Job' Stopping Gun Violence
During a news conference on Wednesday, President Donald Trump said that former President Barack Obama could have ended a spree of gun violence in Chicago in 2016, but "did a poor job."
Trump's comments came after he announced that federal law enforcement agents would be sent to Chicago in an effort to curb violence in the city. Chicago Mayor Lori Lightfoot asked Trump not to send the agents in. In Portland, agents have been observed taking protesters off the streets and placing them into unmarked vehicles. Lightfoot said Wednesday that she would not allow "Donald Trump's troops to come to Chicago and terrorize our residents."
During Wednedsay's remarks, Trump criticized Obama for failing to stop gun violence in 2016.
"President Obama was invited in and he did a poor job," Trump said. "President Obama could have gone into Chicago. He could have solved the problem and he didn't."
Trump criticized Mayor Lightfoot's handling of the spate of violence in Chicago by calling the city a "disaster."
"The mayor is telling us not to come in," Trump said. "At some point we can void that if we have to, and we may have to at some point because it's out of control." Trump also said that Lightfoot was making a "big mistake" by not asking for federal help. "They have to ask us, but we can solve the problem," Trump said.
Newsweek reached out to President Barack Obama's office for comment.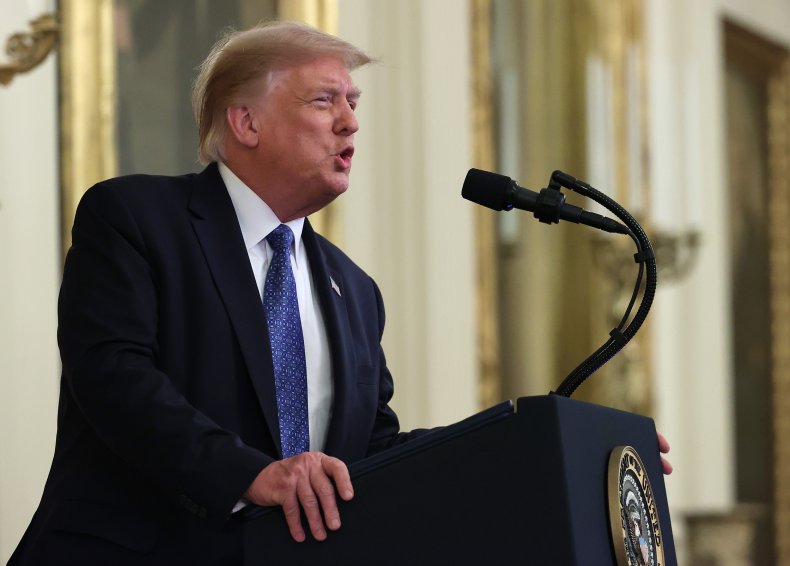 In January 2016, President Obama proposed a number of gun control reforms after the U.S. experienced a rash of mass shootings, including the deaths of 27 individuals at Sandy Hook Elementary School in Newtown, Connecticut.
"Every time I think about those kids it gets me mad," Obama said at the time. "And by the way, it happens on the streets of Chicago every day."
Among Obama's proposals were the closure of a loophole which allowed individuals to purchase weapons at gun shows without undergoing a background check. Another bill would have held up the sale of weapons to individuals whose names appeared on a terrorist watch list for 72 hours.
Chicago's then-Mayor Rahm Emanuel called Obama's proposals "critical steps."
"While we have taken important steps in the City of Chicago to keep guns out of the wrong hands, we are not an island," Emanuel said in 2016. "Our gun safety laws will only be as effective as our federal laws and the laws of our neighboring states."
Obama's proposals did not pass the U.S. Senate. After the bills failed, Obama tweeted that gun violence "requires more than moments of silence. It requires action. In failing that test, the Senate failed the American people."
After a June 2016 mass shooting at a gay nightclub in Orlando, which saw the deaths of 49 people and the wounding of 53, Trump called for Obama to resign.