President Trump Says 'Something Snapped' in Police Officers Involved With George Floyd's Death
President Donald Trump said in a Wednesday interview with former White House press secretary Sean Spicer that "something snapped" in the officers charged in the May death of Geroge Floyd.
Trump has drawn criticism for his reaction to the nationwide protests over the death of Minneapolis man George Floyd, who died while in police custody. Trump said Monday that he was ready to call out the National Guard to cities that were unable to quell the demonstrations without the consent of state governors.
Trump said Floyd's death should never have happened. "Something snapped, I think, with the policeman and the other three watching it were—I guess you can't put it in the same category but it was certainly in a very bad category," Trump told Spicer. "Nothing good comes out of that. That was a very bad thing."
All four officers involved in Floyd's death were fired by the Minneapolis Police Department. Former officer Derek Chauvin was charged with second-degree murder and second-degree manslaughter. The other officers—Thomas Lane, Tou Thao and J. Alexender Keung—were charged with aiding and abetting. Bail for the officers was set on Wednesday at $1 million each.
In video captured by a witness, Chauvin can be seen kneeling on Floyd's neck during an attempted arrest. Floyd can be heard to say, "I can't breathe." As onlookers asked Chauvin to let Floyd up, Chauvin could be heard to say, "He's talking, so he's breathing."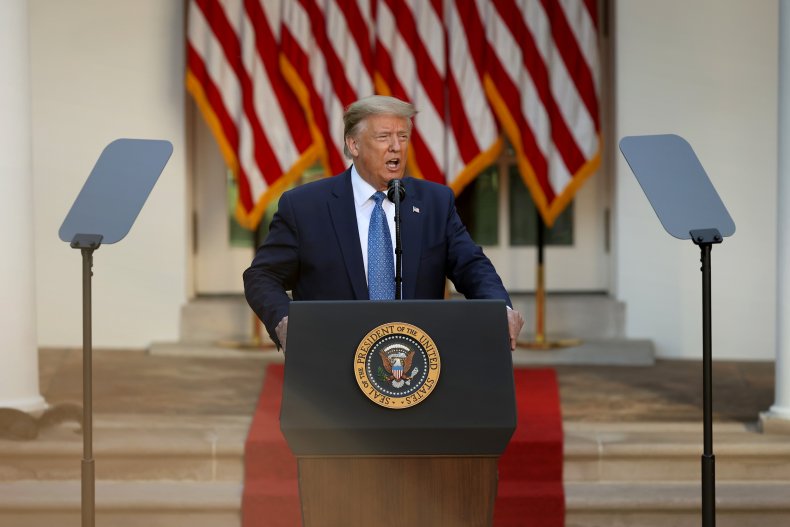 Trump also discussed how the U.S. can recover from the protests that ensued after Floyd's death. "We need healing, but we also need strength and we need toughness, and we need law and order," Trump said. "We need it all, but we do need healing."
Demonstrations in Minneapolis over Floyd's death turned violent as protesters set fire to the city's 3rd Precinct police station in May. President Trump called what happened in the city as a result of the protests "disgraceful" and "a total mess." Trump implied that "super liberal" Minneapolis Mayor Jacob Frey was to blame for much of the violence.
Newsweek reached out to Mayor Frey's office for comment. This story will be updated with any response.
National Guard units helped law enforcement officers clear the streets of demonstrators in Minneapolis and St. Paul on Saturday. Minnesota Governor Tim Walz said Monday that some of those units would be permitted to return home as quickly as Monday afternoon.