President Trump Should Follow Mask Rules 'Like Every Other Leader,' Miami-Dade Mayor Says
The Republican mayor of Florida's most densely populated county said Thursday he expected President Donald Trump to follow local rules regarding face coverings during future visits to the area.
Miami-Dade County Mayor Carlos Giménez issued an emergency order on Wednesday requiring all county residents to wear masks or other face coverings whenever occupying indoor and outdoor public spaces. Giménez said he expects Trump to don a mask the next time he visits Miami-Dade if the order is still in effect at that time.
"I believe the president, like every other leader, should follow what the rules are of the locality," Giménez said during a news briefing on Thursday. "If he comes to Miami-Dade, I would expect that he would be wearing a mask, because that's our rule down here."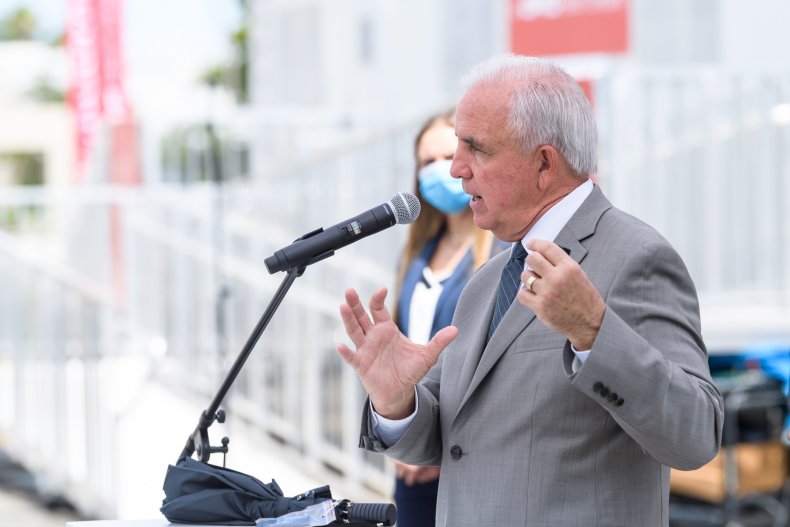 The order Giménez issued Wednesday expanded one he signed in early April, which required all county residents to wear masks while in public indoor spaces. According to Giménez, the updated rule was necessary because the state's recent spike in new COVID-19 cases was putting a strain on local hospitals.
Any resident who defies the order could face a fine of up to $500 or six months in jail.
Florida is one of several states that has reported a surge in new cases over the last few weeks. By Friday, July 3, health officials reported a total of 178,594 cases and 3,785 deaths statewide.
Florida Department of Health officials have reported thousands of new cases every day since mid-June. Florida was one of the early states to reopen after Republican Governor Ron DeSantis' stay-at-home order expired in early May. Last week, DeSantis and local government leaders began taking steps to roll back reopening measures in response to the rapidly rising case numbers, with bars ordered to close throughout the state and mask mandates introduced at the local level. So far, the governor has not issued a statewide mask requirement.
Though Republican politicians have in increasing numbers been supporting the idea of requiring face coverings as the pandemic pushed the U.S. to new case records, Trump has appeared in public often without wearing one over the last few months.
Whether or not Trump will wear a mask when he visits Florida next is of interest to local officials who are preparing for at least two public events on the president's schedule. Though the Republican National Convention is expected to be held in Jacksonville in August, an in-person presidential debate is also scheduled to take place in Miami-Dade County two months later at the Adrienne Arsht Center for the Performing Arts on October 15.
"As the leader of Miami-Dade, I'll be wearing a mask," Giménez said Thursday. "You have always seen me wear the mask when it's appropriate. That's what we should be doing. Every citizen should be playing their part."
Newsweek reached out to the White House for comment but did not receive a response in time for publication.