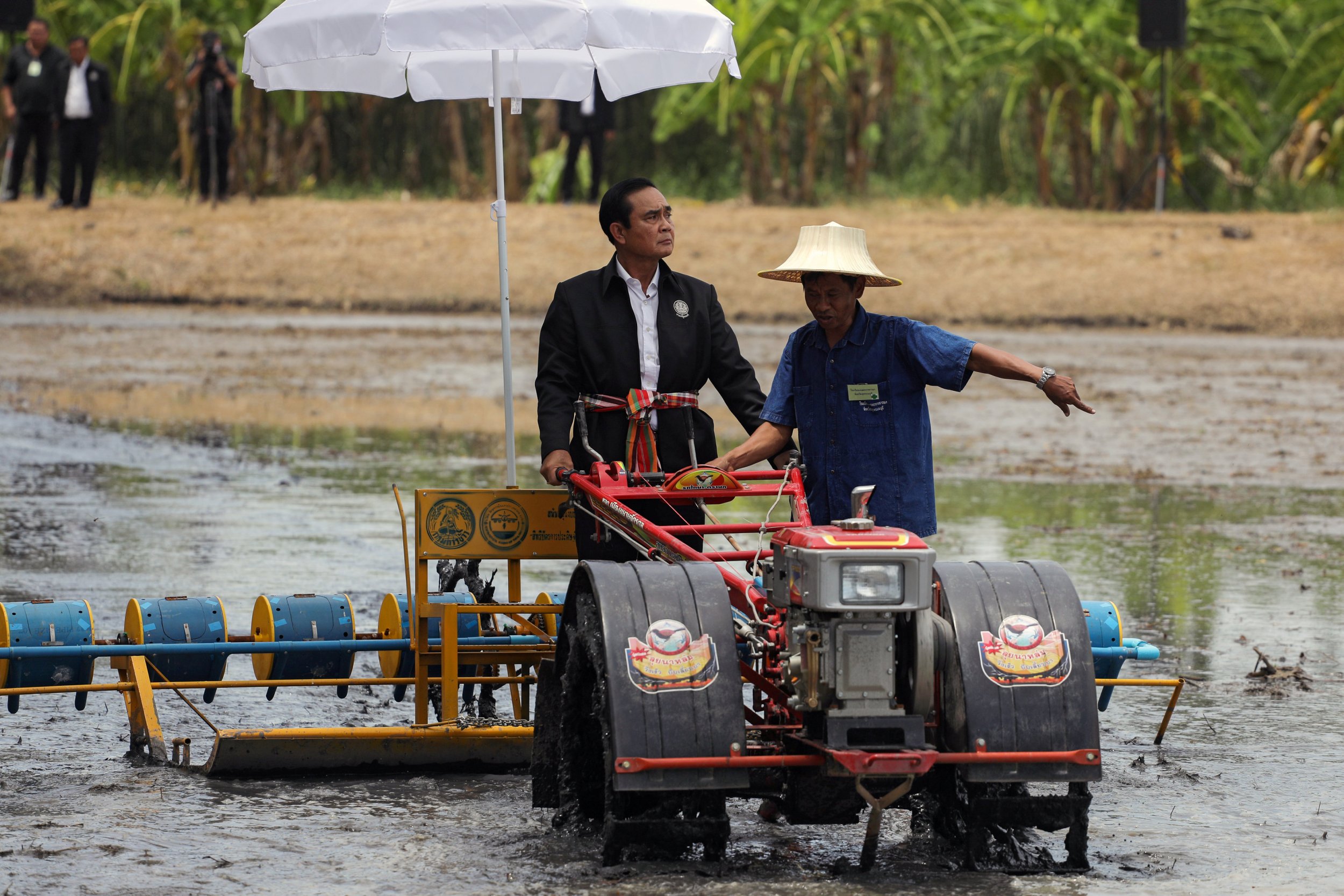 President Donald Trump is meeting Thailand Prime Minister Prayut Chan-o-cha in Washington on Monday, honoring yet another authoritarian leader with an invitation to the White House.
The meeting, taking place a day earlier than announced last week, will focus on "ways to strengthen and broaden bilateral relations and enhance cooperation in the Indo-Pacific region," according to a White House press statement.
This is Prayut's first official visit to Washington since taking power in 2014 after a military coup against the elected government of Prime Minister Yingluck Shinawatra, who had been facing weeks of street protests over the management of a rice subsidy scheme for farmers. She reportedly fled Thailand in August ahead of a verdict in her negligence trial.
Following the coup and the junta's crackdown on dissent and civil liberties, President Barack Obama's administration sought to distance itself from the Thai military, including reducing the number of shared military exercises and suspending training for Thai soldiers.
While Obama invited Prayut to an ASEAN leaders' summit in California in February 2016, the Thai junta leader had not received a one-on-one invitation to the White House. The Obama administration also publicly called for the country to restore its democratic governance and uphold human rights. U.S. Undersecretary for Civilian Security, Democracy and Human Rights Sarah Sewall did so when meeting the Thai leader in March 2016.
"Prayut Chan-o-cha is a solipsistic leader who sees conspiracy in any criticism and is comfortable making assertions that do not comport with facts," Sewall, currently a Speyer Family Foundation Distinguished Scholar at Johns Hopkins University, tells Newsweek.
"President Trump should maintain a balance in U.S. policy and avoid appearing to wholeheartedly approve of repressive military rule," she adds.
The Trump administration has shown little interest in reprimanding authoritarian governments. In April, Trump met Egyptian President Abdel Fattah el-Sissi, who took power in a coup in 2013, and a month later hosted Turkish President Recep Tayyip Erdoğan, who survived a coup in 2015 and has since supervised a crackdown on dissent. That visit was marred by violent clashes between Erdoğan's security detail and protesters outside the Turkish embassy in Washington.
"Trump's past unqualified praise for repressive, abusive or corrupt leaders, such as Egypt's President el-Sissi, Philippines' President Duterte or Malaysia's PM Razak, has raised genuine international concern about whether the United States still values democracy and human rights abroad," Sewall says.
According to Scott W. Harold, political scientist and associate director at The RAND Corporation Center for Asia-Pacific Policy, President Trump will use the meeting to uphold the principles of his so-called America First worldview, focusing on security threats in the region, such as North Korea, and the Chinese ambitions in the South China Sea.
"If that's the way they go, it's probably going to represent a missed opportunity to push Thailand to address lingering domestic governance challenges the Thais are facing, and the administration's general lack of focus on Southeast Asia," Harold tells Newsweek.
Thailand-U.S. relations date back to 1833, making the Southeast Asian nation one of the oldest American allies in the region. Since the military coup, Thailand has engaged in closer military cooperation with China.
Now, as Prayuth looks committed to remain in power even if long-anticipated elections happen next year, Harold says this is not the time for the U.S. to disengage from Thailand or other Southeast Asian countries that have suffered setbacks to democracy.
"There are many people who recognize the U.S. needs to expend substantial resources in promoting democracy and U.S. interests in the region," Harold says, "To fail to do so is to expand China's influence."