President Trump Names 10 Judges For Lower Courts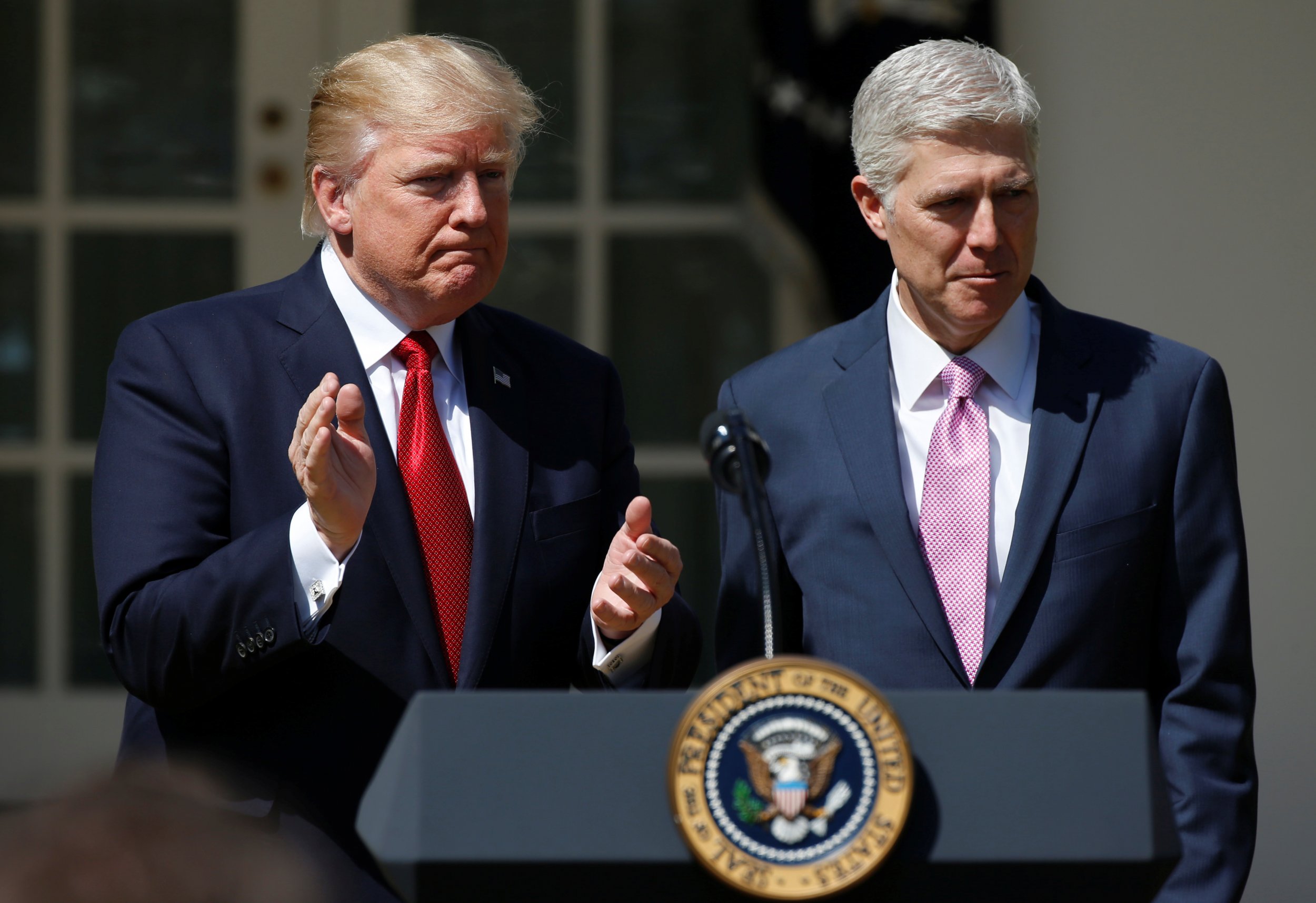 Updated | President Donald Trump on Monday afternoon took his first major step toward filling hundreds of judicial spots when he revealed his first slate of nominees, including two candidates he had previously considered for the U.S. Supreme Court. As expected, conservative groups have praised his nominations while liberal groups expressed concern.
Related: Barack Obama criticizes Republicans for lacking 'courage'
The five federal nominees include two state Supreme Court justices, who also appeared on Trump's short list of 21 potential U.S. Supreme Court candidates. Justice Joan Larsen of the Michigan Supreme Court was chosen to serve on the U.S. Court of Appeals for the 6th Circuit, and Justice David Stras of the Minnesota Supreme Court was nominated for the 8th. The other three names nominated to federal courts Monday were University of Notre Dame law professor Amy Coney Barrett, Kentucky lawyer John Bush and former Alabama Solicitor General Kevin Newsom.
The remaining four were named to trial courts: Dabney Friedrich, Terry Moorer, David Nye and Scott Palk. Damien Schiff was named to the U.S. Court of Federal Claims. Trump previously named Amul Thapar, who also was on the former Supreme Court short list, to the 6th Circuit. His nomination currently awaits a vote.
Trump unveiled the slate of names a month after the Senate confirmed Neil Gorsuch for the Supreme Court. This is Trump's opportunity to put his signature on the U.S. judicial system: During his term, he is expected to nominate hundreds of federal judges, and he could fill multiple Supreme Court seats in addition to Gorsuch, who was nominated to take the seat left open for more than a year after the sudden death of Justice Antonin Scalia. Three sitting Supreme Court justices are in their late 70s and early 80s.
Since the Democrats in 2013 altered filibuster rules for lower-court nominees, requiring just a simple majority to confirm presidential nominees, Trump's choices are expected to make it through the Republican-controlled Congress. Throughout Gorsuch's confirmation hearings, Republicans constantly reminded Democrats of the rule change. Just last month, they triggered the so-called nuclear option to confirm Gorsuch in the Senate with a simple majority instead of the 60-vote threshold.
As he did before Trump announced Gorsuch as his Supreme Court nominee, Senate Minority Leader Chuck Schumer (D-N.Y.) urged the president to work with members of both parties to pick judges from within the judicial mainstream "who will interpret the law rather than make it," according to a statement Monday.
Schumer continued, "With this first slate of lower court nominees, it seems that the president is intent on continuing to outsource the judicial selection process to hard-right special interest groups rather than consulting with senators on a bipartisan basis."
Another Democrat, U.S. Senator Al Franken of Minnesota, shared a similar concern. He cautioned against fellow Minnesotan Stras, whose nomination he said is a product of a process that "relied heavily on guidance from far-right Washington, D.C.-based special interest groups" instead of a committee made up of a cross-section of the state's legal community.
The Committee for Justice commended Trump for delivering on his promise of "great judicial nominees." The conservative group's president, Curt Levey, said in a statement that the Republican leader has demonstrated "his commitment to speedy judicial nominations." He added, "Trump is off to a fast start."
This article was updated to include President Trump's list of nominees.