President Trump's Early Action to Combat Coronavirus in Nursing Homes Has Saved Countless Lives | Opinion
Placing a loved one in a nursing home is one of life's most difficult decisions. When families make this decision, they want the peace of mind that comes from knowing their loved ones will be safe, that they will have the best possible quality of life and that they can stay connected with them. That's why the devastation caused by coronavirus in nursing homes around the country is so tragic. Our deepest sympathies are with nursing home residents and their families during this anxious time.
The terrible reality is that from the beginning, the coronavirus seemed almost tailor-made to put pressure on nursing homes. The combination of a highly contagious virus and vulnerable residents living in close quarters has made nursing homes one of the front lines in the fight against this virus.
My agency, the Centers for Medicare & Medicaid Services (CMS), develops and enforces health and safety standards that over 15,000 nursing homes must meet in order to receive federal funding through Medicare. But our federal standards and payment represent just one part of the regulatory framework. States also play a critical role in enforcing our guidance and ensuring compliance through inspections, licensing and their own policies. That's why we have urged them to make nursing homes a priority when it comes to testing and other supplies.
Unfortunately, nursing homes have long struggled with infection control—a problem that the Trump administration has been working to address for some time. Under President Donald Trump's leadership, we have strengthened and standardized the inspection process across states and increased average fines for noncompliance.
We also proposed a rule in July 2019 to increase accountability for infection control in nursing homes. The current requirement was developed by the previous administration and allows even very large facilities to satisfy federal requirements with just one part-time staffer. Our proposed rule would likely require many nursing homes to invest significantly more in preventing infections.
We have worked closely with the Centers for Disease Control and Prevention (CDC) to issue guidance for our investigations into early nursing home outbreaks and our inspections. This guidance is based on longstanding infection control requirements and is also tailored to the current pandemic in important ways. For example, we made the heartbreaking but necessary decision months ago to restrict non-essential visitors to nursing homes.
This week, we announced phased recommendations for relaxing that restriction—and others—that can help protect nursing home residents as many states gradually reopen. The recommendations urge extreme caution when it comes to this most fragile population, and include rigorous benchmarks on key indicators like testing. Such guidance often takes as much as a year to develop; the team at CMS has put out roughly one a week since March 1. State and local governments must now work with nursing homes to implement it. We are conducting weekly calls with thousands of nursing homes around the country to help them do so.
We are also responding directly to the needs of residents and families. We recently launched an unprecedented transparency effort that requires nursing homes to report new cases of coronavirus to all residents and their families, as well as directly to the CDC. We will also be making the data public as soon as this month. This reporting will form the backbone of a nationwide coronavirus surveillance system that will help us protect nursing home residents and communities through timely outbreak detection, reporting, tracking and mitigation. We are also enhancing testing by paying laboratories and other facilities that collect specimens from residents in nursing homes for coronavirus testing.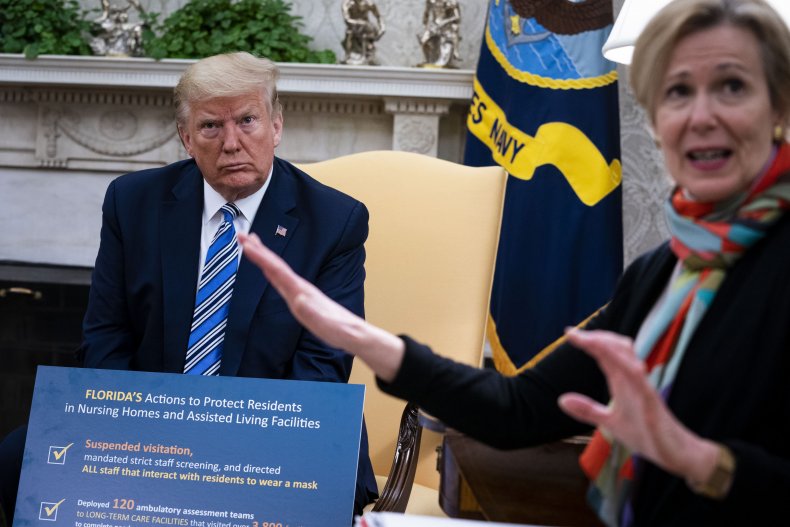 We are far from finished in our focusing on nursing homes. In each of his proposed budgets, President Trump has asked Congress for increased inspection funding in the face of a 20 percent increase in complaint investigations since 2014. For years, the request was ignored. But under the CARES Act, President Trump was able to deliver. Last week, we announced the distribution of $81 million in grants to states to enhance their inspections of nursing homes. The funding comes at a critical time and will help our state partners as they seek to keep residents safe.
As part of President Trump's reopening guidelines, we also announced the formation of the Coronavirus Commission on Safety and Quality in Nursing Homes. This major new effort will be composed of families and other stakeholders. It represents an independent attempt to assess the response to the coronavirus in nursing homes, identify best practices and provide recommendations for both present and future action.
Countries around the world have struggled to keep their nursing home residents safe during this pandemic; America is hardly unique in the punishing toll this virus has inflicted on this population. But President Trump's early and rapid action has saved countless lives.
Moving forward, a spirit of shared responsibility on the part of all involved—federal, state and local governments, as well as nursing homes themselves—is indispensable. Our beloved elderly in nursing homes deserve nothing less.
Seema Verma is administrator of the Centers for Medicare & Medicaid Services.
The views expressed in this article are the writer's own.