President Trump's Travel Schedule Includes Stops in Saudi Arabia, Israel, Italy and Belgium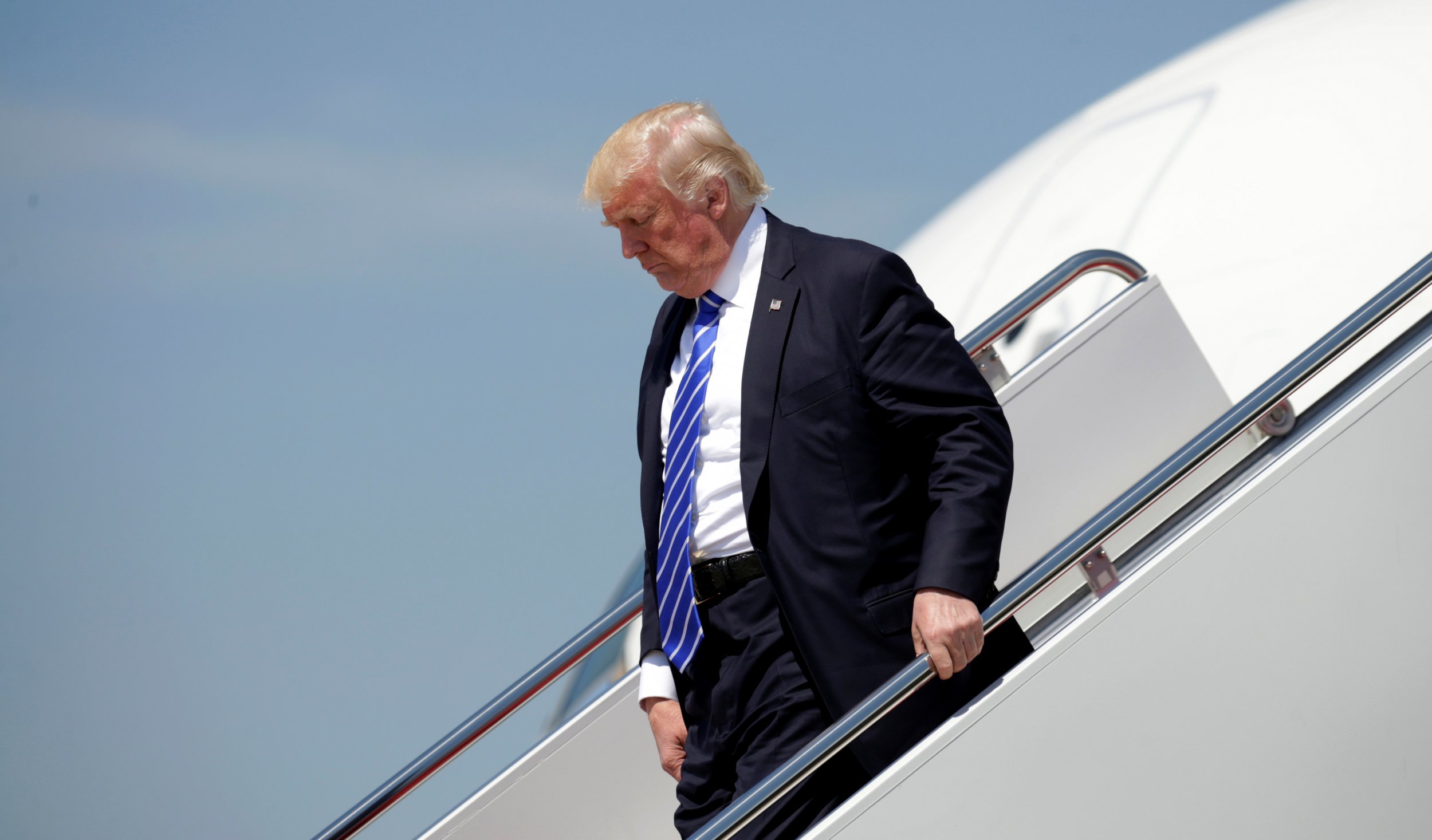 Donald Trump is set to make his first trip abroad in his new role as president of the United States. He departs Friday for an eight-day tour that includes stops in Saudi Arabia, Israel, Italy and Belgium.
First Lady Melania Trump will join her husband for the full trip, as will National Security Adviser H.R. McMaster. Others who will participate include Secretary of State Rex Tillerson, Secretary of Defense James Mattis, Ivanka Trump, Jared Kushner, Chief Strategist Steve Bannon, Chief of Staff Reince Priebus and Press Secretary Sean Spicer and his deputy Sarah Huckabee Sanders.
Related: Why Trump won't visit Masada
Here's what we know about his itinerary:
Day 1 — Saturday, May 20 — Riyadh
Trump will begin his trip with an arrival ceremony in Riyadh, the capital city of Saudi Arabia. He'll then have coffee with King Salman; attend a royal banquet; hold bilateral meetings with the king, the crown prince, and the deputy crown prince and participate in a signing ceremony for a number of agreements on U.S.-Saudi security and economic cooperation. That evening, President Trump and First Lady Melania Trump will attend an official dinner with the Saudi royal family.
Day 2 — Sunday, May 21 — Riyadh
Trump will hold bilateral meetings with leaders of the Gulf Cooperation Council, a political and economic alliance that includes including Saudi Arabia, Bahrain, Kuwait, Oman, Qatar and the United Arab Emirates. He'll also have broader meetings with Gulf state leaders.
He'll have lunch with leaders of more than 50 Muslim countries and deliver "an inspiring, yet direct speech on the need to confront radical ideology and his hopes, the president's hopes for a peaceful vision of Islam to dominate across the world," McMaster said Tuesday. "The speech is intended to unite the broader Muslim world against common enemies of all civilization and to demonstrate America's commitment to our Muslim partners."
The New York Times reports that 37 heads of state and at least six prime ministers are expected to attend, including President Omar Hassan al-Bashir of Sudan, President Fuad Masum of Iraq, President Abdel Fattah el-Sisi of Egypt, President Ashraf Ghani of Afghanistan and Prime Minister Nawaz Sharif of Pakistan.
Trump will participate in the inauguration of the Global Center for Combating Extremist Ideology, which aims to "fight radicalism and promote moderation," McMaster said.
The president will also give the keynote address at a social media conference, where Fox News host Bret Baier will also speak.
Day 3—Monday, May 22—Jerusalem
Trump will meet Israeli President Reuven Rivlin in Jerusalem and visit Yad Vashem, to lay a wreath at the Holocaust remembrance center. It doesn't seem as though he'll have time to do much else at the museum, a 45-acre complex with multiple buildings and memorials, since his advance team reportedly allotted only 15 minutes for the visit. He will then speak at the Israel Museum to "celebrate the unique history of Israel and of the Jewish people, while reaffirming America's unshakeable bond with our closest ally in the Middle East," McMaster said. The venue for this speech was chosen as an alternate location after the president canceled his visit to Masada, an ancient fortress that overlooks the Dead Sea.
Trump will also meet with Israeli Prime Minister Benjamin Netanyahu. In the evening, the leaders and their wives will have a private dinner.
Day 4—Tuesday, May 23—Bethlehem and Jerusalem
Trump will meet with Palestinian President Mahmoud Abbas in Bethlehem, "where he will convey his administration's eagerness to facilitate an agreement that ends the conflict, and he will urge Palestinian leaders to take steps that will help lead to peace," McMaster said. He'll head back to Jerusalem to visit the Church of the Holy Sepulchre, where Jesus is believed to have been crucified and buried, and say a prayer at the Western Wall, the remains of the Second Temple of Jerusalem.
Day 5—Wednesday, May 24—Rome
Trump will meet with Pope Francis at the Vatican. "He looks forward to celebrating the rich contributions of Catholics… and to discussing a range of issues of mutual concern," McMaster said. While at the Vatican, he'll also meet with the Cardinal Secretary of State Pietro Parolin and tour St. Peter's Basilica. Later that afternoon, he'll meet with Italian President Sergio Mattarella.
Day 6—Thursday, May 25—Brussels
Trump will meet with Belgium's King Philippe and Prime Minister Charles Michel, among others. At the European Union headquarters, he'll meet with the European Union and the European Council presidents. Trump will have a working lunch with Emmanuel Macron, who was elected president of France less than two weeks ago.
That afternoon, Trump will speak at the unveiling of a NATO memorial in front of pieces of the Berlin Wall and the World Trade Center. "He will reaffirm America's commitment to the alliance and repeat his insistence that for the good of the alliance, all members must share responsibility and share burden," McMaster said.
Trump and Mattis will participate in a NATO leaders meeting and dinner and then travel to Sicily.
Day 7—Friday, May 26—Sicily
Trump will attend the G7 summit in Sicily. The Group of 7 consists of Canada, France, Germany, Italy, Japan, the United Kingdom and the United States, and "serves as a forum for highly industrialized democracies to coordinate economic, security, and energy policy," according to the Council on Foreign Relations. He'll meet there with leaders including Italian Prime Minister Paolo Gentiloni. "In the formal meetings, he will press America's economic agenda and call for greater security cooperation," McMaster said.
That night, he will go to a concert of the La Scala Philharmonic and attend a leaders dinner hosted by the president of Italy.
Day 8—Saturday, May 27—Sicily
Trump will speak to American and Allied servicemen and their families. "He will thank them for the sacrifices they all make to keep us safe, and he'll also recap the highlights and accomplishments of the trip," McMaster said. The president will then depart Italy for his return trip to Washington, D.C.