President of Venezuela Maduro Says Donald Trump Is Trying to Kill Him: 'They Have Given the Order From the White House'
Venezuelan President Nicolás Maduro said the Trump administration had ordered his assassination. The accusations were dismissed as a fictional distraction by his political opponents and coyly denied by the White House.
The former bus driver and union leader was delivering a defiant televised broadcast on Thursday night when he made the unexpected claim. Maduro, president of Venezuela since 2014, has often clashed with the U.S. over ideological opposition and human rights abuses.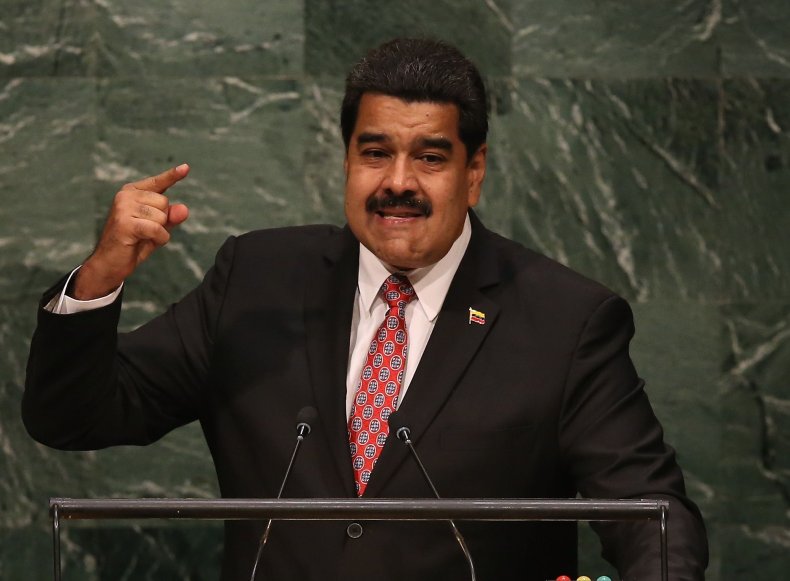 "From the United States, they have decided to kill me," Maduro said before a crowd. "They have given the order from the White House that Maduro be killed." To applause, he added, "They will not even touch a single hair of mine, because God and the people of Venezuela protect me."
A spokesman for the White House's National Security Council told Reuters in response to Maduro's comments: "U.S. policy preference for a peaceful, orderly return to democracy in Venezuela remains unchanged."
Maduro's claim came only two days after another man accused of plotting to assassinate Maduro fell to his death while in the custody of security officials in Caracas.
Venezuelan authorities said Fernando Albán, a 56-year-old city councilor and Maduro critic, committed suicide by jumping from the 10th floor of the Bolivarian Intelligence Service headquarters, the country's premier intelligence agency. Maduro's opponents believe it was further evidence of the government's ongoing crackdown against dissenters.
Maduro claimed that Colombia was involved in the attack and said he had proof, which he did not provide. He also linked Colombia to Trump's alleged assassination order.
"The task has been given to oligarchs in Bogotá, to the Bogotá government. I denounce this to the world," Maduro said. "From the White House, the [order] to kill Maduro has been given to the Bogotá government."
Colombia denied the allegations, according to CNN.
Nearly three-quarters of the 2.3 million Venezuelans currently living outside the country have fled the economically struggling nation since 2015, according to the International Organization for Migration (IOM). Amid devastating food shortages, the average Venezuelan lost 11 kg (24 pounds) in weight in 2017, and 61 percent of those surveyed by the World Health Organization said they went to bed hungry, according to Al Jazeera.
At the U.N. General Assembly last month, six countries called upon the International Criminal Court (ICC) to investigate alleged crimes against humanity in Venezuela.
Jose Miguel Vivanco, the Americas director at Human Rights Watch, which has been monitoring Venezuela, called it an "unprecedented step" in a press release. Vivanco said it reflected "the growing alarm among other countries about the human rights catastrophe that has overtaken Venezuela. With the request to the ICC prosecutor, these governments are making clear that the total lack of justice for Venezuela's ongoing abuses is unacceptable."