Ukrainian President Volodymyr Zelensky made a surprise appearance at the 2022 Grammy Awards, delivering an inspiring message before urging viewers to tell Ukraine's story on social media.
The 64th Annual Grammy Awards took a moment to recognize the plight of the Ukrainian people as host Trevor Noah introduced President Zelensky, who delivered a message in English for the watching audience. His message was met with a round of applause by the live studio audience at the Grammys while viewers at home tweeted their reactions.
Zelensky's appearance at the Grammys comes a week after he was touted to appear at the 2022 Academy Awards, but Oscars organizers reportedly rejected Amy Schumer's request for him to feature.
What President Zelensky said at the 2022 Grammy Awards
President Zelensky spoke for more than a minute at the Grammy Awards before John Legend took to the stage with a tribute performance to the people in Ukraine with his song "free."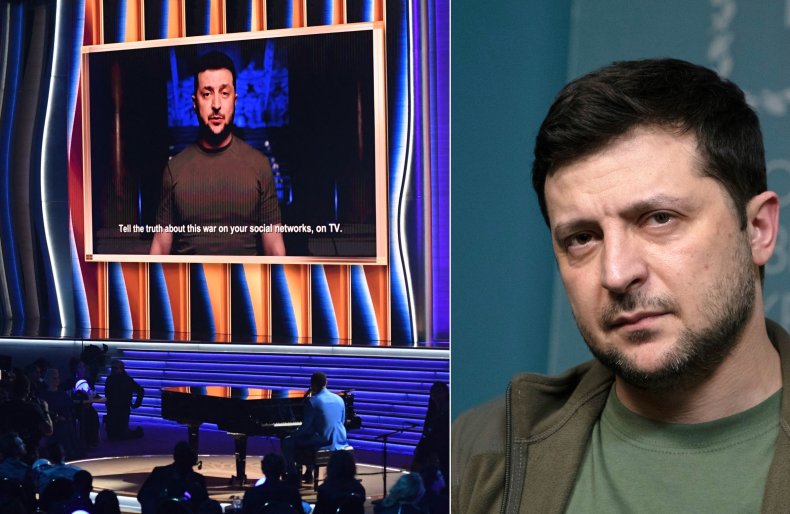 During his speech, Zelensky urged anyone watching to "fill the silence" in Ukraine with music and to tell their story on social media and on TV.
Here's a transcript of Zelensky's speech in full:
"The War. What is more opposite to music? The silence of ruined cities and killed people... Our children draw swooping rockets, not shooting stars.
Over 400 children have been injured and 153 children died. And we'll never see them drawing.
Our parents are happy to wake up in the morning in bomb shelters but alive. Our loved ones don't know if we will be together again.
The war doesn't let us choose who survives and who stays in eternal silence.
Our musicians wear body armor instead of tuxedos. They sing to the wounded. In hospitals. Even to those who can't hear them. But the music will break through anyway. We defend our freedom. To Live. To Love. To Sound.
On our land, we are fighting Russia which brings horrible silence with its bombs. The dead silence.
Fill the silence with your music! Fill it today. To tell our story. Tell the truth about this war on your social networks, on TV. Support us in any way you can. Any - but not silence. And then peace will come.
To all our cities the war is destroying. Chernihiv, Kharkiv, Volnovakha, Mariupol and others.
They are legends already. But I have a dream of them living. And free. Free like you on the Grammy stage."
Reaction to Zelensky's speech
The Ukrainian President's speech was met with positive reactions from people sharing their opinions on Twitter.
British broadcaster Piers Morgan called it a "powerful moment," complimenting Zelensky on being "an inspiring & effective communicator." Meanwhile producer Sandy Lee suggested the speech had made her emotional by sharing a teary emoji on her Twitter account.
Minnesota senator Amy Klobuchar also approved of Zelensky's message and his appearance during the Grammys. The American politician wrote, "President Zelensky, John Legend and Ukrainian artists take to the Grammys' stage for freedom and Ukraine. No one can remain silent."