Presidential Candidate Beto O'Rourke Now Says Congress Should Impeach Donald Trump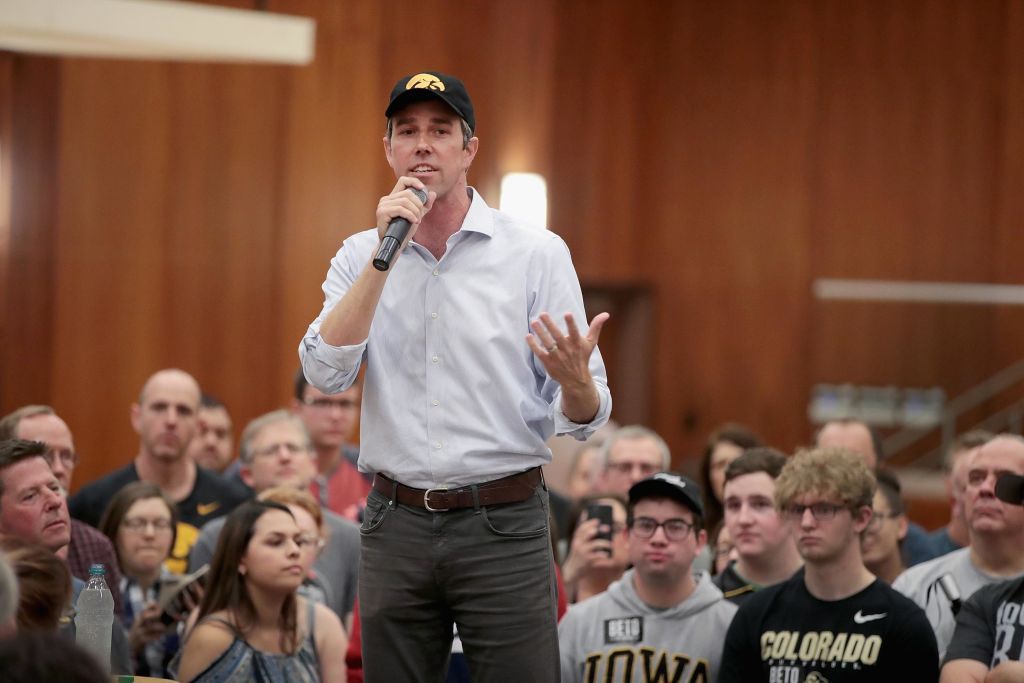 Presidential candidate and former Congressman Beto O'Rourke had a change of heart recently about whether or not Congress should impeach President Donald Trump. O'Rourke, who previously twice voted against impeachment during his time on Capitol Hill, said in an interview published Saturday that he now supports the idea.
"We're finally learning the truth about this president," O'Rourke explained to the Dallas Morning News. "And yes, there has to be consequences. Yes, there has to be accountability. Yes, I think there's enough evidence now for the House of Representatives to move forward with impeachment."
He described impeachment in the interview as the "one chance that we get to ensure that it remains a democracy and that no man, regardless of his position, is above the law."
Though Special Counsel Robert Mueller's investigation into Russian election interference found no criminal conspiracy between the Trump campaign and any Russians, the Dallas Morning News reported that one of the reasons O'Rourke now supports impeachment was that the president had "welcomed the participation of a foreign power into our election, that sought to sway that election in his favor."
The former congressman from El Paso also claimed in the interview that Trump "clearly obstructed justice" by attempting to interfere with the Mueller investigation.
Though O'Rourke had expressed support for impeachment during his unsuccessful U.S. Senate run in 2018, as a presidential candidate he and most other Democratic hopefuls had refrained from direct calls for Trump's impeachment.
"I don't know that impeachment and those proceedings in the House and Senate is going to answer those questions for people," O'Rourke told reporters in New Hampshire in April. He expressed the sentiment that the best way to remove Trump from the White House was through the 2020 election process.
Senator Elizabeth Warren became the first Democratic candidate to openly call for impeachment on April 19, when she called for members of Congress to move forward with the process.
Shortly after, Senator Kamala Harris gave her explicit, but less vociferous, endorsement of impeachment.
"I think we have very good reason to believe that there is an investigation that has been conducted which has produced evidence that tells us that this President and his administration engaged in obstruction of justice," Harris told CNN on April 22. "I believe Congress should take the steps towards impeachment."Impeachment is a formal accusation by the House followed by trial in the Senate, where conviction means removal from office.
None of the candidates who have come out in favor of impeachment currently have any authority to actually begin the process that could, utimately, remove a sitting president from office.
Impeachment must begin in the House of Representatives, where only a simple majority of votes is needed to approve the articles of impeachment. Democrats regained control of the House following the 2018 elections, but party leadership has expressed no interest in moving forward with an attempt to impeach Trump.
"While our views range from proceeding to investigate the findings of the Mueller report or proceeding directly to impeachment, we all firmly agree that we should proceed down a path of finding the truth," Speaker of the House Pelosi wrote in a letter to her fellow House Democrats in April. "It is also important to know that the facts regarding holding the President accountable can be gained outside of impeachment hearings."
One reason for the House's reluctance may be the fact that any attempt to remove Trump from office would likely fail. Even if the House were to sign off on articles of impeachment, the process would then move on to a trial in the Senate. Removing the president would require a two-thirds majority vote. Given that Republicans hold 53 of that chamber's 100 seats, reaching the two-thirds threshold would require a significant number of GOP senators to side with Democrats.