Cyber Monday Deals? Presidential Candidates Have Plenty to Offer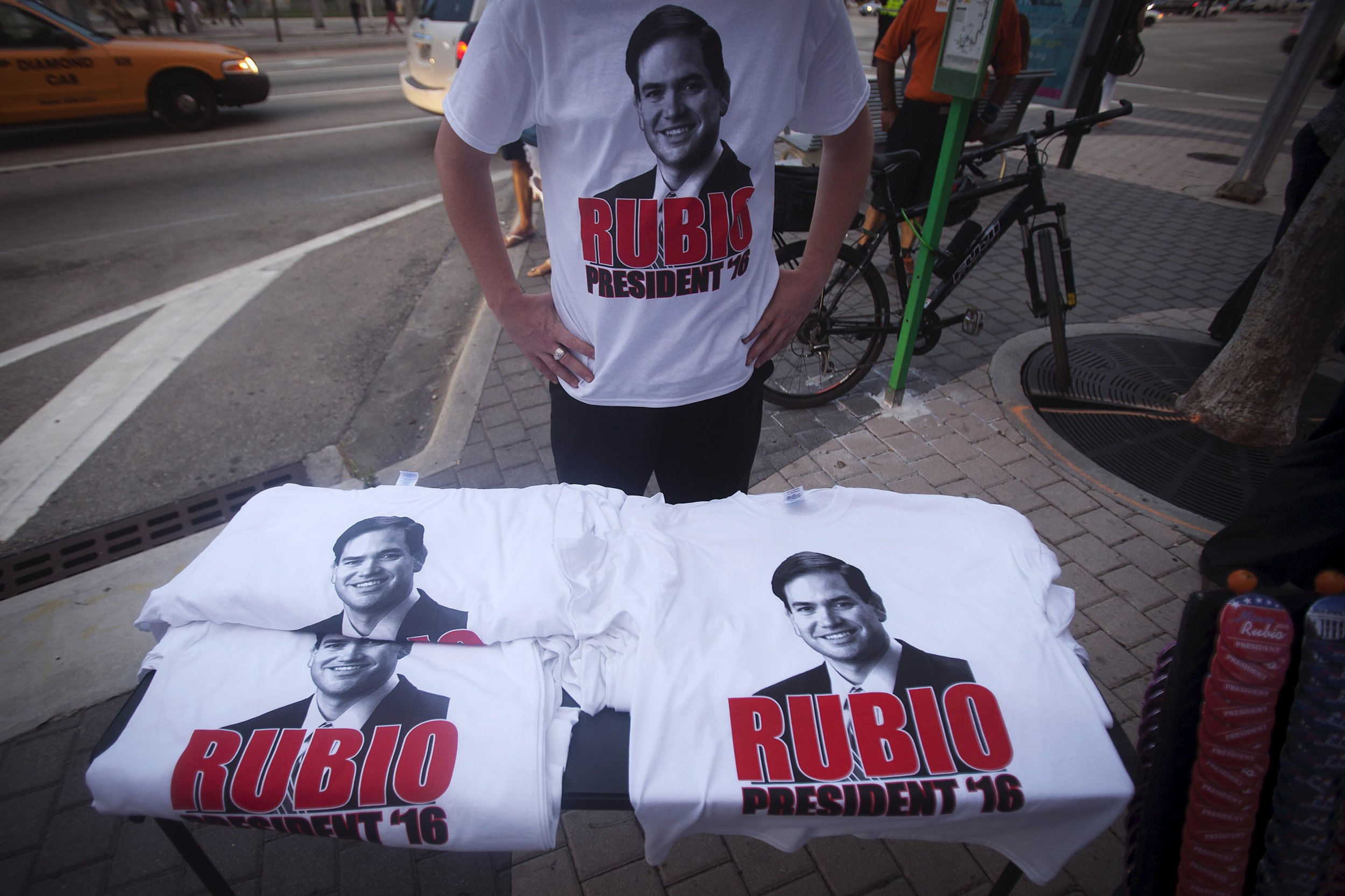 If you give T-shirts and hoodies for the holidays there are plenty of presidential candidates willing to provide. Over Thanksgiving weekend, candidates from both parties capitalized on Black Friday and Cyber Monday with their own frenzied promotions.
Florida Senator Marco Rubio's weekend sales were such a success that the popular candidate is re-upping special offers through Monday, selling a limited edition "Team Marco" baseball jersey-shirt. (Rubio himself actually played football in college.) The financial windfall from the holiday season will deepen the Rubio war chest heading into the early primaries, and maybe even help him pay off his credit card debt.
Rubio has been challenging former Floridian Jeb Bush for donor money and support in the polls. The financially savvy Bush (who was a high-level executive in the finance industry as well as Florida's commerce secretary before becoming the state's governor) had a wide range of deals queued up all weekend. Of course, Bush continues to get lumps of coal from potential voters in terms of support. The latest Iowa poll shows him at around a dismal 4 percent.
Hillary Clinton is offering free shipping on any order of $75 dollars are more on Cyber Monday. So far there has been no word on any special deals for her Wall Street donors.
Heading into the Christmas season, Ted Cruz is an increasingly hot candidate. Everyone needs an ugly, er, festive sweater for their Yuletide wardrobe, and the firebrand Texas senator has just the right thing on his website.
The normally entrepreneurial Ben Carson, who took several weeks off the campaign trail in order to promote his best-selling book, disappoints this holiday season with a limited range of products: All you can get is a shirt, a sweater or a generic-looking Christmas ornament.
From hats and shirts to koozies and coffee mugs, there's no end of cheap goods and stocking stuffers with candidates' ridiculous logos plastered on them. If you hurry, you might get one of the last Rand Paul teddy bears.
Of course, the first presidential candidate to take full advantage of the power of cyber-fundraising was Barack Obama, who turned small donations in the form of T-shirts and posters into a fortune in 2008 and 2012. During his run for a second term, Obama even had a Thanksgiving weekend "Made in America" coffee mug with the Hawaiian-born president's birth certificate printed on the back, an allusion to the "birther" conspiracy theory forwarded by real estate mogul and reality TV star Donald Trump, who falsely suggested that Obama was not a true-born American citizen.
Eventually all but one presidential contender will fade, so most of these souvenirs will amount to a fond (or campy) look back at presidencies that weren't. It's up to the buyer to decide if they want to make Martin O'Malley and John Kasich swag the stuff of fond memories.