Trump Disbands "Voter Fraud" Commission, Blames States for Resistance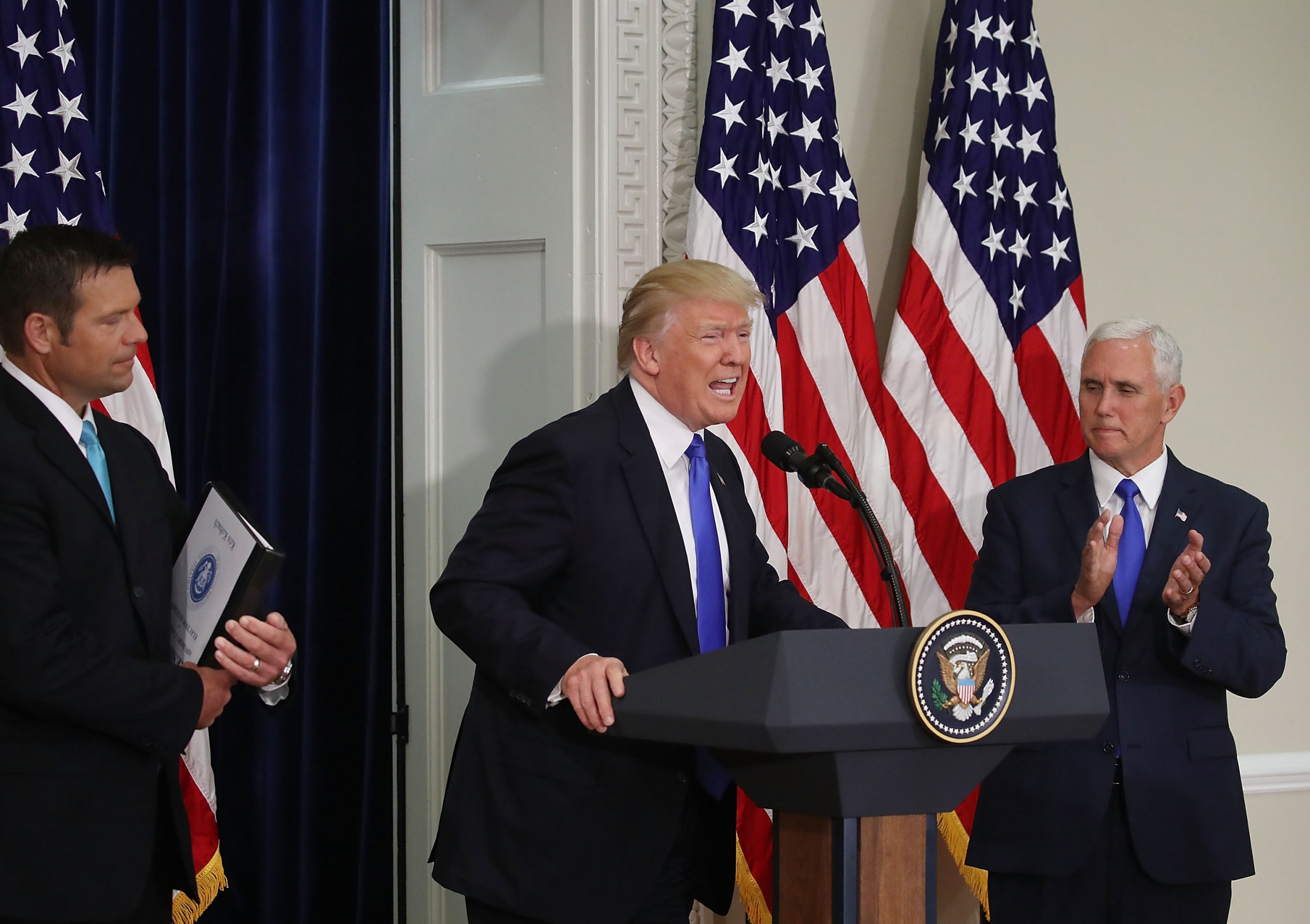 President Donald Trump's "very distinguished voter fraud panel" is out of business.
Besieged by lawsuits and resistance from elections officials across the country, the White House announced Wednesday that it is disbanding the Presidential Advisory Commission on Election Integrity.
"Despite substantial evidence of voter fraud, many states have refused to provide the [commission] with basic information relevant to its inquiry," said a statement issued by the press secretary, apparently on behalf of Trump, who created the panel last May.
"Rather than engage in endless legal battles at taxpayer expense, today I signed an executive order to dissolve the Commission, and have asked the Department of Homeland Security to review these issues and determine next courses of action," the statement added.
Trump created the commission last year after months of claiming—without producing evidence—that the 2016 election was riddled with fraud that cost him the popular vote.
The bipartisan panel, officially chaired by Vice President Mike Pence but largely overseen by Kansas Secretary of State Kris Kobach, sparked a massive backlash by requesting detailed information on every registered voter in the country, including not only names and addresses, but voting and criminal records and even partial Social Security numbers.
Secretaries of state outright refused to provide the data entirely or in part. Lawsuits and complaints argued that the committee was violating voter privacy and had a true intent not of finding and rooting out fraud, but of altering election law to make it harder for specific demographics to vote. Think tanks produced reams of studies showing that systemic voter fraud had not been shown to exist in the United States.
Maine Secretary of State Matthew Dunlap even sued the panel for information he said he could not get as a sitting member of the commission itself, which met twice last year.
Panel members in favor of the data collection argued that fraudulent voting does exist, whether intentionally or through administrative screw-ups such as registration of non-citizens. Either way, they said, improperly cast ballots diluted the power of those cast by deserving voters.
Mired in legal battles, some of which it did win, and slowed by other obstacles including the arrest of a staff member on child pornography-related charges, Trump's panel officially folded with a Wednesday night document formally revoking Executive Order 13799 of May 11, 2017.
Voting rights proponents rejoiced.
"The President's Election Integrity Commission was a vehicle launched with the singular purpose of laying the groundwork to promote voter suppression policies on a national scale," said Kristen Clarke of the Lawyers' Committee for Civil Rights Under Law, one of the many groups that filed suit against the panel.
"This unprecedented effort demonstrated this administration's clear hostility to voting rights...Today's Executive Order disbanding the Commission is a victory for those who are concerned about ensuring access to the ballot box across the country," she added.
Jason Kander, whose Let America Vote advocacy group was among the many vocally opposed to the commission, said in a statement that Trump created the panel "to substantiate a lie he told about voter fraud in the 2016 election. When he couldn't come up with any fake evidence, and under relentless pressure, he had no choice but to disband his un-American commission."
Kobach, a Republican candidate for Kansas governor who has been supported by Donald Trump, Jr. and other allies of the president, did not immediately respond to a Newsweek request for comment.