How Bette Midler, Kirstie Alley And Other Celebs Reacted to Final Debate Between Trump and Biden
Thursday night's second and final presidential debate saw Donald Trump and Joe Biden go head to head one last time as the country prepares to go to the polls on November 3.
Early polls suggest it was a good night for Democratic presidential nominee Biden in a debate that was notably less heated than the previous meeting between the candidates in Cleveland, Ohio on September 29.
The two sparred over race, Coronavirus and Trump's taxes while Biden was forced to deny his son Hunter did anything wrong in Ukraine.
As usual, those watching came to Twitter in their droves to comment on the action, with Hollywood not holding back on their support or criticism for the candidates.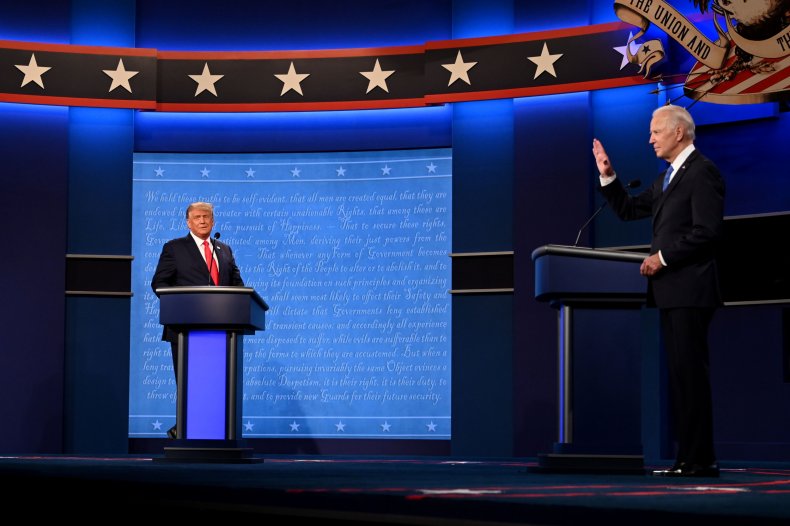 Here's what celebrities from Better Midler to Kirstie Ally had to say about the final presidential debate.
Hocus Pocus actress Bette Midler is of the view that Biden "won by a mile."
"#JoeBiden by a mile! No contest," she tweeted. " Cogent, patient & so smart, alongside the dimmest bulb in the pack. What an awful man, & what a horrible presidency. His name will live in infamy. Which reminds me...is StephenMiller dead? Over 540 children will never see their families again."
Charmed star and frequent Trump critic Alyssa Milano added: "America or Trump. You can't love both. #BidenWon."
This week, actress Kirstie Ally made headlines when she declared her support for Trump.
Following last night's debate, she tweeted: "GREAT DEBATE!! Good moderator.. GREAT JOB TRUMP!!! Presidential PRESIDENT!!"
Avengers star Mark Ruffalo tweeted his support for Biden, saying: "Joe Biden spoke the Truth with grace and poise and stood his ground against every one of Trumps lies. #BidenWon #debates."
Horror author Stephen King observed: "Trump is really parnoid."
Comedian Kathy Griffin joked: "My personal fave debate moment was when Joe Biden gave trump the sideways thumb with a 'Get a hold of Abe Lincoln here.'"
"The President struck a new gentler tone tonight when he described his orphan warehouses as clean," TV writer Jess Dweck joked.
Another comedian, Sarah Cooper, joked about the race segment of the debate, tweeting: "Trump: I am the least racist person here! Out of everyone! I can't even see the audience because they're so dark too many Black people."
Long time Trump supporter James Woods added: "The only reason I'm not commenting on the debate so much, is that I'm still dancing on air. Trump absolutely rolled over Joe Biden like a steamroller."
"Biden won the last debate by default. He is winning tonight by simply kicking Trump's ass like a Professor debating a monkey who just learned to paint circles and now thinks he understands Plato." Josh Gad said.
D'Arcy Carden of The Good Place fame tweeted a photo of her parents' television with Trump's face covered and joked: "A picture from my mom and dad—the only way they can watch the debates."