Presidential Debate Microphones to be Muted to Allow Uninterrupted Speaking Time for Trump and Biden
Microphones at Thursday's debate between President Donald Trump and Democratic presidential nominee Joe Biden will be sequentially muted during opening remarks, the Commission for Presidential Debates (CPD) said in a Monday statement.
Many observers criticized the first debate between Trump and Biden in September, which was earmarked by loud disagreements and one candidate talking over the other. Moderator Chris Wallace took flak for failing to keep the debate from devolving into a shouting match. The CPD announced measures on Monday to help ensure a more concise debate. According to the CPD, both campaigns have agreed that their candidates are to recieve two minutes of uninterrupted speaking time at the beginning of each 15-minute-long debate segment.
"The Commission is announcing today that in order to enforce this agreed upon rule, the only candidate whose microphone will be open during these two-minute periods is the candidate who has the floor under the rules," the CPD said. "For the balance of each segment, which by design is intended to be dedicated to open discussion, both candidates' microphones will be open."
Newsweek reached out to the Biden campaign and the Trump re-election campaign for comment.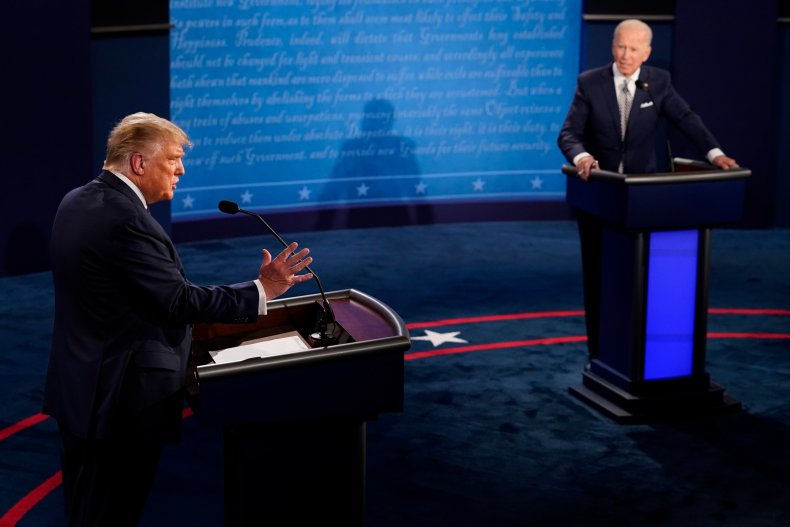 Exacerbated by the coronavirus pandemic, this year's presidential debates have been the subject of derision by the Trump campaign. The second debate, originally slated to occur in October, was canceled because of Trump's COVID-19 diagnosis. When the CPD announced that the debate would be reformatted and held virtually, Trump declined to be involved.
"I'm not going to waste my time on a virtual debate," Trump said in October. "That's not what debating's all about. You sit behind a computer and do a debate, it's ridiculous."
Trump's campaign also balked at the topics chosen by NBC News White House correspondent Kristen Welker, the moderator for Thursday's debate in Nashville. While the third debate is often used to explore the foreign policies set forth by the candidates, Welker chose topics such as "Fighting COVID-19" and "American Families."
Trump's campaign manager, Bill Stepien, said in a Monday letter to the CPD that the topics chosen by Welker had already been "discussed at length during the first debate won by President Trump over moderator Chris Wallace and candidate Joe Biden."
Stepien said the CPD was showing bias towards Biden in light of allegations that the Biden family has been involved in shady business dealings with Ukraine and China. "If a major party candidate for President of the United States is compromised by the Communist Party of China," Stepien wrote, 'this is something Americans deserve to hear about, but it is not surprising the Biden would want to avoid it."
In a Monday statement, Biden's national press secretary, T.J. Ducklo, said Trump "is afraid to face more questions about his disastrous COVID response. As usual, the president is more concerned with the rules of a debate than he is getting a nation in crisis the help it needs."
Thursday's debate is slated to take place at Belmont University in Tennessee at 9 p.m. EST. Topics are expected to be discussed in six segments. The debate is expected to the final one between Trump and Biden before November's presidential election.