Presidential Election Called for Joe Biden by AP, Networks
The Associated Press and other television networks have called the 2020 election, projecting that Democratic candidate Joe Biden will become the 46th president of the United States
The media networks based their projections on Biden winning Pennsylvania, the state he was born in. While Biden has carried the popular vote since Tuesday night, both he and President Donald Trump have been in a stalemate with the Electoral College, waiting as the remaining states finish counting outstanding mail-in ballots.
Prior to his projected win of Pennsylvania, Biden had 264 electoral votes compared to Trump's 214, according to the AP. With the state's 20 electoral votes, Biden now has a total of 284 votes, pushing him over the 270 necessary to secure the White House.
Trump needed Pennsylvania to win re-election, as there was no way for him to reach 270 electoral votes without it. Even if he were to win every other outstanding state such as Alaska, Georgia, Nevada and North Carolina—it wouldn't be enough.
Biden won Pennsylvania by a narrow margin, with just 34,458 votes giving him the upper hand to Trump, according to the AP. The former vice president took the lead in the state early Friday morning after thousands of mail-in ballots were counted and added to the total.
Biden also led Trump nationally in the popular vote, with 74.85 million votes compared to Trump's 70.59 million, according to the AP.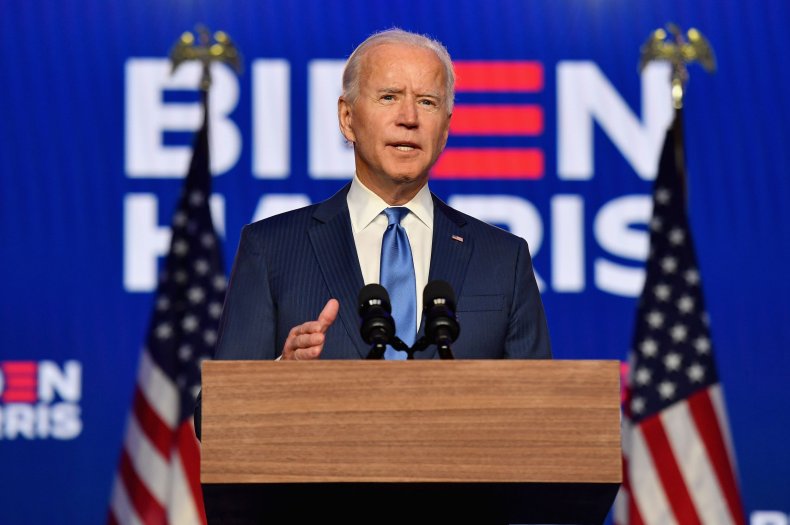 Biden's projected win places an unofficial end to an "election night" that had dragged on for nearly four full days. Several states have yet to be called as elections officials continue counting the remaining ballots, and recounts are likely in states with a tight vote margin.
Trump and his campaign have made repeated, unsubstantiated claims of voter fraud and other irregularities in the days leading up to and after the November 3 election. He has filed around a dozen lawsuits in different states largely aimed at stopping the vote count. None, however, seem to be gaining any traction, as they've come without solid evidence, The New York Times reported.
In a statement released soon after the media networks called the race and named Biden as its winner, Trump pledged to continue his legal battle by "prosecuting our case in court to ensure election laws are fully upheld."
"The simple fact is this election is far from over," Trump said.
This is a breaking story and will be updated throughout the day.
Updated 12:16 PM ET