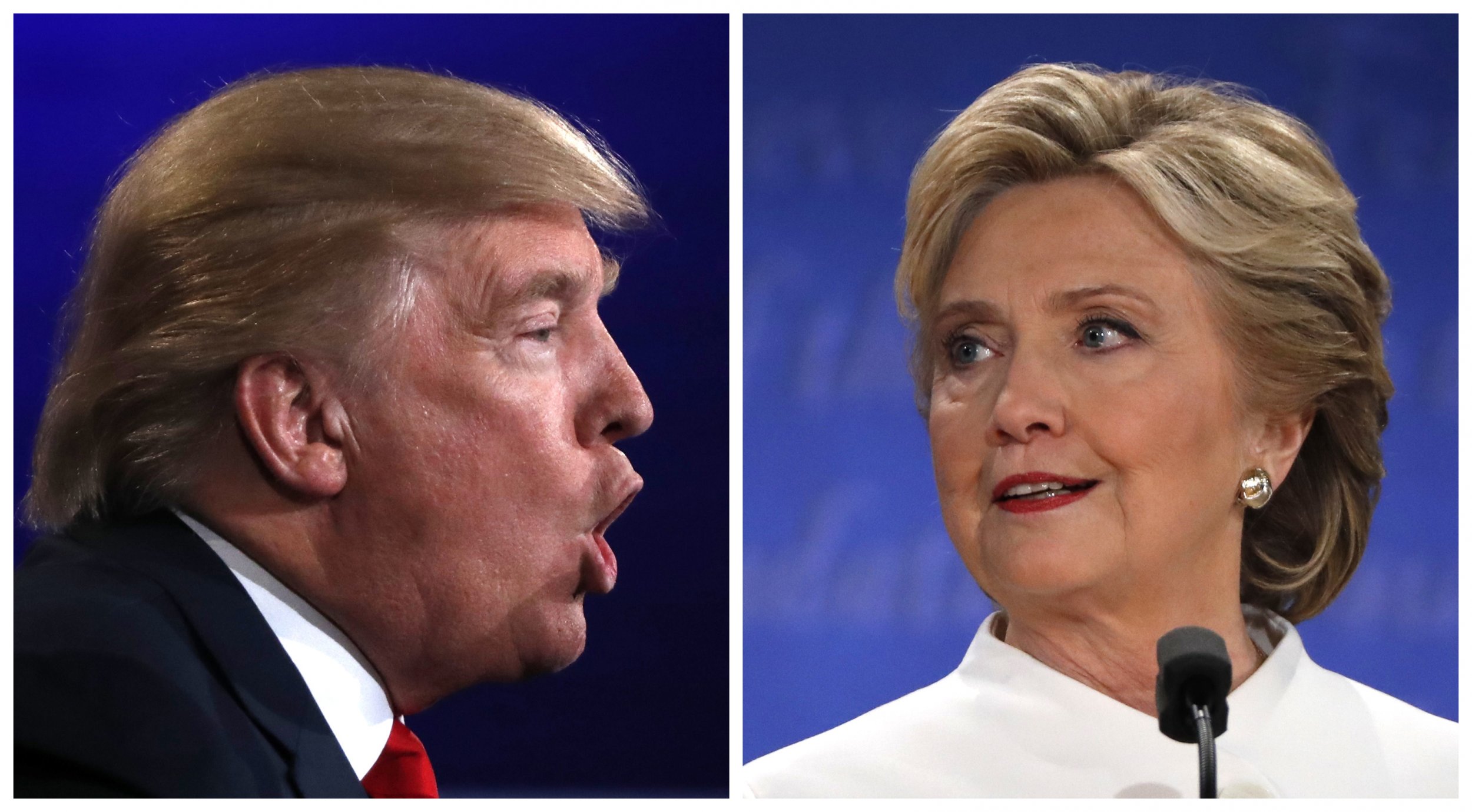 Welcome back to The Day in Polls. As we approach Election Day, we'll be keeping you up-to-date on the latest poll numbers and where the candidates stand.
Republican presidential candidate Donald Trump continues to close the gap with Democratic candidate Hillary Clinton, with most polls showing the race narrowing, providing Clinton with a slight lead.
Trump continues to cut into Clinton's lead in the Real Clear Politics's average of state and national polls. Clinton is 4.3 points ahead of Trump as of Sunday morning, down from her 4.6-point advantage Saturday and a 5.2-point lead on Friday. However, both candidates picked up overall support from Saturday, with 47.6 percent of likely and registered voters expressing support for Clinton, an 0.3-point increase, and 43.3 percent of voters backing Trump, an 0.8-point jump.
Clinton's advantage shows erosion in the FiveThirtyEight forecast on Sunday, as well. The Democratic candidate is down to a 5.2-point lead over Trump, with 49.4 percent of likely voters supporting her and 44.2 percent backing Trump. FiveThirtyEight showed a 5.5-point advantage as of Saturday morning. Also, Clinton has a 78.5 percent chance to win the presidency, down from an 80.6 percent chance Saturday. Trump also picked up likely Electoral College votes in the forecast, although FiveThirtyEight still shows Clinton winning the necessary 270 easily: 319 votes to 218.
The Upshot's model may be the most bullish on Clinton's chances. For the third straight day, the Upshot predicts Clinton has a 91 percent chance to win the presidency. However, it also reports Trump holds a 4-point lead in the swing state of Florida, whose electoral votes are crucial to his path to the White House.
The ABC News/Washington Post tracking poll shows just a 1-point race, with 46 percent of likely voters backing Clinton and 45 percent supporting Trump. The poll incorporated responses to Friday's announcement that the FBI will continue to probe Clinton-related emails, with 60 percent of voters saying it will make no difference in their vote, while 30 percent of likely voters said the news made them less likely to support Clinton.
Outlier of the day: The USC Dornsife/Los Angeles Times "Daybreak" poll shows Trump leading, 46.2 percent to 43.8 percent, despite not yet incorporating reactions to the email news. However, the LA Times cautions the poll "probably represents a best-case scenario for the Republican nominee," as "it more heavily represents the views of people who did not vote in 2012 but say they plan to vote this year—a group among whom Trump does well."
News From Saturday: Trump and Clinton largely spent Saturday responding to FBI Director James Comey's letter to Congress. Trump told supporters in Colorado that Clinton's alleged "criminal action was willful, deliberate, intentional and purposeful," while Clinton said in Florida that Comey's letter was "unprecedented, and it's deeply troubling because voters deserve to get full and complete facts." She urged Comey to "put it all out on the table."