Presidential Line of Succession Order: Nancy Pelosi Now Behind Only Donald Trump, Mike Pence After Becoming Speaker
After being elected speaker of the House on Thursday afternoon, top Democrat Nancy Pelosi is now two steps away from the Oval Office in the presidential line of succession.
Pelosi is second in line, behind Vice President Mike Pence, according to Article 2, Section 1, Clause 6 of the U.S. Constitution.
If something were to happen to Trump—if he dies, resigns, is removed or is rendered incapable of holding office—Pence would step in to serve as the president. But if the vice president cannot assume the position, the next in line is the House speaker.
Pelosi was elected to serve as speaker of the House during the swearing-in ceremony for the 116th Congress. The California Democrat garnered 220 votes out of the 430 total ballots cast.
In her victory speech, Pelosi praised the "transformative freshman class" of lawmakers and encouraged Democrats to be "pioneers of the future."
After Pelosi, Republican Chuck Grassley is third in line to the presidency after he is sworn in on Thursday as president pro tempore of the Senate. If Grassley cannot serve, then the responsibility falls to Trump's Cabinet members. That line of succession begins with the secretary of state, Mike Pompeo.
Throughout American history, eight vice presidents have assumed the presidency after the death of a president. One vice president, Gerald Ford, assumed the office after the president's resignation.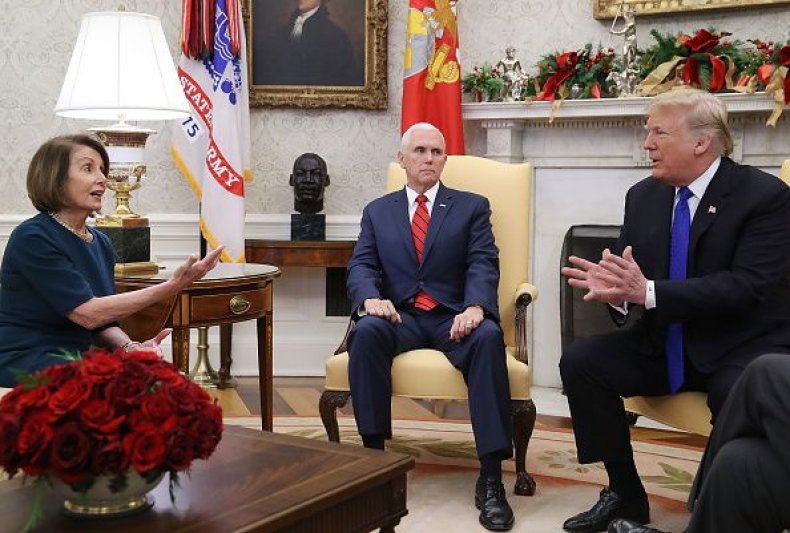 Speculation that Trump will be impeached or resign from office has increased as the president faces mounting legal troubles. Trump is facing investigations in Washington, D.C., and New York state.
Special counsel Robert Mueller is conducting a probe into whether the 2016 Trump campaign colluded with Russia and whether the president obstructed justice during the 19-month-long investigation.
In New York City, federal prosecutors concluded that Trump directed his former attorney and "fixer" Michael Cohen to make illegal payments to two women just months before the 2016 election. The hush-money payments violated campaign finance laws. Meanwhile, New York state is investigating tax fraud allegations against the Trump family, and the state's new attorney general said she is planning other probes.
Now that Democrats have taken control of the House of Representatives, Trump is likely to face even more scrutiny from investigators. Democratic Representative Brad Sherman is planning to introduce articles of impeachment against the president on the same day that the 116th Congress is sworn in.
And while Pelosi has worked to tone down the impeachment rhetoric among Democrats, she recently told NBC's Today show that it's an "open discussion" on whether a sitting president can be indicted. She is the highest-ranking official to suggest that Trump could be indicted while in office.
"Let's just see what Mueller does. Let's spend our time on getting results for the American people," Pelosi said.