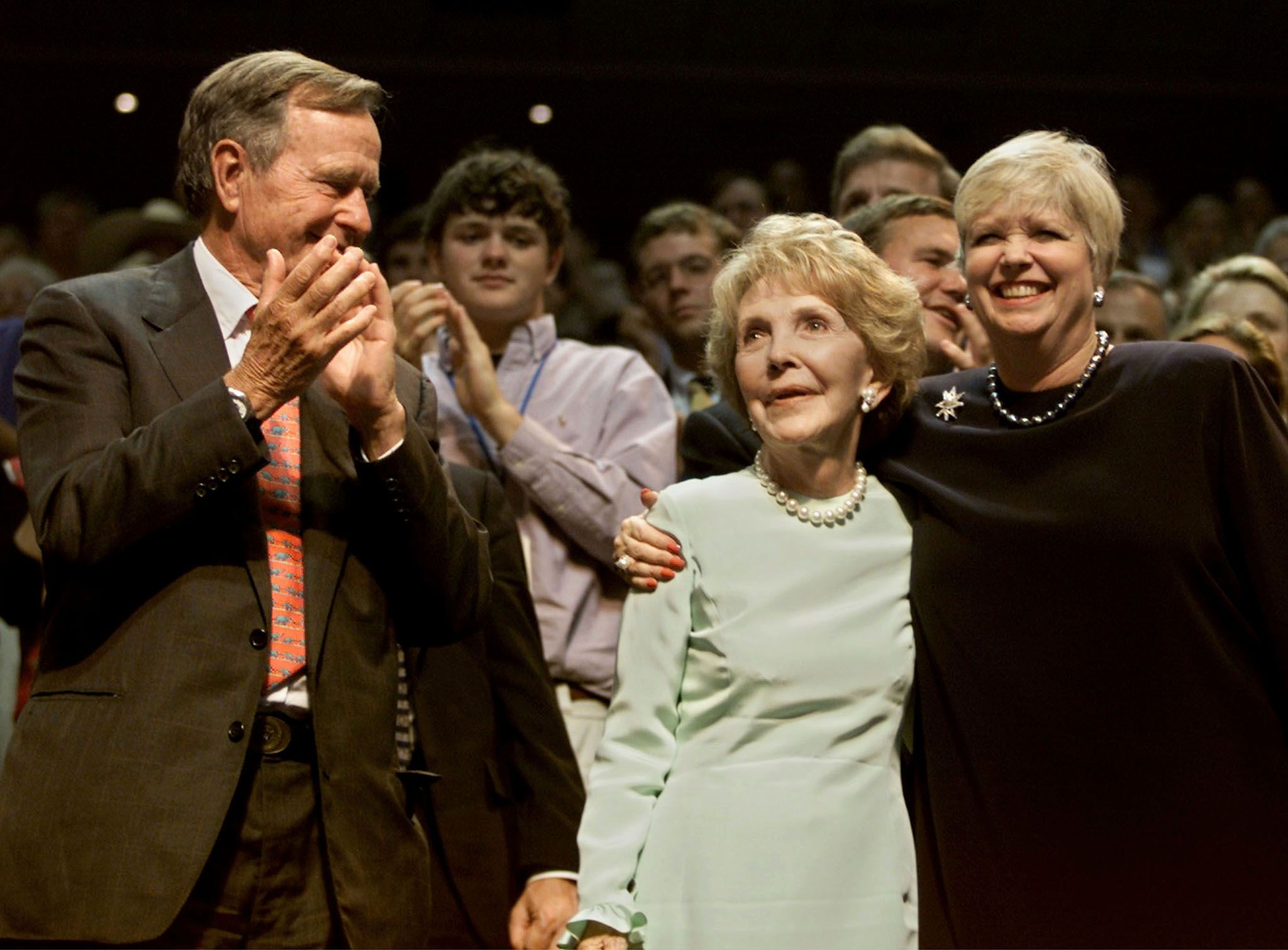 Newsweek published this story under the headline of "Reagan's Kids Go Their Own Way" on June 22, 1981. Newsweek is republishing the story.
To some old Reagan hands, the president's eldest daughter, Maureen, 40, is a PR problem waiting to happen. She's an outspoken supporter of the Equal Rights Amendment, opposed the Republican platform statement on abortion and usually says exactly what she thinks about almost everything. So when she landed in Taiwan last week, on a private tour to promote American products overseas, White House staffers held their breath. Secretary of State Alexander Haig was due in Peking just three days later, and was sure to be embarrassed by the slightest hint from the first daughter that the president still favors a foreign-policy tilt toward Taiwan. But Maureen Reagan's mouth was buttoned up tight as a diplomatic pouch. She sidestepped specifics about U.S. Taiwan friendship ("My father considers himself a friend of all peace-loving peoples") and parried news reports of White House displeasure about the timing of her trip ("I am in closer contact with the White House than [reporters] are"). Asked about future relations between the two countries, she dodged again, and winked. The life of a president's child is never easy—neither for the child nor for the president—a fact all four Reagan children have come to realize. Maureen's half-sister, actress-pop singer Patricia (Patti) Davis, 28, has opposed her father's views on issues ranging from the Vietnam War to women's rights, and added to his difficulties by living for a time with Bernie Leadon, a former member of the Eagles. She was scheduled to speak last Sunday at a rally against nuclear power plants, along with Robert F. Kennedy Jr.; the president said nothing for the record, but first lady Nancy Reagan's chilly reaction—"Obviously, we disagree with her"—spoke for them both. Then there was Michael Reagan, 35, the adoptive child of the president's first marriage to actress Jane Wyman; he is still smarting from the disclosure that he improperly invoked his father's name when soliciting government contracts for a business firm and from charges that he may have illegally diverted funds from another business interest for his personal use. Finally, the youngest Reagan, ballet dancer Ronald (Ron), 23, was stung so badly by a magazine article quoting him as saying former President Carter "has the morals of a snake" that he simply refuses to talk to the press.
Merciless
In the television age, the spotlight on presidential children can be merciless, but it is not without its advantages. Patti Davis was impatient with the paparazzi who dogged her every footstep while she was making a TV movie in New York—"You start ducking around corners changing your hair a lot and wearing big glasses"—but she concedes that first family-hood has given her career a big boost. In the last year, she has picked up high powered representation from the William Morris Agency, personal management from Hollywood lawyer Larry Thompson, and a "six-figure" contract to make films for NBC—the first will air in November. Her father's election victory "was a break," Patti admits. "I was tired of working as a waitress, and going out on cattle-call auditions for ridiculous little parts.... On the other hand, I'm probably going to be judged more harshly.... But that's a good problem to have, because before they didn't even know who I was."
In case there were any doubts on that score, Patti cleared them up last week, when she appeared at a press conference with M*A*S*H star Mike Farrell to announce that she would take part in the anti-nuke protest even though her father was "not happy with" her decision. Manager Thompson says he cautioned her that some people would resent her defiance, but "we would hope that producers and directors would still think of her as a serious actress and not someone who is abusing her position by being politically involved." Davis herself says she was naive: "I thought if I addressed myself to the fact that yes, my father and I do disagree, we could get past that and talk about the issue of nuclear safety. It didn't happen that way." She does weary under the constant scrutiny: "People want to know everything about your private life, and gossip magazines, if they can't find it out, make it up."
"Hectic"
By contrast, Maureen Reagan seems to thrive under the glow of publicity. A former actress and veteran political campaigner, she is not shy about making her views known, most recently—since the assassination attempt—in favor of gun control. Fortunately for family relations, however, she sees eye-to-eye with her father on most things other than women's issues. In fact, she was a Republican before he was, and met her current and third husband, Dennis Revell, at a GOP meeting. For many months it was assumed in California political circles that she would convert her visibility into votes by running for Sen. S. I. Hayakawa's seat next year, but she now seems to be "wavering back and forth," says a friend. Some say her recent marriage to Revell, 28, has dulled her enthusiasm for campaigning. It has not, however, tied her down. As executive director of a firm called Sell Overseas America, she is often traveling, frequently with her husband. Taiwan was only one stop on an Orient express trip, and before that she toured Europe on behalf of American exports. She even works weekends, doing a Saturday-afternoon talk show on KABC radio in Los Angeles. "She doesn't have a lot of spare time," says her radio producer, Louise Brooks. "She packs the next suitcase to go out of town. Their life is very hectic, mostly by her choice."
Ron lives a far more sedate life. "Very much a stay-at-home couple," is how one friend describes him and his wife, Doria Palmieri, 29, whom he married last November after about a year of living together in Greenwich Village. Friends say he dislikes his celebrity, to the point of refusing guest spots on television, although he could use the money. Ron's pay from the Joffrey II ballet company is only $90 a week, augmented to $270 when they're on tour. Worse yet, Joffrey II will be badly hurt by the Reagan Administration's cuts in funding for the arts. "Ron will be out of a job next year if there's no money and it can't be recouped from private sources," says Sally Bliss, the company's artistic director.
'Stage Presence': He needs the work. According to critics, his performances so far have been creditable, but he is hampered by a late start in dancing at the age of 18. Most male ballet dancers begin serious practice at 12 or so. Linda Winer, cultural affairs specialist for the New York Daily News, doubts that he can become a classical stylist, but says that "in the right dance he has a stage presence." And arts critic Clive Barnes of The New York Post thinks he shows "enormous dignity" simply by not buckling under the pressure of being his father's son.
Michael Reagan is having more difficulty maintaining his dignity. He believes that reporters distorted the facts concerning his questionable business dealings, and he rarely talks to them. According to friends, he wants only to be a successful businessman and recently he's been getting business advice from inside the White House; Presidential counselor Fred Fielding has been screening the offers that have come Michael's way since he resigned from his sales job at an aerospace firm.
Advice is far from control, however, and so far the president and Nancy Reagan do not seem inclined to rein in their children. "He believes that they should be able to live their own lives without being penalized for having the name Reagan," says acting White House Press Secretary Larry Speakes. Or, as Nancy Reagan put it when asked about Patti's politics, "Who would want a clone for a child?" And the children themselves seem to be making the adjustment. The trick, says Maureen Reagan, is already knowing who you are: "All of us had our own life paths for several years... before my father was elected. I would think that it would be very difficult for someone if they had not already established their goals.... I think we've done it quite well."