'In the President's Secret Service: Behind the Scenes With Agents in the Line of Fire and the Presidents They Protect'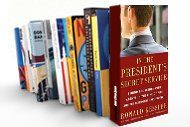 Ronald Kessler
285 pages | Buy this book
Kessler's such a skilled storyteller, you almost forget this is dead-serious nonfiction. Here's how the Secret Service has protected the last 10 presidents, as told by current and former agents.
What's the Big Deal?
For this paperback release, Kessler added a chapter about President Obama, whom he notes has seen a 400 percent increase in threats on his life since the tenure of President George W. Bush. An afterword reveals new details about Kessler's discovery of a third uninvited intruder during last year's White House State Dinner (see below). The behind-the-scenes anecdotes are delightful, but Kessler has a bigger point to make, one concerning why the under-appreciated Secret Service deserves better leadership.
Buzz Rating: Rumble
The hardcover was a bestseller, picking up reviews from The Washington Post, the New York Post, and USA Today. Kessler also popped up on The Daily Show With Jon Stewart.
One-Breath Author Bio
Having spent time at The Washington Post and The Wall Street Journal, Kessler's now a hugely successful author. This is his 18th book and his fifth New York Times bestseller.
The Book, In His Words
"For years, I had been gathering string on the Secret Service. But I began to work on the book in earnest when a Secret Service agent and later others came forward to alert me to management problems at the agency. My hope is that the book will lead to reforms that could avert a calamity" (page 274).
Don't Miss These Bits
1. Red lights are flashing. The increased number of threats to President Obama sparked the creation of a Presidential Threat Task Force, but not all its recommendations are being heeded: the Secret Service has at times failed to screen everyone with magnetometers at presidential appearances. Kessler says it's senseless frugality driving the move, and it upps the odds of an assassination attempt (page 222).
2. High turnover is an ongoing problem. The ranks are stretched so thin that Secret Service agents sometimes work 18- to 20-hour days and routinely miss requalification training and physical training tests. Advancement is all about "juice" (connections), so Kessler says it's no wonder there's a high attrition rate, of 5 percent a year. In the Uniformed Division of the service, the rate is even higher: 12 percent. Kessler says more seasoned agents have watched most of their intial classes depart for other government agencies or the better-paid private sector (page 124).
3. About those White House party crashers. After Secret Service Director Mark Sullivan claimed that the Salahis were the only ones who were not on the guest list, Kessler received a call from a high-level Secret Service official who told him that the agency was covering up its missteps and there was a third intruder—Carlos Allen, a Washington party promoter. Kessler broke the story (page 258).
Swipe This Critique
Parts of the book read as though they were ripped from a gossip magazine, with details of sexual high jinks and infidelity among agents. Kessler says such actions threaten the nation's security, prevent the overextended agency from doing its job efficiently, and risk blackmail from scorned lovers. Though one has to wonder whether, by naming specific individuals, the book might make the agency's job harder.
Factoid File
When President Jimmy Carter's daughter, Amy, attended a pet show in May 1978, a three-ton elephant named Suzie was about to charge her. "As the crowd scattered in panic, an agent scooped up Amy and carried her to safety" (page 239).
Gradebook
Prose: Estimable literary critic (cough, cough) Donald Trump praised Kessler as "one of the country's best journalists" by comparing his writing to reality television. It's a fun read, for sure.
Shock Value: There's a little more hype around the book than there needs to be, but it definitely includes good research, lots of juicy details, and solid arguments for reform.
Bottom Line: It's worth the $15.