Pressure Mounts for Pelosi to Release Impeachment Articles as Democrats Signal Readiness to Proceed With Trial
Pressure is mounting for House Speaker Nancy Pelosi (D-Calif.) to release the articles of impeachment that she's withheld from the Senate for weeks after the announcement Tuesday by Senate Majority Leader Mitch McConnell (R-Ky.) that he possesses the votes needed to pass impeachment trial rules.
"I wanted to make sure you understood that we have the votes, once the impeachment trial has begun, to pass a resolution, essentially the same... to the 100-0 vote in the Clinton trial, which sets up... what could best be described as maybe a Phase 1," McConnell told reporters following a weekly lunch with GOP colleagues.
The revelation was met with signaling from Senate Minority Leader Chuck Schumer (D-N.Y.), who's demanded that McConnell subpoena witnesses and documents, that Democrats are ready to proceed with the trial and force Republicans at a later date to consider witnesses. His comments were also a sign that Pelosi may soon transmit the articles, as she'll now face growing pressure to do so, given her loss of political leverage.
"The speaker has said all along that she wanted to see the arena in which she was playing in... to appoint impeachment managers," Schumer told reporters. "It's becoming clear that Mitch McConnell wants to do everything he can to avoid a fair trial. So, she has some idea of what's happening."
In addition to Schumer's subliminal messaging, other Democratic senators or independents who caucus with the party said it's time for the upper chamber to conduct its trial, further pressuring Pelosi to relinquish control of the process. In a letter to Democratic colleagues Tuesday night, Pelosi said that once McConnell publishes a resolution outlining trial rules, she "can see the arena in which we will be participating, appoint managers and transmit the articles to the Senate."
"My feeling is that Speaker Pelosi should send the articles of impeachment on over here now," Sen. Patrick Murphy (D-Conn.) told Newsweek. "I don't think there's much reason for further delay. I'm not in disagreement that we should start the trial sooner rather than later."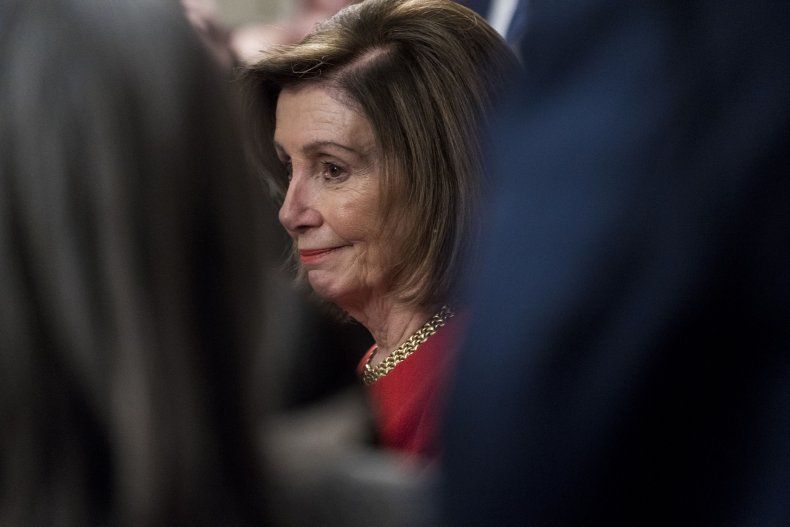 Sen. Angus King (I-Maine) made a similar argument on MSNBC, saying he doesn't believe holding them "puts any particular pressure on Mitch McConnell. I think the key vote will come in the middle of the trial."
Two moderate Democrats—Sens. Doug Jones (D-Ala.) and Joe Manchin (D-W.V.)—made similar arguments.
"I'm hoping they will come over here soon," Jones told CNN. "I think most people are ready to get moving on this."
Manchin told The Washington Post that the trial "needs to start."
"Let us do what we have to do over here," he added.
By refusing to transmit the articles—a move that Democrats initially supported but that some have since grown weary of, according to reports—Schumer said Pelosi was successful in accomplishing two things: making it so McConnell was unable to quickly "dismiss" the articles and showing there's been a "cascade of evidence that strongly bolsters the case for witnesses and documents."
Since Trump was impeached by the House on December 18, former national security adviser John Bolton reversed course to say he's willing to testify in an impending impeachment trial and the release of new documents have provided the public with additional evidence related to the Ukraine scandal. That evidence includes emails showing Pentagon officials' concerns about the legality to unilaterally withhold foreign military aid from Ukraine appropriated by Congress and never-before-seen documents and iPhone contents from Lev Parnas, an associate of Trump's personal attorney, Rudy Giuliani, that will be provided to House impeachment investigators.
Schumer accused Republicans of being "afraid" to go on the record and support subpoenaing several current and former administration officials believed to have firsthand knowledge of Trump's Ukraine dealings, including Bolton and acting White House chief of staff Mick Mulvaney.
"They know Donald Trump would be furious at them. They're afraid to say no because they know their voters, their constituents would be furious at them. They're stuck," Schumer said. "We will not let them avoid the vote. They can delay it; they can't avoid it."