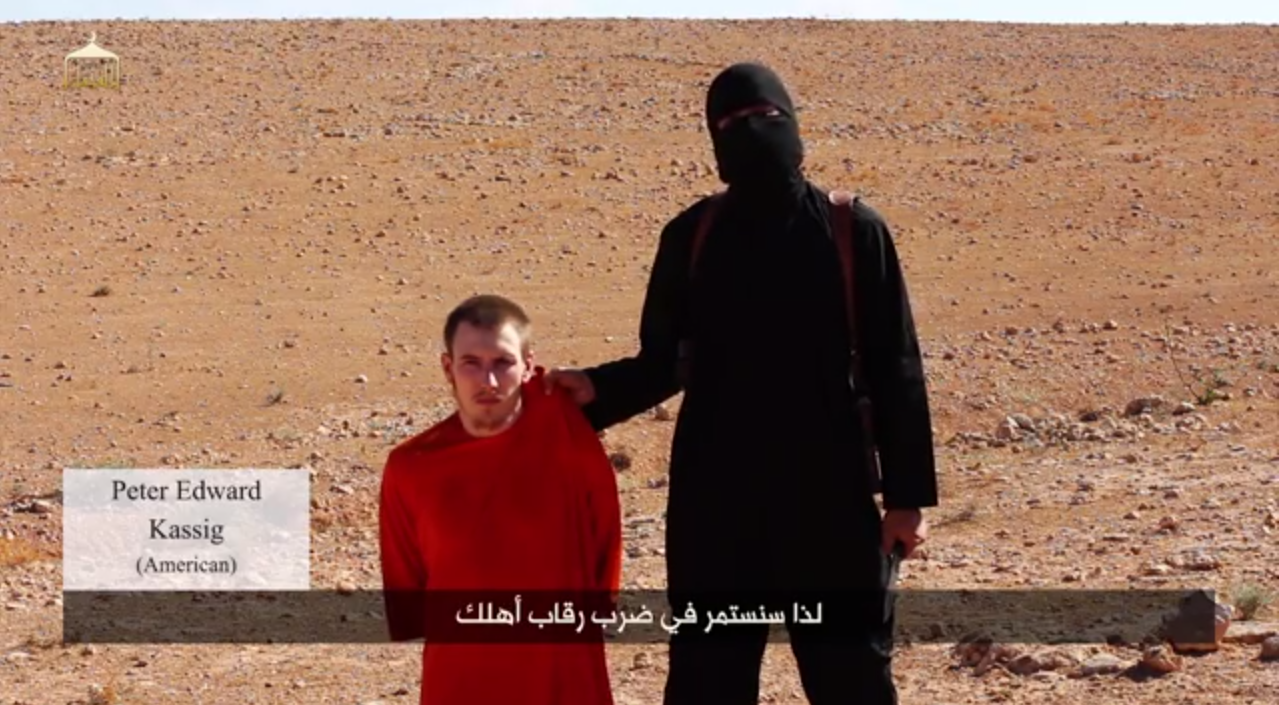 The parents of Abdul-Rahman Kassig, the American aid worker held hostage by Islamic State militants since October 2013, have released excerpts from a letter he wrote them in which he says he's "pretty scared to die."
The release of the letter on the Kassig family's Twitter page Sunday comes only a few days after militants from the Islamic State (also known as ISIS or ISIL) released a video which appeared to show the beheading of British aid worker Alan Henning. In the video, they threatened to kill Kassig next.
Abdul-Rahman Kassig, 26, known as Peter Kassig before his conversion to Islam, was a former U.S. Army Ranger. He traveled to Lebanon in 2012 to provide medical and humanitarian aid to Syrians, founding Special Emergency Response and Assistance (SERA) an aid organization for Syrian refugees. He was captured en route to Deir Ezzor, in eastern Syria, last October.
In a letter to his parents, who live in Indianapolis, which they received on June 2, Kassig writes:
"The first thing I want to say is thank you. Both to you and mom for everything you have both done for me as parents for everything you have taught me, shown me, and experienced with me. I cannot imagine the strength and commitment it has taken to raise a son like me but your love and patience and things I am so deeply grateful for.
"I am obviously pretty scared to die but the hardest part in not knowing, wondering, hoping, and wondering if I should even hope at all. I am very sad that all this has happened and for what all of you back home are going through. If I do die, I figure that at least you and I can seek refuge and comfort in knowing that I went out as a result of trying to alleviate suffering and helping those in need.
"In terms of my faith, I pray everyday and am not angry about my situation in that sense. I am in a dogmatically complicated situation here, but I am at peace with my belief.
"I wish this paper would go on forever and never run out and I could just keep talking to you. Just know I'm with you. Every stream, every lake, every field and river. In the woods and in the hills, in all the places you showed me. I love you."
Kassig was seen at the end of a video released by ISIS on Friday. A hooded jihadist threatened to kill Kassig next if the U.S. and its allies don't stop airstrikes Iraq and Syria targeting the extremist group.
In a statement accompanying the release of the letter, Kassig's parents Ed and Paula said their son voluntarily converted to Islam between October and December 2013, when he was sharing a cell with a devout Syrian Muslim. But his interest and journey toward conversion began before he was taken captive, they said.
"We have decided to release portions of his June 2014 letter, so the world can understand why we and so many people care for him and admire him," Kassig's parents said in the statement. "We ask the world to continue to pray for him and for all innocent people harmed by violence and war."
Kassig's parents released a video message Saturday pleading for their son's life. "We implore his captors to show mercy and use their powers to let our son go," Ed Kassig says in the video.