North Korea and U.S. War the Subject of Peruvian Shamans' Prevention Ritual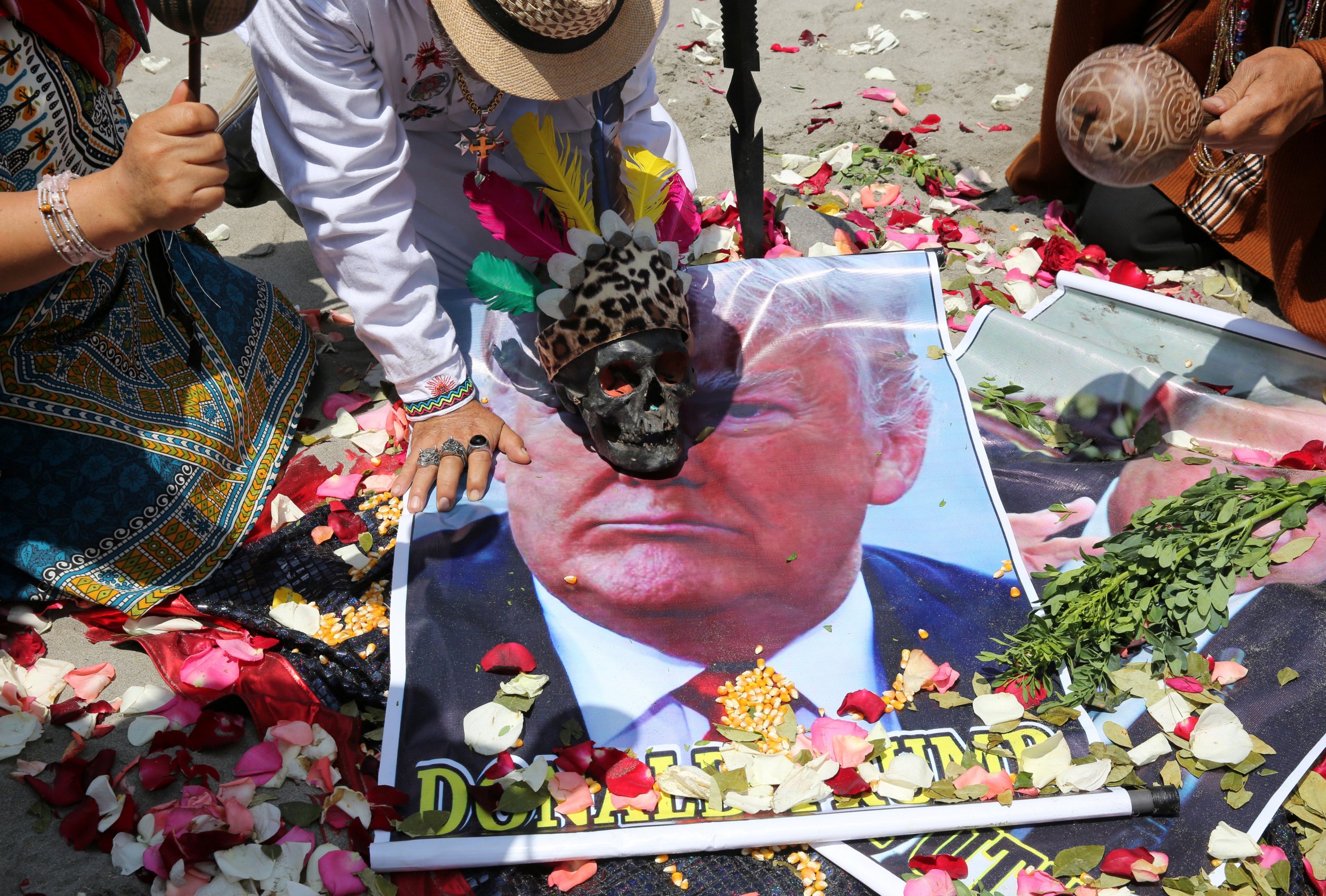 Increasing military tensions between North Korea and the U.S. aren't just causing concern for East Asia—in Peru, four shamans have performed a ritual in a bid to save the world from a third world war.
The shamans carried their instruments, skulls, flowers, candles, American and North Korean flags to a hill just outside the capital of Lima on Monday and built an altar pointing to the four cardinal points.
As part of the ritual, they placed hot spices, incense, fruit, herbs and stones on posters of U.S. President Donald Trump, North Korean leader Kim Jong Un and Russian President Vladimir Putin. They then made a plea for peace and "to avoid any unnecessary deaths," shaman Juán Osco explained, quoted in Spanish news agency Efe.
"We are doing a special ritual for peace between the U.S. and North Korea because they are using all the best modern weapons, but the world demands peace and not conflicts, wars, destructions and slaughter," Osco told Euronews.
The shamans, who are considered to be physical and spiritual healers, closely follow world events in their rituals. Some of the shamans who performed the ritual on Monday were also involved in one just ahead of the U.S. presidential election in November. At the time, EFE reported, their predictions on the winners differed: Osco forecast a victory for Democrat candidate Hillary Clinton, while shaman Marino de los Santos said Trump would win because of his "spiritual powers."
The shamans also expressed concern for the world in their traditional New Year's ritual, in which they predicted a turbulent 2017 marked by continuous wars in the world, famine and turmoil in Venezuela and earthquakes in Chile.
One part of Monday's ritual was dedicated to Venezuelan President Nicolas Maduro, asking him to concede power to stop the ongoing anti-government protests that have caused more than 65 deaths in two months. Maduro's poster was the focus of the ritual to "calm his anger." "We ask that Venezuela becomes a real democracy and that the whole world support the people who are fighting," Osco said.