Previously Unknown Palestinian Group Claims Jerusalem Attack, Promises Further 'Revenge'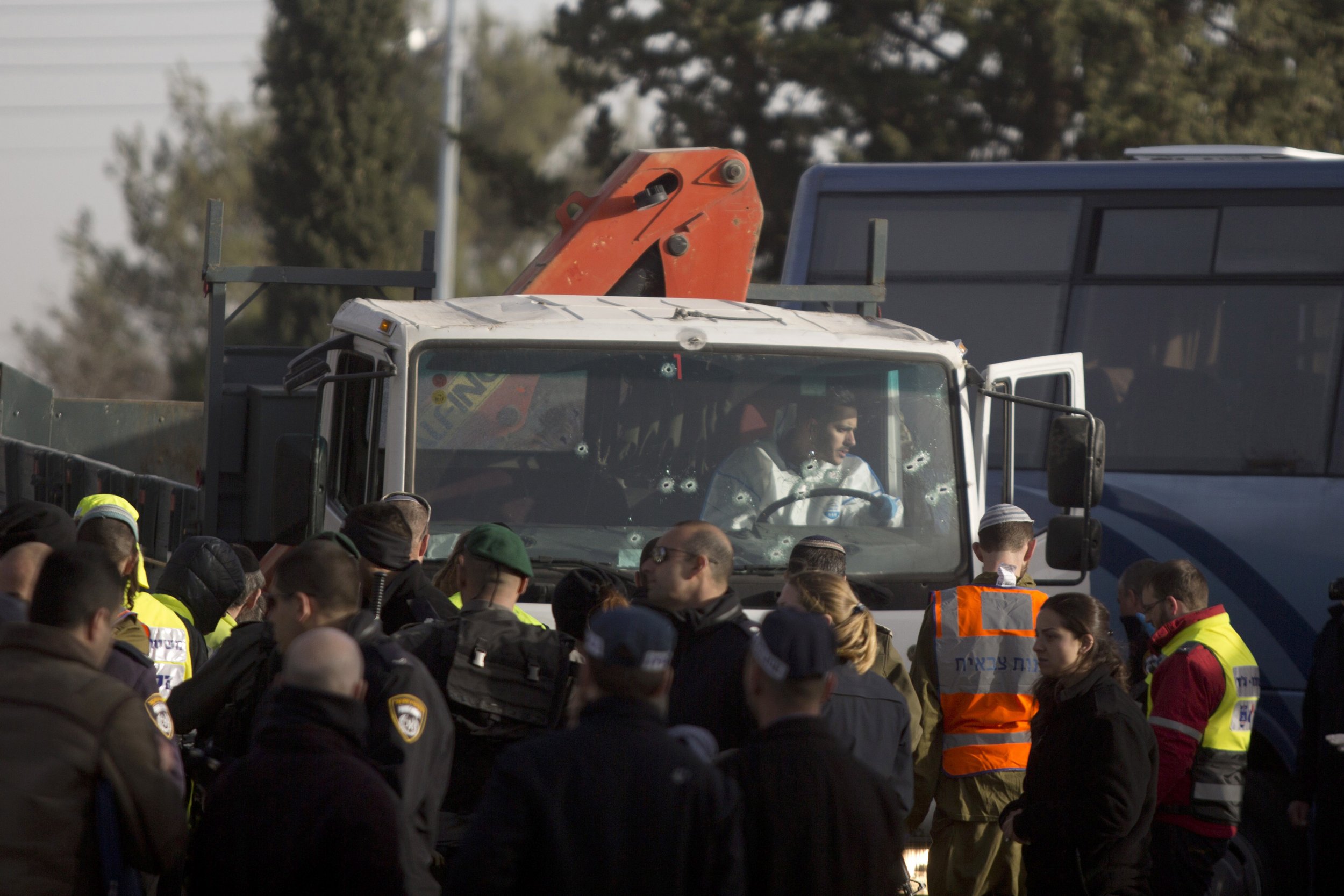 A previously unknown Palestinian group has claimed responsibility for the truck attack in Jerusalem that left four Israeli soldiers dead Sunday.
The faction, identifying itself as "the Martyr of Baha Aylan Collective," named after a Palestinian attacker who killed three Israelis in Jerusalem in 2015, said it had acted on "political motives" and claimed to have carried out previous attacks, without providing details.
In the attack, Fadi Qunbar, a 28-year-old Palestinian from the East Jerusalem neighborhood of Jabel Mukaber, drove a truck into a crowd of Israeli soldiers as they disembarked from a bus before reversing back over them. The attack also wounded seventeen others.
Israeli Prime Minister Benjamin Netanyahu alleged after the attack that Qunbar was a supporter of the Islamic State militant group (ISIS), without providing evidence. ISIS has not claimed responsibility for the attack.
The group said that the truck attack would be followed by "a torrent of unyielding quality attacks in defense of our Jerusalem and in revenge of our martyrs and prisoners," according to a translation by the Times of Israel.
Israeli police arrested nine people in connection with the attack on Monday, five of them being Qunbar's relatives. It also set up roadblocks around his neighborhood of Jabel Mukaber and carried out spot checks of vehicles.
Palestinian militant group Hamas, which has waged three wars with Israel since 2008, praised the attack as supporters held a rally in the Gaza Strip to celebrate.
"We bless this heroic operation resisting the Israeli occupation to force it to stop its crimes and violations against our people," Hamas spokesman Fawzi Barhoum told Reuters.
On Tuesday, the Israeli military said soldiers shot dead a Palestinian attacker in the Fara Refugee camp in the northwestern West Bank. The soldiers were on an arrest raid when the Palestinian ran towards them with a knife, it said. Palestinians identified the attacker as Mohammed al-Salhi, the Associated Press reported.
Since October 2015, Palestinians have committed a wave of stabbing, shooting and vehicular attacks that have left at least 37 Israelis dead, while Israeli forces have killed more than 200 Palestinians, saying that more than half were attackers, while others died in clashes or protests.
While Netanyahu linked the Jerusalem attack to the ISIS-claimed truck attacks in Nice and Berlin last year, Palestinians have used vehicular attacks for years against both Israeli soldiers and citizens. An increase in vehicle attacks comes after the security barrier Israel erected in 2003, during the Second Palestinian Intifada, or uprising, led to a sharp decrease in suicide bombings by Palestinians.