All We Know About 'Predator' Prequel 'Prey': Trailer, Release Date and More
The Predator is hunting for a new "Prey" in Hulu's new take on the classic franchise.
Hulu's new Predator prequel, which has a release date this month, sees the classic alien killer crash-landing on Earth in 1719—among a cast of Comanche hunters.
The Prey trailer reveals that things go exactly as you might expect: lots of running, killing and shots of characters being chased by an invisible foe.
Here's what you need to know about the release date, cast, trailer and more of Prey.
When is Prey coming out?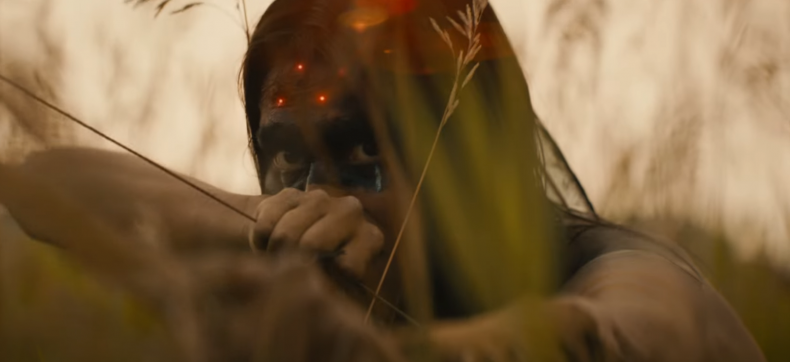 The new Predator prequel comes out Friday, August 5, when the movie will begin streaming online. Prey will be a Disney+ exclusive in most territories, meaning that the streamer is the only place to watch the film.
There are two exceptions to this: the United States, where it will be streaming on Hulu, and Latin America, where the movie will be carried by Star+.
In all these places, however, the release time is the same: 3 a.m. ET. The exact time of the release will depend on your time difference from the East Coast, which is currently four hours behind UTC.
Who is in the cast of Prey?
Leading the cast of the Hulu movie is Amber Midthunder, former star of Legion and Roswell, New Mexico, and member of the Sioux tribe in Fort Peck. She plays Naru, a Comanche warrior who sets out to protect her tribe from a new threat, a threat that, of course, turns out to be a giant invisible space alien.
Midthunder didn't know she was in a Predator movie when she began working on the film. She told the Sci-Fi and Fantasy Gazette: "I never knew originally that this was a Predator film. I only knew that it was a film about this young Comanche woman who wanted to be a hunter. To me, that was what the movie was. Later, I found out that there was a big alien space monster, too."
Per Midthunder, this movie's Predator is a mix of a real suit and an animatronic head, which she said needed four people to operate. Bringing the character to life is the six-foot-nine actor Dane DiLiegro, last seen playing an alien in the music video for Doja Cat's "Get Into It (Yuh)."
The majority of the cast is filled out by indigenous actors including newcomer Dakota Beavers, Shoresy's Harlan Blayne Kytwayhat and Tribal's Julian Black Antelope.
What is Prey about?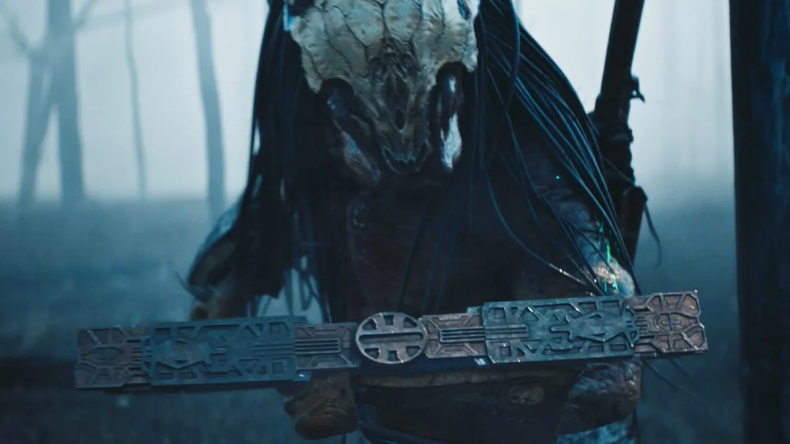 The official plot synopsis reads: "​​The newest entry in the Predator franchise, 20th Century Studios' Prey, is an all-new action thriller set in the Comanche Nation 300 years ago.
"It is the story of a young woman, Naru, a fierce and highly skilled warrior who has been raised in the shadow of some of the most legendary hunters who roam the Great Plains. So when danger threatens her camp, she sets out to protect her people.
"The prey she stalks, and ultimately confronts, turns out to be a highly evolved alien predator with a technically advanced arsenal, resulting in a vicious and terrifying showdown between the two adversaries."
Director Dan Trachtenberg (10 Cloverfield Lane) pitched the film while the Shane Black Predator movie was in pre-production. He told MovieWeb that he envisioned his version as a spin-off: "Like Star Wars was at the time when they had the main trilogy, and then they had these other offshoots."
Asked why he made his film a prequel set centuries before the other movies, the director said: "It didn't come from, oh, I want to make a Predator movie.
"It came...wanting to make this an emotionally engaging action movie, inspired by movies like Gravity and 1917; Revenant, of course—like real survival tales. And always loving the idea of doing period sci-fi; always sort of seeking that out.
"So, it was just a lot of things circling. And then remembering the end of Predator 2. And realizing, oh, there's precedent for them being around in this time period."