As the Depp vs. Heard trial enters its final week, one legal expert has estimated exactly how much both parties have paid for their lawyers throughout the case.
Depp is suing Heard for $50 million after she wrote a 2018 op-ed stating that she was the survivor of domestic abuse. Depp wasn't mentioned by name, but his team argued it was still defamatory and that it has caused him massive losses in his career. Heard has countersued for $100 million accusing him of allegedly orchestrating a "smear campaign" against her and describing his own lawsuit as a continuation of "abuse and harassment."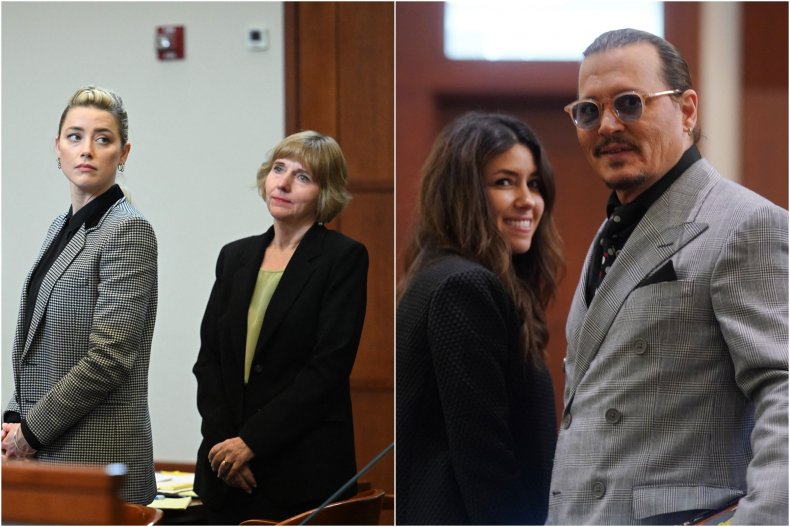 The trial, which was filed three years ago, started in Fairfax County, Virginia, on April 11, 2022, with the closing arguments scheduled to be made on Friday, May 27. Throughout the duration of the trial, both Depp and Heard have become trending topics, while many moments from the court have gone viral online.
Members of both of their legal teams have gone viral at moments too, especially Camille Vasquez, who gained social media notoriety for her cross-examination of Heard.
Assessing how much both Depp and Heard paid for their teams, Manny Arora, of Arora Law Trial Attorneys, tallied up what he believed the total to be for Newsweek. He added up his estimation of the fees from the starting point three years ago.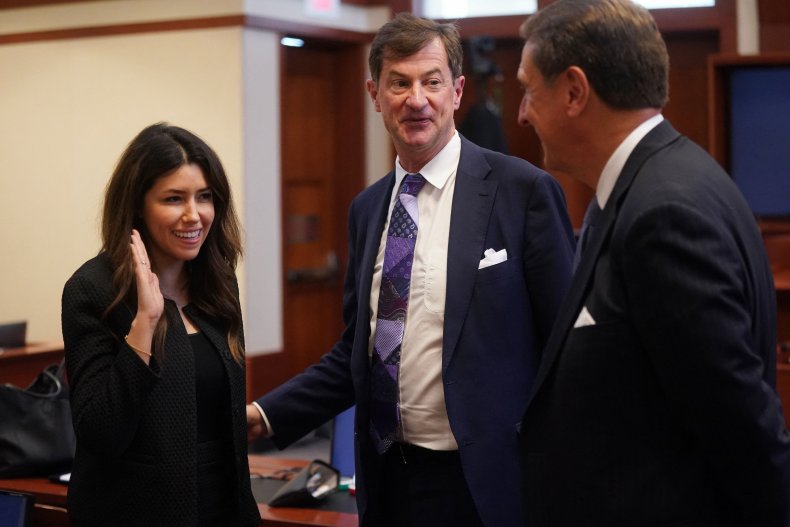 "Taking an average of $600 an hour for each lawyer -- Depp has seven lawyers. Plus the support staff, court costs, travel costs, etc. Then add in the six-week trial. Then add 24+ months to complete discovery and prepare for trial.
"I would say it has cost Depp at least $5.5 million for his legal team," Arora concluded.
As for Heard's team, Arora believes it cost her much less on account of her smaller legal team.
"I believe Heard has three lawyers from Virginia area. For her, I would say $3 million in fees plus $200k in experts.
Both legal teams have deployed expert witnesses as they made their case. During the final week of the trial, Heard's team called physician Richard Moore to the stand. He testified that Depp's famous finger injury was unlikely to be caused by heard throwing a bottle at him. Depp's attorney Vasquez raised the topic of his compensation being $1,000 an hour and $5,000 a day for his testimony.
The moment also caught the attention of social media users.
Paying for experts in a trial like this is a regular occurrence, according to Arora.
"Experts range from medical, business and psychological. Their fees run from $5k or more per day plus completing reports, depositions, etc." He added: "I would budget around $300k for experts."
Heard used Virginia-based law firm Woods Rogers, Attorneys at Law. The team features Elaine Bredehoft, Ben Rottenborn and Joshua Treece.
Depp has been represented by international law firm Brown Rudnick. His team of lawyers featured Vasquez, Ben Chew, Stephanie Calnan, Andrew Crawford, Rebecca MacDowell Lecaroz, Yarelyn Mena, Jessica Meyers and Samuel Moniz.
Newsweek has reached out to Woods Rogers and Brown Rudnick for comment.