New York's Historic Stonewall Inn Hosts Jubilant Celebrations After Gay Marriage Ruling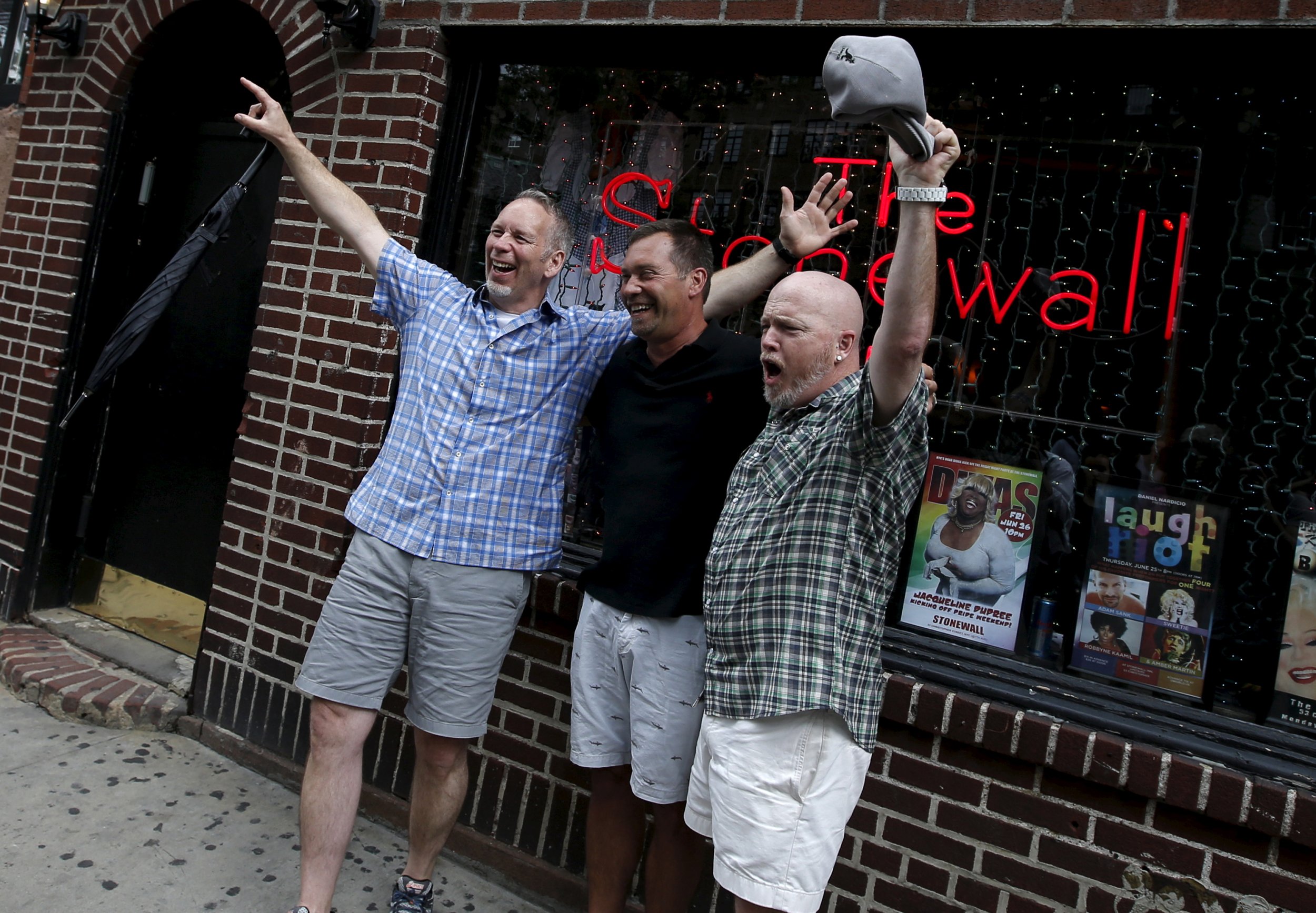 By midafternoon on Friday, a few hours after the U.S. Supreme Court handed down the order that legalized same-sex marriage in all 50 states, the crowd at the Stonewall Inn in New York City's West Village was growing, with the ruling dominating conversation.
Defendants of gay marriage "ask for equal dignity in the eyes of the law," Justice Anthony Kennedy wrote in the court's opinion. "The Constitution grants them that right."
"Where were you when you heard?" a young man asked his friends, standing in the sun outside the historic bar. "My mom called and told me, and she just broke down. We were both crying," the man's friend replied.
The mood at the bar was jubilant. Outside, news cameras interviewed couples and a steady stream of smiling people posed for photos in front of the bar's red neon sign. A group of men laughed as they passed around an iPhone open to a photo-turned-meme of Justice Antonin Scalia, the author of a heated dissent to the court's decision. A woman with a stroller and a school-aged child crouched and pointed. "Look, this is the Stonewall." she said.
Inside, the lights were dim, the music was loud, and drinks were flowing. A black-and-white poster hung at the back of the bar, a reminder of the riots that erupted here nearly 46 years ago to the day after police raided the bar early on June 28, 1969. The bar's LGBT patrons—many of them transgender women of color—fought back, sparking a national gay rights movement in the process. "Stonewall means fight back! Smash gay oppression!" reads the banner in the picture. Already a National Historic Landmark, Stonewall was designated a New York City landmark this week by the city's Landmarks Preservation Commission.
Inside the bar, hundreds of people stood shoulder-to-shoulder, hugging and chatting under colored disco lights, occasionally glancing up at a television tuned to CNN broadcasting live coverage of the Supreme Court decision near continuously.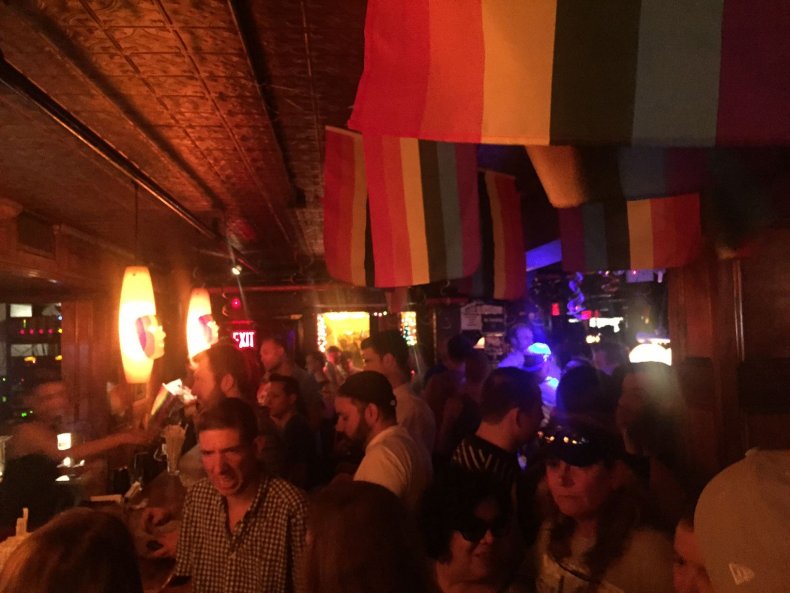 "It's really moving to be here, where this began," said Maura, 29, who was visiting from Portland, Oregon, with her wife Lindsay, 30. The couple declined to provide their last names. Maura said she had been half asleep Friday morning when she heard about the Supreme Court ruling from her sister. "I immediately woke up. My heart was racing."
"I feel a greater sense of dignity, that as a citizen and a taxpayer, my marriage is fully recognized," Maura said. "Next is nondiscrimination clauses and more movement toward trans rights." In 26 U.S. states, a lack of nondiscrimination laws means a person can be fired from their job for being gay.
The Supreme Court's decision came in the midst of NYC's Pride Week, which will culminate with an annual Pride march on Sunday, now in its 45th year. Stonewall already had a number of events planned for the weekend.
For Tony Frankenberg, 48, a psychotherapist with a practice in Manhattan, the marriage decision goes far beyond marriage rights. "There's an identity issue here," he said. "I think this has a huge impact on young people, as they're forming their identities, it being said by the highest court, that we have legal rights helps strengthen a sense of belonging. It's my hope that LGBT teens who have such high suicide rates will be impacted by this decision."
"We have a lot to be happy about," Frankenberg added.
Inside the bar, Jordan Siegel-Traxler, 26, drank a Bud Light and teared up when I asked about his morning. Siegel-Traxler is originally from Texas, where gay marriage wasn't legal until Friday morning. "I just stood up in my cubicle when I heard. I was sobbing, no one could understand what I was saying," he said. "The first thing I did was call my mother, and she started crying too, and said, 'You can get married here.' I can have a wedding at home," he said.
"These things never happen in Texas. I never thought it would happen."