Pride Month 2018 Parades: Washington, D.C., Philadelphia, Chicago, New York City and More
Pride Month officially started June 1, and some events for the summer celebration are already underway. Pride is celebrated in honor of the LGBTQ community each year during the month of June because originally it was centered on the anniversary of the Stonewall Inn riots.
The riots happened on June 28, 1969, when police officers raided the Stonewall Inn in New York City, where members of the LGBTQ community would hang out. The raid turned into days of riots and clashes between police and members of the community as well as patrons. These riots were seen as the first spark of the modern LGBTQ rights movement.
Pride was celebrated for the first time a year later, in 1970, organized in part by Brenda Howard, a bisexual activist who went on to found the New York Area Bisexual Network. For years, Pride was celebrated on the last Sunday of June in honor of the Stonewall Inn riot anniversary. Since its beginnings, the celebration has expanded to now span an entire month.
Rainbows Around the World: LGBT Pride Month 2018 Parades in Photos
Over the years, Pride changed from a time of protests and demonstrations to include celebrations like picnics, parades and concerts. Just two presidents have acknowledged Pride Month: President Bill Clinton and President Barack Obama both recognized and celebrated Pride Month. President Donald Trump didn't recognize June as Pride his first year in office and has chosen not to again this year.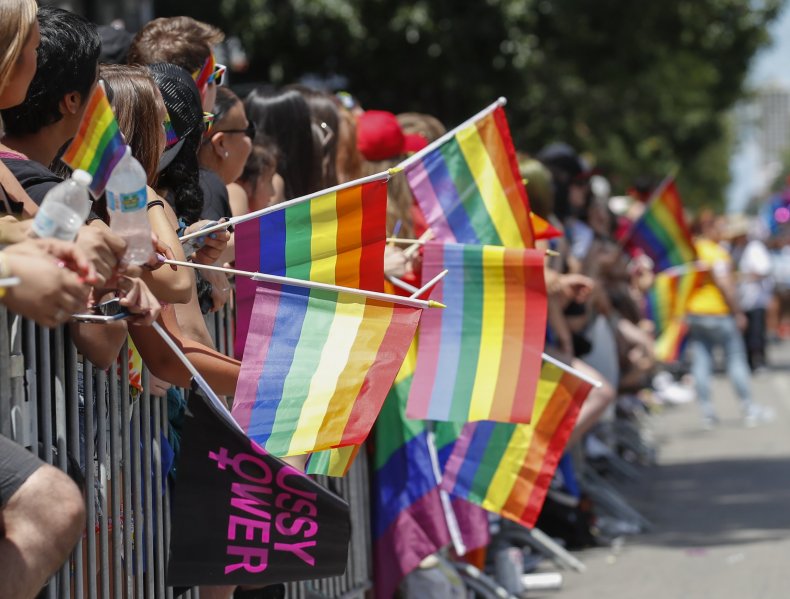 Pride Parades Around the United States in 2018
New York City—The celebration is scheduled for the final Sunday of the month—June 24—which is a tradition. The march begins at noon and is expected to have guests including tennis star Billie Jean King and activist Kenita Placide.
Washington, D.C.—Even though President Trump isn't recognizing Pride, there will still be a parade in his city. The Washington, D.C., parade is scheduled for Saturday this year.
Chicago—The Chicago Pride parade is also scheduled for June 24, the same as New York's, though the festival is set for June 16 and 17.
Los Angeles—Pride week is already underway in Los Angeles, and the parade is scheduled for Sunday.
Houston—Houston holds its parade at night from 8:30 p.m. until 11:30 p.m. local time in the downtown area of the city. This year, it will be on Saturday, June 23.
New Orleans—The parade in New Orleans is scheduled for Saturday at 7:30 p.m. local time.
Philadelphia—Philadelphia is celebrating its 30th anniversary of Pride with a parade on Sunday.
San Francisco—The parade is scheduled for Sunday, June 24, and is one of the oldest LGBTQ parades.
Denver—Denver's PrideFest parade is scheduled for Sunday, June 17, this year.